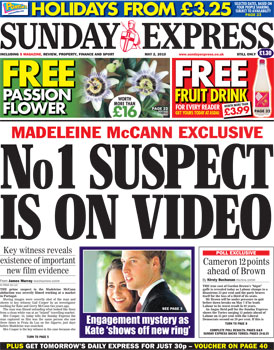 ____________________
PeterMac's FREE e-book
Gonçalo Amaral: The truth of the lie
NEW CMOMM & MMRG Blog
What on earth is going on

littlepixie




Posts

: 1346


Activity

: 1392


Likes received

: 15


Join date

: 2009-11-29



Goodness me, the stories are coming thick and fast these last couple of days. I expected a couple, but we are deluged. The McCanns seem to have done interviews everywhere, including Portugal with SF. Something is definitely going on.
Don't suppose anybody's got really good eyesight and can read any of that?

Guest

Guest





No 1 suspect?
What are they up to?

aiyoyo




Posts

: 9610


Activity

: 10084


Likes received

: 326


Join date

: 2009-11-28



Here is the story........it's COOPERMAN!!!!!!!! again!!!!




UK NEWSMADELEINE MCCANN EXCLUSIVE: NO 1 SUSPECT IS ON VIDEO

Sunday May 2 2010
THE prime suspect in the Madeleine McCann abduction was secretly filmed working at a market in Portugal.

Moving images were covertly shot of the man and shown to key witness Gail Cooper by an investigator working for Kate and Gerry McCann two years ago.

The man was filmed unloading what looked like linen from a clean white van at an "inland" travelling market.

Mrs Cooper, 53, today tells the Sunday Express the man captured on film was the same person she saw three times in Praia da Luz on the Algarve, just days before Madeleine was snatched.

Mrs Cooper is the key witness in the case because she

had a tense 15-minute conversation with the suspect before Madeleine vanished from the Mark Warner Ocean Club in Luz on May 3, 2007.

Today, Mrs Cooper calls on the McCanns to put the sensational footage on their website findmadeleine.com so he can be traced by detectives.

"I believe the man I saw was the same person who abducted Madeleine McCann," said Mrs Cooper, who was flown back to Luz last week by the Sunday Express in an attempt to unlock the mystery.

"More people need to see this footage to discover where he is."

Mrs Cooper is the woman who created, with an FBI-trained police artist working for the McCanns, a haunting sketch of the man with a distinctive handlebar moustache and protruding front teeth.

That powerful image was used in high-profile press campaigns by the McCanns in an effort to locate him.

He bears an uncanny resemblance to the man the McCanns' friend Jane Tanner saw carrying a small child in his arms and walking away from the holiday apartment on the night Madeleine vanished.



SEARCH UK NEWS for:

Mrs Cooper, from Newark, Notts, said in the summer of 2008 she was asked to look at footage of the suspect shot over several days in Portugal.

"He was unloading his market stall from a white van," said Mrs Cooper.


"His hair was lighter and he had shaved off the moustache but to my mind it was the same man. For me the giveaway was his protruding teeth, which were exactly the same as the man I had met in Luz.

"I was shown the footage by a person working for the McCanns' investigators who took notes of everything I said and then left but I haven't heard anything since. I asked where the film was shot but he would only say it was shot 'inland' in Portugal."

Last week the McCanns, from Rothley, Leics, appeared on GMTV calling for a review of all the evidence.


Heart specialist Mr McCann, 41, said: "I don't think it's right that, as parents, we have to drive the search."


ETA There is a video on the Sunday Express page. They have flown Gail Cooper back to PDL to make it.

http://www.dailyexpress.co.uk/posts/view/172651

Guest

Guest





Oh dear, whether to believe it or not?

aiyoyo




Posts

: 9610


Activity

: 10084


Likes received

: 326


Join date

: 2009-11-28



Thanks candyfloss for that.

Mind, they are really getting pretty desperate!

Imagine! the mccanns PIs had the image since summer '08 and yet the mccanns waited till 3rd anniversary before coming forward to say something? Fishy or what?

The pertinent point rather is: how did the mccanns hear of Mrs Cooper?

How did they know certain Mrs Cooper saw the man who abducted their daughter?
Did Cooper approach mccanns direct? Why didnt she ring UK police instead?
How did Mrs Cooper know the man she saw several times is the same man that took Maddie?
what proof has she got other than having seen him several times and he happens to be odd looking to her. HE is a travelling market stallholder apparently.....so he must travel on the job.

One year later when she was shown the moving images all she could confirm was the guy in the moving pics had the same bug bunny teeth as the guy she saw in PDL. Since when that sort of image qualifies one as criminal suspect?

Besides, if the mccanns had paid their PI top rate, why did they produce only substandard 'moving pics'? Couldnt they have done better?

Another pertinent point is: isnt summer 2008 just after their release from arguidoes, but still within the dateline to request for Instruction phase to stay open?
Yet, even in possession of that so called important info, they didnt do so. Why didnt they pass on the info to PJ and ask for the case to stay open?

Surely if Mrs Cooper was so adamantly sure it was the guy, why withhold such info from official investigators only to produce it nearly two years later saying the police should have done something about it and it shouldnt be left to them to do the search.

All trollops!
On verra.

aiyoyo




Posts

: 9610


Activity

: 10084


Likes received

: 326


Join date

: 2009-11-28



How can Cooperman bear an uncanny resemblance to Jane Tanners abductor when JT never saw his face ?

justagrannynow 1




Posts

: 966


Activity

: 1110


Likes received

: 4


Join date

: 2009-11-26


Location

: France



ABSOLUTELY.

Fancy coming up with a Mrs. Cooper? Why did they find her?

Will she withstand scrutiny from real investigators or is BK going to be exposed for ...........?

aiyoyo




Posts

: 9610


Activity

: 10084


Likes received

: 326


Join date

: 2009-11-28



The Express and Gail Cooper are certainly squeezing every ounce of sensationalism from this anniversary.



http://www.express.co.uk/posts/view/172648/I-ll-never-forget-Maddie-snatcher-s-dead-eyes


I'LL NEVER FORGET MADDIE SNATCHER'S DEAD EYES

Sunday May 2 2010

GAIL COOPER will never forget the day she stared into the "dead eyes" of the man she believes abducted Madeleine McCann three years ago tomorrow.

"There was just nothing in his eyes, no soul, no life, nothing," she said, drawing on a cigarette to calm her nerves as she relives the close encounter she had in Praia da Luz.

Home care coordinator Gail had hired a £2million villa in April 2007 to celebrate her 50th birthday with friends and family.

The party of 14 flew to Portugal on April 18 and Gail had a lovely first four days enjoying time with her two grandchildren in the villa's pool and at the nearby beach.

As the villa slept only nine, two couples and a boy of two stayed in the nearby Mark Warner complex – directly above apartment 5A where the McCanns stayed the next week.

On April 20 the group went to the Paraiso cafe on the beach for lunch. As they enjoyed their meal it began to rain and they noticed a scruffy man standing on the beach getting drenched in the downpour.

They drove back to the villa, where the children played in the pool and the sun shone again.

Between 4 and 5pm there was a ring on the door at the villa, which is situated in a quiet street some 20 minutes walk from the beach.

To Gail's astonishment it was the man she had seen a few hours earlier getting soaked on the beach. He was aged between 40 and 45 and about six feet tall with an olive complexion. He appeared Mediterranean but not Portuguese and spoke fairly good English, and was clean shaven apart from his moustache.

He wore a heavy cotton khaki jacket and a green or blue t-shirt and khaki combat trousers. Around his waist was a black leather bum bag.

He told Gail that he was collecting money for an orphanage in the nearby village of Espiche.

Moving from foot to foot and waving what appeared to be ID documents, he said an English couple had been killed in a motorway smash nearby and their three children were being looked after at the orphanage.

"He was very pushy and intimidating," said Gail. "He was waving his hands and came out with this story, which I didn't believe, to get me to hand over some cash. He kept staring right at me, virtually imploring me to give money, but I wouldn't.

"He spoke good English but it wasn't really with a Portuguese accent. My grandchildren were in the pool and my husband had gone out and I just wanted him to go away.

"I've been to Portugal many times and I've never had anyone come to the door asking for money before. His clothing and hair still looked wet from the rain. The whole situation was odd and made me uncomfortable. After 10 minutes or so he suddenly stopped talking and just walked off."

Gail believes the man may have followed the group from the beach and could have been looking over the villa wall at her grandchildren in the pool.

Two days later on April 22, Gail and the group saw the man again, standing near a group of children who were being taken to the beach by Mark Warner childminders.

She said: "At first it looked like he was with the children and I remember thinking maybe he was raising money for an orphanage. Then my daughter pointed out that the children weren't orphans, they were from the Mark Warner complex.

"Although he was walking near the children it was clear that he wasn't with them and I recall thinking that it all seemed a little bit odd. But I thought nothing much more of it and we carried on enjoying our holiday."

After returning home and hearing of Madeleine's abduction a week later, Gail contacted the police.

On May 21 she gave a statement to a detective from the Leicestershire force which was liaising with Portuguese officers.

In January 2008 she was contacted by the McCanns' investigators and agreed to sit for 10 hours with an artist to create the first full facial image of the suspect. "I was happy to do anything I could to help," she said.

In July she was shown film of the man working at a market and later an investigator working for the McCanns flew over to show her images of five men, none of whom she recognised.

"I have a very clear image in my mind of the man I saw and I think it will stay with me for the rest of my life," she said. "At first I just thought he was a conman but now I believe he could be much more dangerous. I will never forget his dark, dead eyes and the way he threw his arms about in a very jerky way.

"He was very agitated at the front door of the villa and he looked quite disturbed when he was wandering around on the beach in the rain. The sooner he is found the better."

Gail said her memories of what was a fantastic 50th birthday celebration have been marred by the kidnapping of Madeline.

Seldom a day passes when she doesn't think of the mysterious man.

She said: "In the early days after hearing about the kidnapping, I just had this horrible empty feeling in the pit of my stomach.

"I couldn't get the image of the man out of my head and I was racking my brains trying to remember everything he said and every detail about him.

"Had he followed the members of our group, including a boy of two, who was staying at the ocean club?

"I am left with a strong sense of frustration because this is still unresolved."

justagrannynow 1




Posts

: 966


Activity

: 1110


Likes received

: 4


Join date

: 2009-11-26


Location

: France



@justagrannynow 1

wrote: As the villa slept only nine, two couples and a boy of two stayed in the nearby Mark Warner complex – directly above apartment 5A where the McCanns stayed the next week.
Oooops. Mrs. Fenn lives in the apartment directly above apartment 5A.

justagrannynow 1




Posts

: 966


Activity

: 1110


Likes received

: 4


Join date

: 2009-11-26


Location

: France



So, is this crap the 'campaign' erm, Jo was on about?

ufercoffy




Posts

: 1656


Activity

: 2092


Likes received

: 29


Join date

: 2010-01-04



---
Permissions in this forum:
You
cannot
reply to topics in this forum