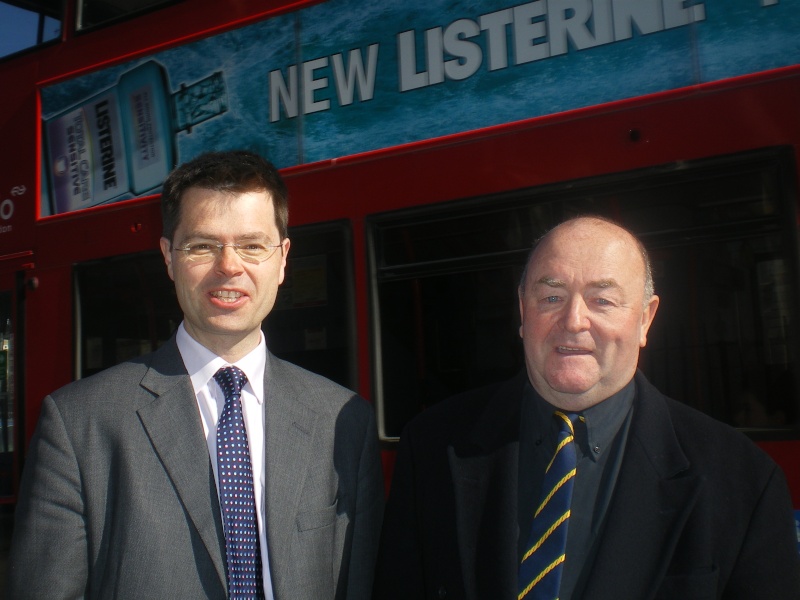 Les Balkwell (right) with James Brokenshire M.P. (left) - as they meet at the House of Commons to discuss the inadequacy of the powers of the Independent Police Complaints Commission - and the need to end the practice of police officers being able to retire on full pension whilst facing misconduct charges. James Brokenshire asked two written questions in the House of Commons and proposed changes to the law. He is now a Home Office Minister. So far, ELEVEN officers in the Lee Balkwell case have resigned whilst facing misconduct charges
(Photo by Anthony Bennett - copyright)
At the centre of this case is this broken control rod on the concrete mixer. On the night that Lee Balkwell was killed, this control rod
was working
. It controlled the operation of the drum from the lorry cab. But the account given by Simon Bromley maintained that the control rod was already broken. Six days after Lee's death, on 24 July 2002, two police officers took more photographs of the lorry, which by this time was stored at OnTime Services, Basildon. As can be seen here, the control rod was sheared off. The managing director of lorry manufcaturers, Hymix, Nicholas Humpish, gave evidence that these control rods were made of such strong, high tensile steel that
they could not be broken in normal wear and tear.
Since then, four separate expert engineers have all said that in their view there is no doubt at all that the control rod was
deliberately broken
by someone. There has
never been any reported example of such a conrol rod having broken through normal wear and tear.
Only Essex Police had access to the lorry during the six days it was at OnTime Services
(Photo by Anthony Bennett - copyright)
____________________
 Daily Mail journalist Daniel Bates wrote: "Kate and Gerry McCann have released a new picture of their daughter Madeleine as they prepare to commemorate tomorrow's third anniversary of her disappearance. The photo shows her when she was three after a raid on the dressing-up box. She has a pink bow in her hair and a gold bead necklace and is wearing blue eyeshadow. It was taken weeks before the fateful family holiday to the Portuguese resort of Praia da Luz when Madeleine vanished"

Tony Bennett




Posts

: 14663


Reputation

: 2801


Join date

: 2009-11-25


Age

: 69


Location

: Shropshire



Les Balkwell attends his son's Inquest at Chelmsford Crown Court in February 2008 - five-and-a-half years after his son's death. A friend has made a model of the inspection hatch on the concrete mixer. Les Balkwell can be seen illustrating how small the hatch was. There are two such hatches on either side of the mixer, each oval shaped, 22.5" x 14". The Bromley family, supported by Essex and Kent Police, maintain that at 1.00am on 18 July, in the dark, Lee Balkwell climbed out of this inspection hatch, at the very moment when Simon Bromley switched on the lorry with the drum in the 'off' position. He claimed that the drum suddenly revolved rapidly for no apparent reason, and killed Lee Balkwell. In fact, the two men had finished working on the lorry by 9.30pm, a small amount of setting concrete having been fully drilled out by then. They had used the rear chute to enter and leave the drum, using Kango drills to clear out the setting concrete. As can be seen on police scene photographs, the revolving hatch which is said to have killed Lee had 2" to 3" of encrusted, sharp ballast around it, meaning that anyone trying to climb in and out of the hatch, as claimed, would have ripped both their clothing and probably their skin as well
. No clothing fibres were found on the inspection hatches
, suggesting that the claim of Lee climbing out of the inspection hatch was fabricated. A witness claimed at the Inquest that she 'saw' Lee climbing out of the hatch earlier in the evening. The description of how he was supposed to have done this was a physical impossibility. The same witness maintained that she'd taken drinks out of a bunglow and to the lorry late in the evening. However, when a CCTV tape of the entire evening, seized by the police, was played to the jury, it was clear that this event never took place. Moreover, tachograph evidence clearly disproved claims that the lorry drum had been repeatedly 'inched round' during the evening to make it easier to drill out the setting concrete. Lee did not work on the lorry after 9.30pm, yet to prove that Simon Bromley 'negligently' caused Lee Balkwell's death, they will have to prove that he was. The prosecution summary on 28 January of the prima facie case against Simon Bromley is eagerly awaited. To see if it is true.   
(Photo by Anthony Bennett - copyright)
____________________
 Daily Mail journalist Daniel Bates wrote: "Kate and Gerry McCann have released a new picture of their daughter Madeleine as they prepare to commemorate tomorrow's third anniversary of her disappearance. The photo shows her when she was three after a raid on the dressing-up box. She has a pink bow in her hair and a gold bead necklace and is wearing blue eyeshadow. It was taken weeks before the fateful family holiday to the Portuguese resort of Praia da Luz when Madeleine vanished"

Tony Bennett




Posts

: 14663


Reputation

: 2801


Join date

: 2009-11-25


Age

: 69


Location

: Shropshire



---
Permissions in this forum:
You
cannot
reply to topics in this forum