Hospitals have spent £2m on gagging orders for staff, figures show
Tory MP criticises NHS chief after freedom of information request uncovers scale of use of confidentiality clauses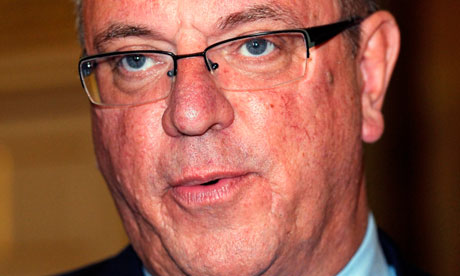 Sir David Nicholson, who will retire as NHS England chief executive next year. Photograph: Fiona Hanson/PA
Hospitals have spent £2m on more than 50 gagging orders preventing staff speaking out, a Freedom of Information Act request has revealed.
The Tory MP Steve Barclay, who obtained the figures, accused the
NHS
chief Sir David Nicholson of either failing to ask questions about the orders or being "complicit in a cover-up".
Nicholson will retire as NHS England's chief executive next year but Barclay said he should stand down now because the culture in the health service had to change.
The
Daily Telegraph reported
that at least 52 staff had been silenced using the orders since 2008, some of which cost as much as £500,000. All are thought to contain confidentiality clauses.
Barclay is a member of the Commons spending watchdog the public accounts committee (PAC), which Nicholson is due to appear in front of on Wednesday.
In March, the health secretary, Jeremy Hunt, banned the use of gagging clauses in compromise agreements after it emerged that NHS hospital trusts had spent £15m on silencing almost 600 staff.
But those figures did not include "judicially mediated" settlements, under which a hospital reached an agreement with staff which was then signed off by a judge or senior lawyer rather than the Department of Health or the Treasury, meaning that the government had no chance to block them.
Barclay, the North East Cambridgeshire MP, told the Telegraph: "It is simply not plausible that the man who was supposed to be running the NHS was seemingly unaware that employees threatening to speak out were being offered golden goodbyes in return for a vow of silence."
The newspaper reported that Nicholson told MPs in March that he had only come across one of the orders.
But Barclay said: "As the accounting officer who has presided over this culture he is either complicit in a systemic cover-up or has failed to ask questions. If he knew about them he has misled parliament.
"The culture in the NHS needs to change. He has to stand down now. What patient safety concerns have been covered up [by the gagging orders]? How many lives have been put at risk?"
A Department of Health spokesman said the system had been changed so that all severance payments were properly scrutinised and staff were made aware of their whistleblowing rights.
He said: "Judicial mediation payments do not mean that someone is gagged – it is a way of resolving a dispute and suitable cases for this are decided on by a judge.
"The department did not collect data on these payments prior to February 2013. This has now changed – all non-contractual severance payments, whether via judicial mediation or another means, need to be scrutinised by a national body and they will not be recommended for Treasury approval unless the NHS can show that they have made staff fully aware of their legal right to blow the whistle.
"Judicial mediation payments cannot prevent staff from speaking out about matters on patient safety or in the public interest – NHS staff are protected by the law, regardless of when their payment was made and whether or not it was via judicial payment or any other means.
"The health secretary has been absolutely clear that 'gagging' is illegal and it will not be tolerated."
Nicholson said that "becoming the story" after the publication of the Francis report into the Mid-Staffordshire NHS foundation trust scandal contributed to his decision to retire.
Campaigners called for Nicholson to be sacked after publication of the report into serious failings at the trust.
Nicholson, who has worked in the health service for 35 years, was in charge of the regional health authority responsible for Stafford hospital for a short period while patients were being mistreated.
The Liberal Democrat health minister Norman Lamb said he "had a sense" that gagging orders were happening in the NHS, but added that he was horrified by them.
"I'm horrified at the idea that somebody can be silenced," he told Daybreak. "I had a sense that it happens too much, but it shouldn't happen at all. It's scandalous. There must be a culture of openness … not to keep people quiet."
He added that Nicholson had to be answerable "for what he knew".

____________________
"WE ARE ALL IN THIS TOGETHER" - Rebekah Brooks to David Cameron





Posts

: 4349


Reputation

: 774


Join date

: 2009-12-29



It sometimes costs a lot to shut people up
____________________
"This is a faithful saying, and worthy of all acceptation, that Christ Jesus came into the world to save sinners" - Paul's first letter to his disciple Timothy,  1 Timothy 1 v 15
Researcher




Posts

: 14728


Reputation

: 2847


Join date

: 2009-11-25


Age

: 70


Location

: Shropshire



You're not wrong there Tony.  
There is something seriously wrong with NHS when a 32 year old can earn £250,000 after being convicted and served jail time for armed robbery.
http://www.dailymail.co.uk/news/article-2333207/Craig-Alexander-NHS-director-250-000-sacked-job-disgruntled-worker-discovered-robbed-shop-gunpoint.html
No wonder this country is bankrupt.
This guy was not the most senior manager, how much money is being spent on wages in NHS.   Under labour it rocketed.
How many Senior Managers across the country are earning this kind of money for running the NHS into the groun.   On top of that they claim expenses.
Take into account also the amount GPs now receive.    How many GPs across the country.   Roughly 50,000 or more.
Minimum income each GP £100,000 per year.  Add onto that £12 for each flu jab given, money given for blood tests and most other tests.
How can self employed people (all GPs are self employed) be guaranteed to earn that sort of money.   It really is mind boggling.
If joe public decides to open a business and become self employed the government would think they were mental if they asked the tax payer to guarantee them an income of min. £100,000.
Then you have their guaranteed pension schemes of at least half their salary and so it is with the hospital consultants.
It is crazy that some many tens and tens of thousands of people are guaranteed that sort of income when most other workers are just scaping by.  What do we hear from them for all this money - they are so overworked and cannot even do night or weekend call outs so then the taxpayer has to foot the crippling bill for locums at night and weekends and there have been enough reports about how the public purse is being drained from that ridiculous system.
NO WONDER WE ARE BANKRUPT and I haven't even mentioned the civil service, councils and Royals.   ARRRGGGHHHHH.



Posts

: 6124


Reputation

: 1795


Join date

: 2013-02-01



exactly, why does this not surprise me.! this should never ever have been or be allowed to happen in a civilized society what is going on ! so sad for all the vulnerable sick people left and the staff who tried best to give care to them as best they could, many who were left just as vulnerable  as their patients by sounds of things !.it takes Years of study and sacrifices to even train by dedicated staff who focus, want to give best health care and should feel proud,be paid.Some  stay late and work extra like the lots of volunteers also do , so pay to caring staff seems fair to me,they have to live and keep well to, its the managers some untrained even, pay that seems to be so vulgar to me anyway.but come on nhs and health ministers !



Posts

: 211


Reputation

: 1


Join date

: 2013-04-23


Location

: wirral



---
Permissions in this forum:
You
cannot
reply to topics in this forum