Is this right or wrong, what are your thoughts...........
Mother asked to pay back £375,000 compensation after son dies
A mother says she is "devastated" at having to sell her home to pay back compensation she was given to care for her disabled son, who has since died.
Deborah Mackay, 33, was awarded £705,000 after doctors failed to spot her unborn son Calum had spina bifida.
Bedford Hospital NHS Trust now wants £375,000 returned as the money was to care for Calum until he was 10. He died at the age of six.
It said it had a "responsibility to manage the public purse".
Ms Mackay, who lives in Clapham, near Bedford, said she was "devastated but had learned to accept" the decision to recall the money but feared she would be left without a home.
"Because the house isn't selling I could end up homeless," she said.
Ms Mackay spent £450,000 on the property and fitted it with items to help care for her son.
She said Calum, who was born in 2005 and died of organ failure two years ago, "loved" the house.
"He was amazing, an inspiration, so strong and full of life," she said.
"I've got so many beautiful memories here with him.
"I understand why I have to give the money back - it's just that I could have no home to go to."
http://www.bbc.co.uk/news/uk-england-beds-bucks-herts-22553341

Guest

Guest





Left to me she would be allowed to keep the money and the house her son loved.

How devastating and what pain and anguish this lady has been put through because of negligent ante natal care and now on top of grieving for her son she has to go through this.

never mind- if the money has to be paid back it can go in the coffers and help treat health tourists who refuse to settle their accounts after having major, expensive surgery at the tax payers' expense and managers/admin staff don't even attempt to claw that money back apparently.

No wonder a lot of us are sick and tired of everything going on in this country.



Posts

: 6185


Reputation

: 1845


Join date

: 2013-02-01



I do have some questions with this story, one being about this: "There are no plans currently to force a sale of this property, which is owned by trustees, one of whom is Ms Mackay."
She spent GBP 450,000 on a property, which is not completely her own? That must be some property, though. I have spent more than that in renovation here, but - hey - we're talking a next-to-derelict little château with approx. 1,000 sq.m. living space ...

Second question would be, though, why the NHS would reclaim part of the money, because the boy died "too young". I take it that she wanted to keep him with her as long as possible. Or is the part, which is not reclaimed compensation money for their medical error? And the reclaimed money based on her not-executed expenses per annum [2 years] to care for him?

However, in general, I would vote for letting her keep the money. There's no price for losing a child ...

Guest

Guest





I think either way its terrible to have to pay any monies back but it may be that some the money was compensation and other other money was for support during the lifetime of the child. I had compensation for an accident and any monies I received from Disability Living Allowance (as it was then) had to be paid back. But my compensation allowed for this. I am not sure if this is the monies that she is referring to. Not the actual compensation for the medical error. she may not have any money left to enable her to pay so is forced to sell the house.

____________________
Things aren't always what they seem



Posts

: 1396


Reputation

: 38


Join date

: 2010-10-19



The money was for the child. Not for her.
She bought a huge house, which then had a few alterations to assist the child. But honestly that is not much, (a ground floor bathroom and a wide door for the wheelchair at the most basic.)
Quite why she needed a house of this size, rather than a smaller bungalow is not clear.
She is a single mother, (now a single girl), with no husband or partner.
And don't forget, the payout was for failing to discover the
spina bifida
in time for the foetus to be aborted.

____________________


Investigator




Posts

: 10170


Reputation

: 177


Join date

: 2010-12-06



If you have disabilities the NHS or social services will put in all the things you need. My father is disabled, he had his bathroom altered to a wet room with a sit in shower, he has had a stairlift installed - all free of charge, my mother-in-law had a wet room installed too as she has arthiritis.

Surely, it would have been better for the NHS to have put this money aside, and allocated the money to her on a yearly basis ?

Guest

Guest





6:10pm, Thu 16 May 2013
Mum asked to repay NHS compensation after disabled son's death
- last updated Thu 16 May 2013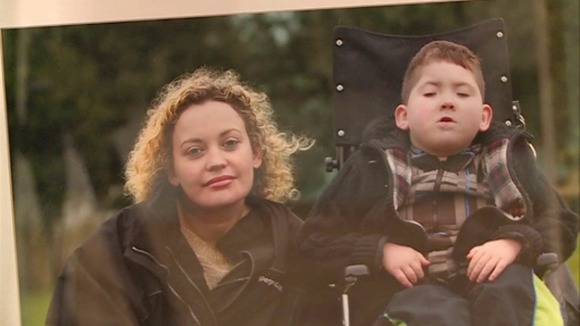 Mum to repay NHS compensation after disabled son's death Photo:
A mother given compensation to care for her seriously disabled son is facing selling her home after the NHS asked for money back when her son died.
Deborah Mackay sued Bedford Hospital NHS Trust after scans failed to detect spina bifida in her unborn baby Calum, depriving her of an the choice to terminate the pregnancy.
The Trust admitted negligence and agreed an out of court settlement beginning with £705,000 of interim payments with a final figure to be set when Calum reached 10.
Deborah, 33, was free to spend most of the money on a specially-adapted home where Calum could be provided with full-time care.
Experts predicted a normal life expectancy for the youngster but he suddenly died from organ failure, aged just six, in November 2011.
Deborah - who had been living in an unsuitable cramped bedsit before Calum's birth - had spent the rest of the money on looking after her son during his brief life. But three months after his death she received a letter from Bedford Hospital asking for almost half their money back.
Health bosses said £330,000 of the original pay out was rightfully theirs because it was only intended to pay for Calum's care, which he no longer needs.

"Three months after he died I was told to start paying back the money because Calum had not lived as long as they expected him too.

"It was not enough that I was grieving - I had just lost my son and then they pulled the rug out from under me again.

"They advised I put the house on the market and return a large proportion of the sale to the hospital.

"It feels like I am being penalised for my son dying."

– Deborah Mackay
Deborah knew from early on in her pregnancy there was an increased risk her baby could have life-limiting conditions because of the medication she was taking for her epilepsy.
She underwent several routine and specialist scans but Calum's problems went undetected and she was told everything was okay. She was devastated when her baby was born with spinal bifida and hydrocephalus, which causes water on the brain.
Just minutes after his birth Calum was rushed to Addenbrookes Hospital, Cambs, for a life-saving nine-hour operation on his spine.
The struggle of copying with his crippling illness put a strain on her marriage to husband Stuart, 35, and the couple split up a year after Calum was born.
After a string of health problems Calum was diagnosed with a rare disorder called fetal valproate syndrome, caused when the foetus is exposed to valproic acid during the first three months of pregnancy. The acid is found in a drug used in the treatment of epilepsy to control seizures but only causes problems for a small percentage of pregnant women.
Deborah sued Bedford Hospital for "wrongful birth" claiming they had taken away the right to make a properly informed decision on terminating her baby.
The hospital trust admitted negligence and agreed to pay for a "life-time of care" for her son beginning with interim payments, ahead of a final settlement when Calum turned ten. Had the case ever gone through it was due to reach several millions with Deborah potentially receiving an estimated £6 million for a lifetime of care for the youngster.Deborah invested £450,000 of the interim payments in a new home for her and Calum in the belief the property would be in her name for life. But just three months after Calum passed away letters from the hospital's solicitors came asking she pay back £330,000 of back-dated payments for her son's care.
Solicitors have advised her to sell her home, which would cover the costs and leave her with £75,000 to keep as part of a new settlement.

"If had known how poorly Calum was going to be I may have considered a termination but that choice was taken away from me.

"I miss him every day. He was the most beautiful boy in the world and he brought me so much joy but I watched him suffer."

Deborah's solicitor Adam Copeland said Calum's death was unforeseen and he wanted to make sure she receives a fair settlement after "nearly a decade of heartbreak."
The NHS yesterday said the repayment to the public purse was necessary because the final settlement was more than the interim money already paid to Deborah.

"The NHS Litigation Authority and NHS Bedford Trust appreciate this is a difficult time for Ms Mackay.

"We also have a responsibility to safeguard public funds, there are no plans currently to force a sale of this property."

– Spokeswoman, NHS Litigation Authority
http://www.itv.com/news/anglia/2013-05-16/mum-forced-to-repay-nhs-compensation-after-disabled-sons-death/

Guest

Guest





From a cramped bedsit to such a splendid home, when are people going to learn it's wrong for a parent to gain from the misfortune of their children. Haven't we seen this somewhere before? And isn't there s similar home down Rothley way where initially 2 doctors once struggled hard to pay the mortgage?

If she was asked to return the money 3 months after his death then why didn't she either do it or put the remainder aside unless she had already spent it all. In which case, what did she intend using to care for him for the remaining years until they got the next installment?

I don't think it's right to take the money back but I don't think it's right that she should keep the house. The money was never intended for her.





Guest

Guest





If you look back into the tragic history of the Thalidomide compensation you will find several families who were torn apart when their children, the victims, realised on gaining maturity that the funds awarded by the courts to provide for their future care had been spent by their parents on other things. In one notorious case on a new house with a pony and stables (for his sister), and so on.
There was a very powerful film of this, where the man himself played the main role.
He emigrated to Australia to escape the family.
Someone will know the details.

How is this different ?

____________________


Investigator




Posts

: 10170


Reputation

: 177


Join date

: 2010-12-06



It's tragic her son died. Had the Spina Bifida been spotted during pregnancy and foetus aborted she would not have had him to enjoy for a few years so her grief was an inevitable one either way.

Here the issue has gone beyond care for the child, the issue of moral is mixed into the equation
Abusing the money meant for him by splashing out and living in luxury is not morally correct.
The money was meant as "care" and not "material" for him, and all a child ever need is love and care in a comfortable home, size of the house and material things are incidental.
Besides, maintaining a hugh house to a certain cleanish standard isn't easy ( if at all possible) if you have a disabled child to care for round the clock. Spent too much time cleaning and tidying the house meant lesser time for the child, spent all the time needed for the special needs child meant no time for the house chores, not forgetting maintaining the garden as well - mowing the lawn, or it will be overgrown and useless as play area for the child.

The issue here is: who needed the big house. If it was for the boy, then there is no question it is not needed now.

To now expect to find out how the money was spent, who it was mostly spent on, is a moot point as the money is gone.
Either that or it wont be given back.... citing grief...all done on the back of the child's name.

Just like a certain Fund we know of. An investigation into the expenditures of the Fund would shocked the nation.
Any excuse that Mr & Mrs might come up with would be inutile if the Fund is proven as illegally gained.

If you were to ask me whether the money should be asked back, I think the NHS handled it very badly from the start, and also the more pertinent point of moral standard of recipient. It's a chicken and egg situation that ultimately will never end in a satisfactory resolve for both sides no matter what.

At the end of the day, it all depends how the press got hold of this story. The more publicity enveloping it, the more divided the public's opinions. The right or wrong of it legally as the central theme will be given over to public opinion, and the party that got the most public sympathy will likely end up winner in the end, JMHO



Posts

: 9610


Reputation

: 324


Join date

: 2009-11-28



---
Permissions in this forum:
You
cannot
reply to topics in this forum