Leveson inquiry: ex-police chief defends not preventing false McCann DNA reportsMatthew Baggott says it was correct 'not to put the record straight' over false reports about Madeleine McCann case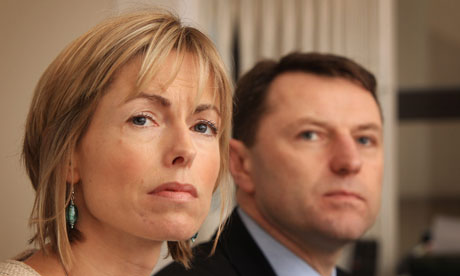 Kate And Gerry McCann, who were awarded £550,000 damages by Express Newspapers for inaccurate reporting in 2008. Photograph: Peter Macdiarmid/Getty Images
The UK
police
were right not to "put the record straight" over false reports claiming Gerry and
Kate McCann
were implicated in their daughter's disappearance, the
Leveson inquiry
has heard.
Matthew Baggott, the former chief constable of Leicestershire police, told the inquiry on Wednesday he could not have released information about DNA tests conducted in the UK to counter leaks by the Portuguese police that falsely claimed they showed the McCanns had hidden Madeleine in the boot of a hire car in Portugal.
Baggott said there were both legal and professional reasons for this. Portuguese secrecy laws made it "utterly wrong to have somehow, in an off-the-record way, have breached what was a very clear legal requirement upon the Portuguese themselves", he told Lord Justice Leveson.
He also said the Leicestershire force's priority was to maintain a positive relationship with the Portuguese police, with a view to "eventually ... resolving what happened to that poor child".
Last November the Leveson inquiry heard how the Daily Express reported there was DNA evidence that could show the little girl's body had been stored in the spare tyre well of a hire car.
It turned out the analysis conducted in the UK was "inconclusive" and there was no foundation for making that allegation. Express Newspapers paid £550,000 damages to the McCann's in 2008 for inaccurate reporting by the Daily Express and the publisher's three other titles.
Leveson asked Baggot about evidence submitted by a Daily Star crime reporter two weeks ago that the Leicestershire police "knew perfectly well that the results didn't demonstrate that", and could have given off-the-record briefings to British journalists not to report a DNA link.
"Even with the benefit of hindsight, sir, I'm still convinced we did the right thing and I think integrity and confidence, particularly with the Portuguese, featured very highly in our decision-making at that time," said Baggott.
He added: "So the relationship of trust and confidence would have been undermined if we had gone off the record in some way or tried to put the record straight, contrary to the way in which the Portuguese law was configured and their own leadership of that."
When they appeared before Leveson late last year, Gerry and Kate McCann told how they were left distraught by false claims in the UK press that they were responsible for their daughter's disappearance or her death.
Leveson later accused the Daily Express of writing "complete piffle" and "tittle tattle" about
Madeleine McCann
.
http://www.guardian.co.uk/media/2012/mar/28/leveson-madeleine-mccann-dna-police?CMP=twt_gu

Guest

Guest





Police 'right not to say McCann leaks untrue'
Thursday, March 29, 2012
Leicester Mercury
The police chief at the time Madeleine McCann went missing has defended his decision not to tell the media that leaked DNA evidence implicating her parents was wrong.
Matthew Baggott the then Chief Constable of Leicestershire – now head of the Police Service of Northern Ireland – was interviewed at the Leveson Inquiry into the media yesterday.
The inquiry has previously heard from Jerry Lawton, a Daily Star reporter, that Portuguese police were leaking DNA results wrongly implicating her parents with a hire car.
Lord Justice Leveson yesterday said Mr Lawton criticised the force, which he said knew the leaks were wrong, for not telling reporters off the record "don't go there'' with the hire car details.
The judge said he was concerned the force did not have the chance to respond and asked Mr Baggott if he would like to.
Mr Baggott said the force had to "respect the primacy of the Portuguese investigation".
He said there was also "an issue of Portuguese law, their own judicial secrecy laws".
This meant "it would have been utterly wrong" to have held an off-the-record briefing over the matter.
Madeleine's father Gerry, in his submission to the inquiry in November, told how he had urged Mr Baggott to write to media organisations urging them to stop inaccurately reporting details of the girl's disappearance.
Mr McCann said Mr Baggott, who left the Leicestershire force in 2009, wrote letters in September and October 2007."Our campaign team pressurised Leicestershire police to write to the broadcasters and editors and there's a letter from Matt Baggott, who was chief constable at that time, urging restraint and saying there was very inaccurate reporting," Mr McCann said.
Portugal police announced this month that a new team had been appointed to re-examine the original investigation into Madeleine's disappearance.
It follows a review by Scotland Yard officers which began in May last year.
Madeleine disappeared from the family's holiday accommodation in Portuguese resort of Praia de Luz in May 2007. She was a few days short of her fourth birthday at the time.
http://www.thisisleicestershire.co.uk/Police-right-say-McCann-leaks-untrue/story-15654901-detail/story.html

Guest

Guest





err....does inconclusive report equal to no indication it was Maddie?

I thought FSS said there was 13 out of 19 markers.........?

Baggot also told LI that the leicestershire police officers working on mccanns case were asked to sign an additional confidentiality gag (in addition to the general one they sign when hired) - so that begs the question why the need for the extra caution with the mccanns case?

Everything about his case is so mysterious.



Posts

: 9610


Reputation

: 324


Join date

: 2009-11-28



---
Permissions in this forum:
You
can
reply to topics in this forum