Page 6 of 6 •
1, 2, 3, 4, 5, 6
This young woman was found alive and well. She, or the people she was with, could have let the police, and her family, know. But some groups of people don't like to help the police. A bungled investigation or not, it could have been ended sooner.

CaKeLoveR




Posts

: 1109


Activity

: 1133


Likes received

: 24


Join date

: 2022-02-19



Archived

Maddy police ignored vital CCTV
By Richard Edwards and Fiona Govan in Praia da Luz
Last Updated: 1:10am BST 21/05/2007
Portuguese police searching for Madeleine McCann faced further accusations of incompetence last night after it emerged they had failed to seize footage holding potentially vital clues to the abduction of the British toddler.
Authorities revealed that detectives have not asked for surveillance pictures of vehicles leaving Praia da Luz at the time of Madeleine's disappearance.
Video: Don't forget Maddy
The criticism came as Madeleine's family admitted for the first time that they no longer think she is in Portugal.
Her aunt Philomena McCann revealed their belief in an email yesterday to well-wishers supporting the search for her.
She said: "We don't believe Madeleine is in Portugal any more and need to get her picture and the story across Europe as quickly as possible." Police have admitted they failed to notify guards on the border with Spain until the morning after Madeleine's mother Kate discoved her oldest child had gone missing.
The focus of the investigation, 16 days after Madeleine's disappearance, has returned to the Russian computer expert Sergey Malinka and his links with Robert Murat, the only formal suspect.
Detectives have reportedly discovered that Mr Murat telephoned Mr Malinka on his mobile at 11.40pm on the night the four-year-old disappeared.
Police sources claim there had been a series of calls between the pair that day despite Mr Malinka allegedly claiming they hardly know each other.
They were also seen talking in an "animated" fashion by surveillance officers following Mr Murat in the days after Madeleine's kidnap, sources said.
In interviews with three different journalists in the past week, Mr Malinka's story has allegedly changed. He is said to have told one reporter, hours before he was detained, that he had not seen Mr Murat for three months.
In another interview after he was released by police he reportedly said he had not spoken to Mr Murat for "around a year".
He told The Daily Telegraph on Thursday he "could not recall". Asked again last night to clarify, he said: "I have never officially talked about when I last spoke to Robert."
Mr Malinka was questioned for five hours by police on Wednesday and computers were seized from his home. He was released and is being treated as a witness and not a suspect. He insisted yesterday he is innocent and had "nothing to do" with the kidnapping of Madeleine.
Police chiefs said that investigations are continuing and there is still the possibility that those released as witnesses could become suspects.
Mr Murat remains the main line of police inquiry but detectives have admitted they do not have the evidence to arrest him. It emerged yesterday that initial forensic results at Mr Murat's villa - 100 yards from where Madeleine was kidnapped - have failed to find any trace of the toddler.
Clothing, hair and soil samples found by specialist search teams at Villa Liliana, where Mr Murat lives with his mother, were sent to a laboratory on Monday night.
Police sources said yesterday they had "not confirmed suspicions about the British suspect".
Meanwhile, there was growing criticism at the police's failure to check motorway cameras for vehicles leaving Praia da Luz in the immediate aftermath of Madeleine's kidnap. Euroscut, the company responsible for maintaining and administrating 80 miles of road between Lagos and Vila Real de Santo António, on the Spanish border, said the cameras act mostly as a deterrent and only record for around two hours a day.
However, they are always monitored in a control room.
Police did not contact the company in the hours after Madeleine's disappearance to alert them and have not approached them since to review material.
Yesterday the global appeal for help in finding Madeleine led to reported sightings of her in Morocco, Crete, Switzerland and Spain.
Police said none of the reports had yet led to a positive outcome but urged the international community to remain vigilant.

https://web.archive.org/web/20070521053106/http://www.telegraph.co.uk/news/main.jhtml?xml=%2Fnews%2F2007%2F05%2F19%2Fwmaddy19.xml
....................
NOTE: Having done the rounds of the UK press, Fiona Govan now works for/with Jon Clarke at The Olive Press.

____________________
" The secret of life is honesty and fair dealing. If you can fake that, you've got it made" - Groucho Marx

Verdi

Forum Manager





Posts

: 27279


Activity

: 34373


Likes received

: 5906


Join date

: 2015-02-02



Sergey Malinka was keen to put as much distance between himself and Robert Murat as he could.

crusader




Posts

: 2422


Activity

: 2691


Likes received

: 259


Join date

: 2019-03-12



"It was terrible, horrible, they gave up the search": McCanns parents' torment when police stopped looking for Madeleine

Kate and Gerry McCann tell of the horrible moment when Portuguese police gave up the search for Maddie and left the family as the only people working to find her
Kate and Gerry McCann talk about the Portuguese and British Police
ByAlan Selby - 30 Apr 2017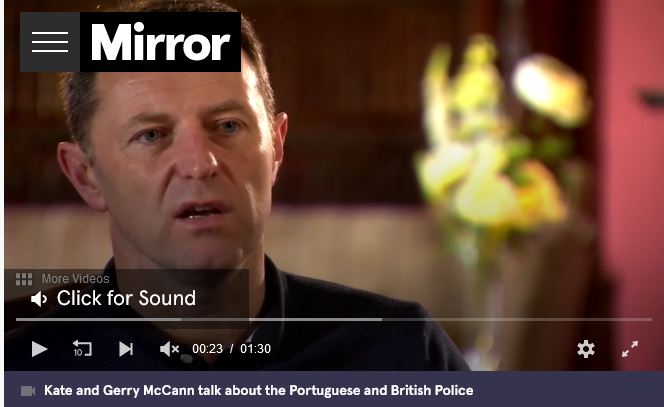 Kate and Gerry McCann have told of their despair when the Portuguese police investigation closed and nobody else was looking for their daughter.
The "terrible and horrible" moment came in 2008, a year after Madeleine vanished.
It left the family as the only people working to find her.
Gerry said: "After the initial Portuguese investigation closed, no one else was doing anything ­pro-actively to try and find ­Madeleine.
"And I think every parent could understand that what you want – and what we have aspired to – is to have all the ­reasonable lines of inquiry followed to a logical conclusion.
Gerry spoke in the couple's moving interview to mark 10 years since their daughter disappeared on holiday in Praia da Luz.
He continued: "It was terrible, it was horrible. As much as we tried and (were) fortunate to have had so many donations into Madeleine's fund, and to use that money to try and investigate, your hands are tied. You don't have the powers law enforcement have.
"Since the Metropolitan Police actually started their investigation, it has taken a huge pressure off us, individually and as a family."
The McCanns, in an interview with the BBC's Fiona Bruce ­broadcast today, said the battle with ex-Portuguese cop Goncalo Amaral caused frustration, anger and even risked harming the search.
He wrote The Truth of The Lie, accusing the McCanns of ­responsibility for Madeleine's ­disappearance.
Amaral also took part in a TV documentary claiming the child was dead, there had been no abduction and her body had been hidden.
He was ordered to pay the McCanns £209,000 each in damages in 2015 after a court banned further sales of his book.
It felt so safe
But he appealed and Portugal's Supreme Court rejected the libel action, saying he was protected by freedom of expression laws.
Gerry branded the judgment "terrible" and insisted they would pursue Amaral in the European courts. He said it was important to challenge him on behalf of the wider family, including his twins Sean and Amelie, 12.
And Kate said: "It has been very upsetting, and it has caused a lot of frustration and anger."
Gerry highlighted the Metropolitan Police's view – echoing the final report by Portuguese police – that there is no evidence Madeleine is dead.
Dismissing Amaral's assertions, he added: "The prosecutor has said there's no evidence we were involved in any crime."
Last month the Home Office confirmed £85,000 was being given to the UK-based Met Police inquiry to cover costs from April to September.
In all, more than £11million has been spent.
Gerry said it was right to bring resources to bear to investigate criminal acts against Britons abroad.
He said: "I know it's a single missing child, but millions of British tourists go to the Algarve and you've got a British subject who was the subject of a crime.
"Others within law enforcement have made it very clear, this type of stranger abduction is ­exceptionally rare and we need to put it into perspective.
"It's partly why Madeleine's case is attracting so much attention, thrown in with many other ingredients, but this type of abduction is exceptionally rare."

https://www.mirror.co.uk/news/uk-news/madeleine-mccanns-parents-say-cops-10324595

____________________
" The secret of life is honesty and fair dealing. If you can fake that, you've got it made" - Groucho Marx

Verdi

Forum Manager





Posts

: 27279


Activity

: 34373


Likes received

: 5906


Join date

: 2015-02-02



Page 6 of 6 •
1, 2, 3, 4, 5, 6
---
Permissions in this forum:
You
cannot
reply to topics in this forum