What happened to Mary Boyle? No body recovered
By Kevin Connolly BBC News
   23 November 2019
When a child goes missing there is one thing worse than finding a body - and that's not finding a body.
Six-year-old Mary Boyle went missing from her grandparents' small dairy farm in a remote area of County Donegal in Ireland on 18 March 1977, the day after St Patrick's Day.
She'd helped her mother with the washing-up, played with her brother and sister and their cousins and then followed her Uncle Gerry as he set out across the boggy fields to return a ladder he'd borrowed from a neighbouring farm.
Uncle Gerry told the police that his niece had given up halfway along the path and turned back.
She was never seen again.
Mary had vanished without a trace. There wasn't so much as a scrap of fabric on a fence or hedge to give a clue as to where she'd gone or what had happened to her.
In our podcast, No Body Recovered, we set out to tell the story of the failed investigation into Mary's disappearance and how what happened on that March afternoon more than 40 years ago changed the lives of everyone who knew her.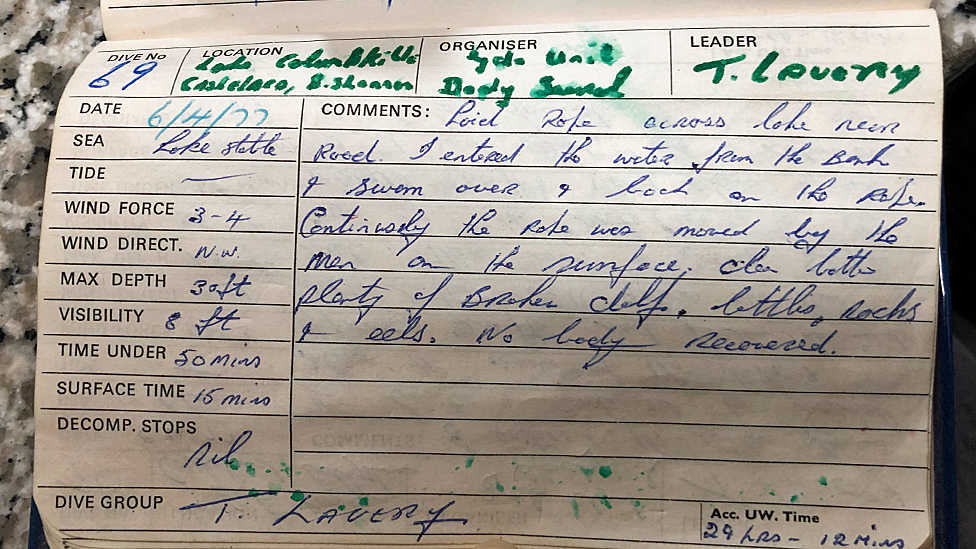 We took our title from an entry in the log book of one of the police divers called in to make a fingertip search of the bottom of the lake beside the farm where Mary went missing.
Tosh Lavery recorded the wind and water conditions, the visibility, and the ominous words, "No Body Recovered".
Mary's disappearance was the main story in that week's edition of the local newspaper, the Donegal Democrat. A week to the day after she had vanished the paper said simply: "Her fate is a heart-rending mystery and any lingering hopes of finding her alive have now gone."
No-one would report an unsuccessful search for a missing child in quite such bleak terms now, of course, but, as we discovered, that's only one way in which the late 1970s seems like a vanished historical era.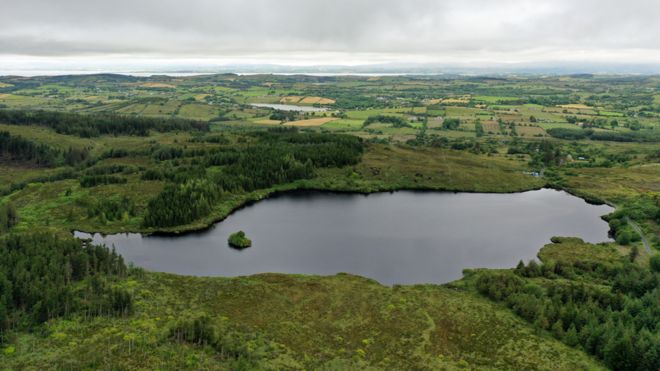 Lough Colmcille in Co Donegal - the lake was searched by divers in 1977
Cashelard, the village where Mary went missing, is just a short distance from the border with Northern Ireland where the Troubles were raging with frightening intensity, occupying the attention of the media and draining the energies of police forces both in Northern Ireland and in the Republic.
Scientific investigation of crime was in its infancy.
It would be almost 10 years before anyone was convicted of a murder using DNA evidence - even if a body had been recovered, detectives would have faced a difficult task in gathering enough evidence to bring a prosecution. Without a body it must have seemed hopeless.
And this was a world without mobile telephones, without social media and without GPS - in those days very few homes in that part of Donegal would even have had landline telephones.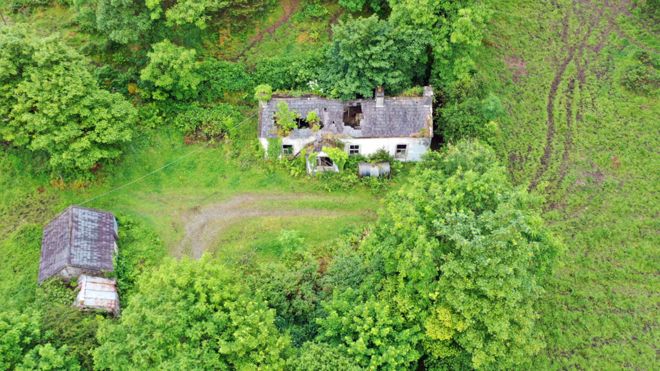 Mary Boyle was visiting her grandparents' home in Cashelard, Co Donegal when she went missing
To report her missing, Mary's family had to attract the attention of a group of fishermen in a small boat on Lough Colmcille beside the farm and ask one of them to drive along narrow country roads in fading light to alert police in the nearby town of Ballyshannon.
We tracked down that fisherman - PJ Coughlan - and he helped us to recreate the story of those first few frantic hours.
"There was panic, surely," he told us. "With a wee girl missing on the mountain. They were all out roaring and shouting 'Mary, Mary' - we could hear them for maybe 10 minutes before we could see them."
PJ's first sight of Mary's mother, Ann, was of a desperate figure stumbling through the twilight on the steep, boggy ground that leads down to the lake. But like the other searchers who were to follow, Mrs Boyle could find no trace of what had happened to her daughter. Her memories of her last hours with Mary are heart-breakingly raw.
"On her last day," she said, "Mary said, 'Mam I didn't give you a kiss this morning' and she jumped up and threw her arms around me."
Shortly after PJ Coughlan reached the police station in Ballyshannon an appeal for volunteers to join the search was read out from the stage of the town's theatre which was staging its annual drama festival. With the podcast producer, Maria Byrne, we set out to tell the story of those desperate hours in No Body Recovered.
Getting people to talk about what happened to Mary wasn't always easy - the great Irish poet, Seamus Heaney, was born not too far from where Mary went missing. He captured something of the wariness of giving too much away to outsiders in the phrase, "Whatever you say, you say nothing."
But both Mrs Boyle and Mary's surviving twin sister, Ann, did talk to us - and our intention all along was not to follow the podcast genre of retracing an investigation, but to tell the story of how the lives of those left behind were overshadowed by Mary's disappearance.
In the case of the Boyles that is a tragic story. Mrs Boyle and her daughter Ann don't speak to each other because Ann believes she knows who murdered her sister and why. Mrs Boyle insists she doesn't know. The release of a YouTube documentary three years ago sharpened the division within the family.
Maria and I set out to tell both sides of the story. When you've heard both, you may be ready to decide who's right about what happened to Mary.
Stories of missing children have a unique power to haunt the imagination - think of Madeleine McCann and Ben Needham in England, or Etan Patz in the United States, the little boy in New York who was one of the first missing children to have his photograph posted on milk cartons as a form of state-wide alert.
Theories about what may have happened to Mary have circulated in Donegal for years, whispers that centre on the existence of paedophile rings in the north-west of Ireland. In the 1970s those rumours were passed on as gossip in pubs - on the internet, which is the modern equivalent, those whispers spread further and faster.
One such rumour - that Mary's disappearance might have been the work of the English child-murderer, Robert Black - has proved extraordinarily persistent. We think we have finally disproved that theory, but we hope you'll listen and judge for yourselves.
The internet has made the fog of rumour harder than ever to pierce - no-one ever seems to come across a story online and find shades of grey, or uncertainty, or ambiguity in it. Everyone always feels they know, even when common sense should tell them that they only think they know.
As journalists we often deal in death as a statistic - the numbers killed in an air raid or an earthquake, or made homeless in a hurricane. It was humbling for us to deal so closely with the fallout from the story of a single missing person.
Somewhere, of course, someone does know what happened to Mary Boyle - it is a strange thought that if you read this or listen to No Body Recovered you may be reading and listening along with a witness whose memory may be jogged, or a perpetrator concealing guilty knowledge.
By a curious coincidence, the play on offer at the Ballyshannon Drama Festival the night Mary went missing was An Triail by the Irish playwright, Mairead Ni Ghrada.
It is a powerful piece of writing - I won't spoil the plot for you - but we were particularly struck by the words of a public prosecutor who appears during the trial itself.
"Dismiss from your minds," he tells the jury, "anything you may have heard or read about this case… I ask you to listen impartially to the evidence you are about to hear and to bring in your verdict accordingly."
That is our appeal to listeners to our podcast too, and it's a chilling thought that the volunteers who disappeared into the night at the beginning of the long search for Mary Boyle had that warning ringing in their ears.
The prosecutor's warning is a kind of antidote to the rumours and allegations and divisions that swirl around the case.
So remember his words, but above all remember Mary Boyle for whom the search goes on.
https://www.bbc.com/news/stories-50404378
...................
Why now?  No breakthrough, no new suspect, no DNA evidence .... no nothing.  Is this the precursor of something special for the weekend, or in preparation of an Xmas extravaganza?
This is the BBC, not the Donegal Bugle.
I smell a festering rodent ....

____________________
" The secret of life is honesty and fair dealing. If you can fake that, you've got it made" - Groucho Marx

Verdi

Moderator/Researcher





Posts

: 16250


Join date

: 2015-02-02



Mary disappeared in 1977 but is still dubbed 'Ireland's Madeleine McCann' - why hasn't Madeleine McCann been dubbed 'Britain's Mary Boyle'?
Anyhow, I'm pretty sure this is an old article resurrected today.
The mystery of 'Ireland's Madeleine McCann': Unsolved case of six-year-old girl who went missing 42 years ago is rocked as identical twin sister claims to 'know who killed her'


Mary Boyle, dubbed Ireland's Madeleine McCann, vanished on March 18, 1977

She was six-years-old and staying at her grandparents' farm in County Donegal

Four decades on and her case remains unsolved as no body has ever been found

Her mother and identical twin sister aren't speaking due to fallout over case 

By
Jessica Green For Mailonline
Published:  16:41, 10 December 2019   |  Updated:  17:43, 10 December 2019 
She remains the youngest child to ever go missing in Ireland after vanishing at six-years-old from her grandparents' dairy farm in County Donegal.
Mary Boyle disappeared on March 18, 1977, while her family were making an annual trip to their elderly relatives in Cashelard for the St Patrick's Day holiday. 
Despite multiple searches,
Birmingham
-born Mary - who has been dubbed Ireland's Madeleine McCann - was never seen again and is presumed dead, although her case remains open 42 years later.  
Now, a new
BBC
podcast, 
No Body Recovered
, reveals how the mystery of the disappearance has torn her family apart, with her mother and Mary's identical twin sister, Ann, no longer speaking to each other. 
As well as wanting an inquest to be held into her sister's death, Ann believes she knows who killed her sibling and why - although she can't elaborate for legal reasons - and claims her mother shares the same suspicion. 
However, Mary's mother insists she has no idea who might have killed her daughter, and does not want an inquest because it would involve accepting her child is certainly dead.  
Here, FEMAIL highlights the dreadful toll this unsolved mystery has taken on Mary's family...
+6
Mary Boyle (pictured), dubbed Ireland's Madeleine McCann, vanishing at six-years-old while at her grandparents' dairy farm in County Donegal
+6
Mary's mother Ann hold a photo of her late husband Charlie along with a picture of her three children. Mary is pictured wearing a red top in the photograph
THE DAY MARY WENT MISSING
It was the day after St Patrick's Day and Mary's mother, Ann Boyle, was washing the dishes when her worried father urged her to check on the children who were playing in the fields.
"They're fine", I said, "I can hear them playing"', Mrs Boyle recalled to journalist and podcast presenter Kevin Connolly. 'But he said it a second time and I said, "I will look out". I went to the window and I couldn't see the kids.
'I went as far as the door and I could only see a couple of them. I went over then as far as the gate and I said, "Where's Mary?". The other four children were there and they said they hadn't seen her since dinner time.
'I panicked right away because the child didn't know the area,' admitted the mother, who quickly started searching for her daughter after ushering her two other children, Ann and Patrick, and their cousins inside.
Mary and her family lived in Kincasslagh – 50 miles to the north of Cashelard on the wild Donegal coastline.
It was later claimed that Mary - who was recorded as last wearing a hand-knitted lilac cardigan, brown jeans and black wellington boots - had followed her Uncle Gerry as he set off to return a ladder to a neighbour, but along the way, she had turned back. 
Despite multiple searches, the youngster was never seen again and is presumed dead - however, her case remains open. 
+6
Some of Mary's family, pictured left to right: Ann Doherty, her granddaughter Charley Boyle Jr, Ann Boyle Snr, and Mrs Doherty's daughter Mary Boyle Jr
THE FAMILY FALLOUT 
While largely forgotten by the outside world, Mary's disappearance has continued to create tension between those who loved her.
Mary's identical twin Ann Doherty, 48, of County Offaly, and her mother no longer speak to one another, because the sibling believes she knows who murdered her sister.
The theories of Mary Boyle's disappearance, including a political cover up and the involvement of serial child killer Robert Black
Mrs Doherty believes Mary was killed by someone known to her, to cover up a string of abuse against the child.
A 2016 YouTube documentary, featuring Mrs Doherty, claimed a politician called the investigating gardaí and told them not to arrest or further question the chief suspect.
A retired detective involved in the case denied that there was any failure to investigate that man, according to the  No Body Recovered podcast.
No details about the suspect were aired on the podcast for legal reasons. 
Rumours have also previously circulated about the involvement of serial child killer Robert Black.
In the 1990s, Garda officers studied the files of the Scottish truck driver, convicted of murdering four girls aged between five and 11 in the 1980s but suspected of being responsible for countless more.
But although Black, who died at Maghaberry high-security prison in County Antrim in January 2016, travelled to Ireland for his work, it was unlikely he was in the country in March 1977.
At other times, the Garda has investigated tipoffs that led them to search a lake, a swamp and wells in the area.  
Mrs Doherty, who believes Mary was killed by someone known to her, thinks her mother shares those suspicions but won't admit that in public. Mrs Boyle insists she doesn't know.  
Mary's sister has shared her suspicions  with the gardaí, but no details about the suspect were aired on the podcast for legal reasons.
But it's not only that which divides Mrs Boyle and her estranged daughter.
Mrs Doherty, a mother-of-five, is campaigning for an inquest into her sister's disappearance - meaning Mary would have to be declared dead.
Mrs Boyle said: 'I don't want an inquest that Mary is dead. I want to believe that Mary is still alive somewhere. I have to live that way.' 
But speaking in the podcast, Mrs Doherty explained: 'I do think an inquest is the best thing, as it may lead to Mary being found. There might be something that comes out of it that could help.
'When I asked for the inquest [my mother] wasn't happy about that. And she rang up and she was not happy and she stopped talking, so there's not much you can do about it.       
'It's very tough. I should be able to talk to my mother, but at the minute I can't. A few people have tried to patch us up, but it's not happening at the minute.'
When told her mother expected an apology from her, the twin said: 'I don't see why I should have to apologise for looking for Mary. Everyone's entitled to their own opinion. 
'I don't see what I have to apologise for. I'm only trying to find Mary and I'm not going to apologise for that. I think if everyone knew what happened to Mary everyone would be able to rest easy and you'd have nothing to be fighting about.
'Things totally changed when Mary went missing. Life has never been the same since. It made our childhood a lot harder than it should've been. There was an awful lot of tears.' 
But not every relationship in the Boyle household was strained, with Mrs Boyle insisting she 'became closer' to her husband, Charlie, who died 14 years ago in an accident at sea.
+6
Mrs Boyle at a memorial to her daughter at St Mary's Church in Kincasslagh, Co Donegal - the inscription wrongly states Mary's age as she was six when she went missing
+6
Mary's identical twin Ann Doherty, 48, of County Offaly, and her mother no longer speak to one another as the sibling (pictured) believes she knows who murdered her sister
Recalling her time with her husband, Mrs Boyle said: 'We became closer actually and it was wonderful that we did, as it could have split up people but thank god we didn't.'
She concluded: 'I never lost my faith all through everything. I pray to find out what happened to Mary before I die. Everyday I pray for that. There's times I think maybe she's alive somewhere. I have that hope still at the back of my mind.' 
HATE FILLED LETTERS TO A DISTRAUGHT MOTHER
In 2017, Mary's mother revealed she had been receiving hate mail from someone pretending to be her six-year-old daughter.  
Speaking on RTE Prime Time, she said: 'One was a Christmas card and the other was a letter, and the stuff that was in it was shocking.
'That threatened my life, and frightened the life out of me. One of them started off like it was from Mary. I mean, my God. That made me ill.'
'He said that I was the worst mother in the world. Hateful,' she explained in the podcast, before adding that it had caused her to move out of her home and live with a relative.
A man suspected of sending the hate mail died in 2018 before he could appear before the courts, and Mrs Boyle admitted that the nasty notes have since stopped.
+6
Despite multiple searches (one pictured in 2011 in County Donegal), Mary was never seen again after vanishing in 1977 and is presumed dead - however, her case remains open
However, the distraught mother believes she is still treated poorly thanks to a YouTube documentary about Mary, which features her daughter Mrs Doherty. 
The programme three years ago sharpened the division within the Boyle family after Mrs Doherty shared her theories.
Many viewers were apparently angered that Mrs Boyle decided not to appear in the documentary, and further unimpressed when she refused to join her daughter in accusing the chief suspect.  
'There is neighbours that don't talk to me,' explained Mrs Boyle. 'If you see the look they give me, that's enough. They don't even say hello. It was when that film on YouTube came out.' 
Mrs Boyle hit back at her daughter's claims, saying: 'I told her she should stop telling her lies. You can't accuse anybody - you have to have proof.
'That was the last time we spoke. Must have been three years ago.'
---
Permissions in this forum:
You
cannot
reply to topics in this forum