Original article still here.
https://www.falmouthpacket.co.uk/news/17831900.family-rescued-child-porthleven-sent-bill-rescuers/

Lots of comments allowed. All critical
PE article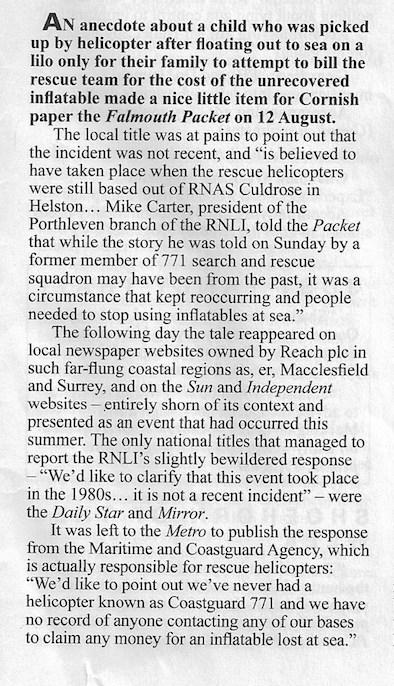 ____________________
PeterMac's FREE e-book
Gonçalo Amaral: The truth of the lie
NEW CMOMM & MMRG Blog
It's the new rock n roll:
AOC.. the rising star of the US Democratic party... she genuinely said this:

BlueBag




Posts

: 7810


Activity

: 11402


Likes received

: 3544


Join date

: 2014-06-06



Conversely, some might say this is how a government media monitoring director works..
Madeleine McCann
Both the Daily Star and its Sunday equivalent, as well as its stablemates the Daily Express and Sunday Express, featured heavy coverage of the disappearance of Madeleine McCann in May 2007. In 2008, the McCann family sued the Star and Express for libel. The action concerned more than 100 stories across the Daily Express, Daily Star and their Sunday equivalents, which accused the McCanns of involvement in their daughter's disappearance. The newspapers' coverage was regarded by the McCanns as grossly defamatory. In a settlement at the High Court of Justice, the newspapers agreed to run a front-page apology to the McCanns on 19 March 2008, publish another apology on the front pages of the Sunday editions on 23 March and make a statement of apology at the High Court. They also agreed to pay costs and substantial damages, which the McCanns plan to use to aid their search for their daughter.[9] The Daily Star apologised for printing "stories suggesting the couple were responsible for, or may be responsible for, the death of their daughter Madeleine and for covering it up" and stated that "We now recognise that such a suggestion is absolutely untrue and that Kate and Gerry are completely innocent of any involvement in their daughter's disappearance."
wikipedia
....................

Fallen Star: how the tabloid with dreams of being a leftwing Sun fell from grace
Roy Greenslade - 28th October 2018

The Daily Star, which turns 40 this week, is now a middle-aged, vacuous nonentity. It's a birthday hardly worth celebrating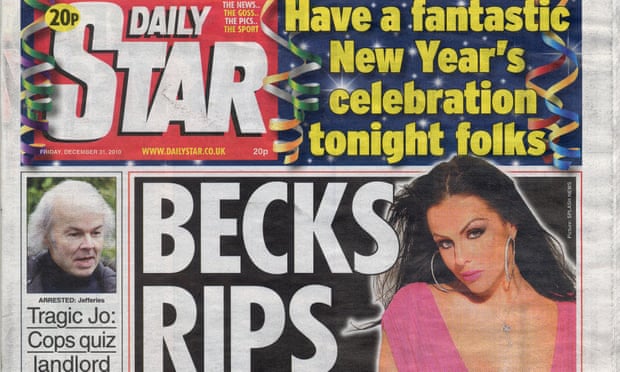 Posters went up across Manchester in October 1978 proclaiming the arrival of a new daily newspaper: "A Star is born". On his way into the office, the paper's editor-in-chief, Derek Jameson, was upset to see that one had been defaced. His taxi driver, after laughing at the amendment, "A Star is porn", told him: "You shouldn't worry – it will double circulation." Little did either man know that the paper would eventually fall into the hands of two pornographers.
On Friday, the Daily Star celebrates its 40th anniversary, although it's hardly worth marking. It has become a pathetic article, a travesty of a newspaper, having lost any sense of purpose. Yet it obviously fills some need, because it sells 355,000 copies a day, and its print decline is no worse than that of its rivals.
It survives on a diet of sex, still featuring a topless model on Page 3 each day, and on celebrity trivia. The Star is a newspaper without either news or views. If it can be said to have any political outlook at all, then it is rightwing. There is no passion, no commitment, no soul.
Given its strange birth, it is no surprise it has grown into middle-aged nonentity. Some people launch newspapers as a public service; some do so because they want to change the world; some just want to make money. But Victor Matthews, the then proprietor of Express Newspapers, and his managing director, the buffoonish Jocelyn Stevens, decided to launch the Daily Star simply to solve an internal company problem.
Their printing presses were underused due to falling Daily Express circulation but, in the face of intransigent print union militancy, there was no question of reducing staff. Instead, to take up the slack, Stevens told union leaders they would be expected to publish a new tabloid and cannily informed them it would "a paper of your own", a tacit hint that the Star would be pro-Labour.
At the time, another red-top looked anything but a good idea because there was no obvious gap in the market. The Sun was in the ascendancy, selling just short of 4m a day, and the Daily Mirror, although sliding down the sales ladder, still had 3.8m. Surely, there was no audience for the Daily Star?
Matthews and Stevens, though they never acknowledged it, were fortunate in their choice of editor: Peter Grimsditch, ex-Daily Mail, Sunday Mirror and deputy editor of Reveille. As Jameson later remarked, Grimsditch's "manic energy" was at the heart of the project. "Eyes ablaze with missionary zeal", he convinced "a handful of true believers" that it was possible to create a saleable paper that would, in its initial stages, be distributed only in England's northern and Midlands regions.
One advantage would be sport. The Sun, then printed only in London, could not get overnight match reports and results to readers in the football-mad northern cities. Moreover, the Sun's editor, Larry Lamb, had lost his way, devoting too many front pages to serious political issues and eschewing the wit that had marked his feted early period. Grimsditch and his small team of Fleet Street veterans, including the Sun's former art director, Vic Giles, seized the chance to forge a paper that evoked memories of the Sun's cheekier days. It was also informed by a markedly left-of-centre political line. So, against the odds, the entire 1.4m print run of the first issue of the Daily Star, on 2 November 1978, sold out. And it kept on selling.
Grimsditch's first disappointment came before the following year's general election. Matthews would not hear of the Star backing Labour, though he overlooked the fact that the Star offered no support to Margaret Thatcher. Then, after a bit of Jameson chicanery, Grimsditch was fired. He was not around to enjoy the extra sales gained when the paper launched a bingo game and was distributed nationally.
By early 1981, the Star was living up to Grimsditch's dream by regularly achieving sales of more than 1.5m while the Sun, to the consternation of its owner, Rupert Murdoch, went into reverse. As one wit remarked, it was the first time a Star had eclipsed the Sun. Murdoch took swift action: he fired Lamb and replaced him with Kelvin MacKenzie. I was the Star's features editor at the time, and there was a misconception that I had played a key role in the paper's success. On that basis, I became MacKenzie's assistant editor.
For the following seven years or so, the Sun could never afford to ignore the Star. Its editor, Lloyd Turner, a former Daily Express night editor, proved to be a formidable opponent. He built on the Grimsditch formula, improving the news and features coverage, and by maintaining a non-Tory viewpoint, he managed to steal readers from the Mirror.
Turner's downfall in 1987 was dramatic and proved to be the turning point in the Star's fortunes. He followed up a News of the World revelation about the relationship between the then Conservative party deputy chairman, Jeffrey Archer, and a prostitute. The Star went much further than the original story by stating that Archer had had sex with the woman. Archer sued for libel, outrageously won the case and was awarded £500,000 damages.
Turner was duly fired and, according to his wife, he "was left a broken man, with his reputation in tatters". He died five years before he was vindicated. In 2001, Archer was exposed as a liar and sentenced to jail for four years after being convicted of perjury and perverting the course of justice.
After Turner's departure, the Star's new proprietor, Lord Stevens, astonished rival press owners by handing control of the paper to David Sullivan, the owner of sex shops, publisher of pornographic magazines and founder of a paper infamous for its fabricated stories and headlines, the Sunday Sport. Sullivan appointed Mike Gabbert as the Star's editor and he transformed the paper overnight after pledging to publish "the biggest boobs possible" in every issue.
He dared to run semi-naked pictures of a 15-year-old girl who vowed to go topless when she turned 16. The exploitative nature of the exercise resulted in staff resignations. Circulation plummeted instantly. MPs denounced the paper in parliament. Advertisers, including Tesco, cancelled their contracts. After eight weeks, Stevens pulled out of the deal, but the damage was done.
The Star went into freefall despite the efforts of its next editor, the fervently rightwing Brian Hitchen. By 1998 sales had fallen to 540,000. It is a tribute to the professionalism of Peter Hill, who took the helm in that year, that he reversed the downward trend by switching the editorial agenda. In a counterintuitive move, he ignored main news events and splashed instead on offbeat stories. It worked and sales were rising in 2000 when Express Newspapers was acquired by the "adult magazine" entrepreneur Richard Desmond. Once more, the Star found itself in the hands of a pornographer.
Hill convinced Desmond to double the photographic budget before what proved to be the Star's emergence as an unashamed celebrity sheet, an editorial approach enthusiastically taken up by the next editor, Dawn Neesom. She departed in February this year after Reach (the Daily Mirror's owner) bought the Express titles. Since then, it has concentrated on purveying vacuous gossip about the "stars" of reality TV shows. The dream of a credible, leftwing Sun had died long ago. Now, there is no point to its existence.
https://www.theguardian.com/media/2018/oct/28/fallen-daily-star-tabloid-sun-fell-grace-newspaper

____________________
" The secret of life is honesty and fair dealing. If you can fake that, you've got it made" - Groucho Marx

Verdi

Moderator/Researcher





Posts

: 22183


Activity

: 28937


Likes received

: 5724


Join date

: 2015-02-02



One for the 'frog and toad'..



____________________
" The secret of life is honesty and fair dealing. If you can fake that, you've got it made" - Groucho Marx

Verdi

Moderator/Researcher





Posts

: 22183


Activity

: 28937


Likes received

: 5724


Join date

: 2015-02-02



Private Eye on-line
***
Announcing the firing of 550 of its staff last July, newspaper giant Reach plc said it would be "bringing together national and regional teams across print and digital, to remove duplication, while maintaining the strong identity of our news brands". How's that working out in practice?
On the morning of Wednesday 12 May, Rebecca Miller, "senior TV reporter" on the Daily Express website, published a story about a record-breaking find on BBC daytime show Antiques Road Trip, where an antique camera for which a contestant paid just £60 sold for £20,000 at auction. The identical story appeared on the website of stablemate the Daily Star at 4.53pm that day, but with Sam Huntley's byline on it – and then again, almost exactly 24 hours later, but this time under Lottie O'Neill's name.
Got a good showing
On the Thursday afternoon it was also published on the Daily Mirror website, under the byline of that paper's "showbiz audience writer" Paige Holland. The mildly rewritten story then got a good showing on page 31 of Friday's actual Daily Express, beneath the byline of reporter Steph Spyro, whereupon the Express website republished Miller's version from two days earlier.
Reach's Scottish paper the Daily Record then whacked a version up on its website at 7.23pm on the Friday, credited to Kirsten McStay, and finally at lunchtime on Saturday 15 May the online Birmingham Mail ran it, adding the words "the Mirror reports" and the byline of Sanjeeta Bains.
Hasn't even been repeated recently
None of the seven hacks involved, nor anyone else in the six Reach newsrooms which handled the story, managed to notice that the incident occurred in an episode of Antiques Road Trip that was broadcast on 29 September 2017, and hasn't even been repeated recently. The record profit was widely reported at the time – including in Reach's own Daily Mirror.
Doug D and ShiningInLuz like this post
---
Permissions in this forum:
You
cannot
reply to topics in this forum