Why are we allowed to see the Hongkong protests, but there is absolutely
nothing
about the Paris protests?
It's a valid point. The Yellow Vests/Filets Jaunes have been protesting for over 40 weeks, and only in the first few weeks was there any serious reporting of the Paris protests.

But this is part of our media's pro-EU agenda. There is lots of bad news in the EU right now;

German economy in trouble
Bombings by Muslims in Swedish cities almost daily
Mass youth unemployment in Spain, Portugal & Greece
Italian migrant crisis...
...and much more.

Our mainstream media don't want the EU to look bad.

However, it must be admitted that the Hong Kong protests are on a MUCH bigger scale.

As yet, the 'Yellow Vests haven't taken over train stations & airports.

The proportion of Hong Kong people on the streets is very large, dwarfing the Yellow Vest protests. Millions are turning out for the Hong Kong protests

____________________

Dr Martin Roberts: "The evidence is that these are the pjyamas Madeleine wore on holiday in Praia da Luz. They were photographed and the photo handed to a press agency, who released it on 8 May, as the search for Madeleine continued. The McCanns held up these same pyjamas at two press conferences on 5 & 7June 2007. How could Madeleine have been abducted?"
Amelie Mcann (aged 2): "Maddie's jammies!".  

Tony Bennett

Researcher




Posts

: 15564


Join date

: 2009-11-25


Age

: 71


Location

: Shropshire



Maybe this is the reason..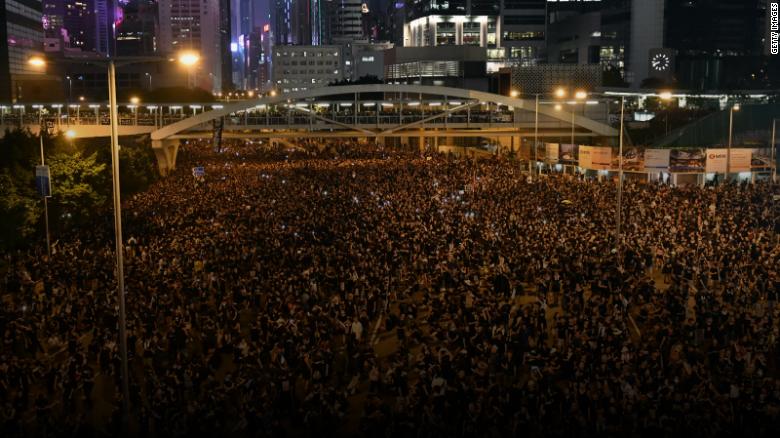 What do they hope to achieve?

Verdi

Moderator/Researcher





Posts

: 14117


Join date

: 2015-02-02



Hi Jill, perhaps there is an "Hidden Agenda" right now on reporting of large protests, events, violence against the individual, Global propaganda, World Economic recession, Global alignment of products, G8-G20?

Over Two weeks ago a "Woman" was walloped on the back of her Head by French Police in Paris to curtail the riots?

Katie Hopkins had posted the event on "Twitter" I feared for the woman's life after witnessing the extreme violent Attack by Armed Police?
The way, the woman collapsed to the Floor, i would hazard a guess that if she is alive or Not suffering with a "life long condition" of medical needs, All caught on Camera but Not shown on BBC, MSM

willowthewisp




Posts

: 3331


Join date

: 2015-05-07



Yes I saw that clip too willow.
It was unprovoked too. The woman wasn't doing anything except walking along and the police officer came up behind her with his baton and, as you say, he walloped her on the back of the head and she crumpled into a heap. The officer simply carried on his way...
---
Permissions in this forum:
You
cannot
reply to topics in this forum