Sometime have a look at the website for the Jubilee Sailing Trust, which runs the Lord Nelson and the tenacious, both square rig sailing ships designed specifically to be crewed - with the emphasis on CREWED - by people with disabilities.
https://jst.org.uk/
Every time I have sailed with them I have been impressed with the range of jobs that people master.
On my most recent trip I was buddy to a blind man.  No sight AT ALL.  Nothing.  He is a very senior and respected member of the BBC World Service Radio team, as he has a beautiful speaking voice.
On a previous trip I met a woman confined by cerebral palsy to a wheelchair, who nevertheless has more medals and has competed in more Olympics than Sir Steven Redgrave.
And so on.

____________________


Not to mention that's how you met fellow police officer and valued CMOMM member 'Monkey Mind' who had to leave us when he lost his sight.

I hope he's ok, I think about him often.
I met him long
after
he had lost his sight, and been chucked out of the Met on a medical, but yes, met him on the Nelson. 
He was the first totally blind Watch Leader, just as Vicky A was the first with severe cerebral Palsy to be Watch leader.
That means leading your watch up the shrouds and out onto the yard to hand or set the square sails, as well as doing everything else.
I am still in sporadic touch with him.
 This is Mark P on the helm.  He has NO SIGHT.  But no one cares about what he doesn't have, or can't do. They care about what he does, and what he can.
[ He is in fact listening to an audio compass, and has been told what course to steer ]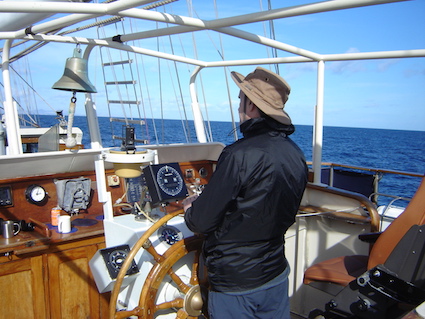 And this is him climbing round the Futtock Shrouds, the overhanging bit which some people find a bit daunting.

____________________


When Francesca Martinez made her comments on Disability Cuts and the introduction of the New DWP Benefit system"Blood on Their Hands", Iain (Two Fists) Duncan Smith, Esther McVey, Theresa Villers never took responsibility for the Actions the Conservative Party took against these people, after Ten years of austerity, £50.00 on a Breakfast expenses Claim, eh Iain?

Ask them would they normally spend £50.00 of their own funds on a Breakfast?

Just recently the DWP found a Six Stone weighing Man "Fit For Work" with Consultants from NHS signing forms to Transfer the patient to DWP fit for Work appointments, this person has recently died after winning his claim of Not Fit For Work, Rest In Peace Mr Stephen Smith.

These MP's think they are a Law unto themselves, if you think this is wrong, take a long look at how Benefits used to be paid and period of entitlement to Now using Civil Servants intellect to reconstitute Benefit system, Universal Credit?

Benefits paid in arrears, whereas Credit is what you owe?

willowthewisp




Posts

: 3394


Join date

: 2015-05-07



---
Permissions in this forum:
You
cannot
reply to topics in this forum