Galloway charity 'may have delivered no aid despite £1m donations'

Inquiry into Viva Palestina finds litany of failings and little evidence of Gaza aid missions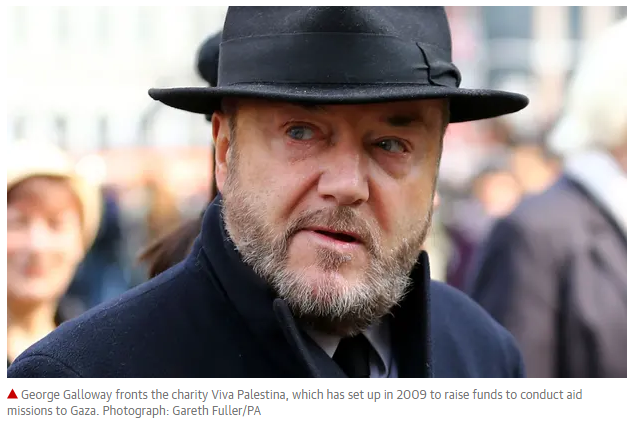 A charity fronted by the former MP George Galloway may not have conducted any charitable activity or distributed any humanitarian aid despite claiming to have gathered £1m in public donations, according to an investigation from the charity regulator.
Viva Palestina was established in early 2009 and launched a large-scale media fundraising campaign to finance aid convoys to Gaza from the UK, bringing food, medicine, medical equipment and essential goods and services.
In February 2009 its website claimed the initiative had raised over £1m and included a statement from Galloway – then MP for Bethnal Green and Bow in London – which said: "I have launched a major initiative in response to the humanitarian crisis in Gaza."
On the website, Galloway – who was sacked this week by TalkRadio after sending an allegedly antisemitic tweet – was also listed as a "subscriber" and had signed the charity's constitution, which said it was formed "for the alleviation of suffering and to help the people of Gaza to rebuild their land".
But investigators from the Charity Commission found that the charity's trustees (who did not include Galloway) failed in the basic requirement to keep receipts and records of income and expenditure and never submitted any accounts.
It concluded: "In terms of activities, it was difficult for the inquiry to establish with any certainty whether any charitable activity had taken place, as it found little if any evidence that humanitarian aid was distributed to those in need in accordance with the charity's objects."
An earlier investigation by the commission found that in the first three months of its existence Viva Palestina actually raised only £180,000 in donations, not £1m.
In 2009 Galloway went on two Viva Palestina convoys and in 2012, after being elected the MP for Bradford West, he also spoke at a fundraiser for the organisation.
The commission first took an interest in Viva Palestina in 2009, when it forced the trustees to register as a charity and imposed an action plan.
The regulator began a second inquiry in 2013 after trustees ignored the plan and failed in their statutory duty to submit annual returns and accounts for the financial years in 2010, 2011 and 2012.
On Thursday it finally concluded its investigation and found that the trustees had:


Failed in their statutory duty to provide any financial accounts, in breach of the charity's own governing document and charity law.

Failed to address the outstanding regulatory concerns by completing the steps required in the action plan.

Failed to co-operate with the commission during its investigation, including failing to provide information.

Failed in their duty to provide and maintain proper financial controls and to properly manage and administer their charity.

Failed to discharge their duties to safeguard the charity's money and assets and to act prudently, which included avoiding activities that may have placed their funds, assets or reputation at undue risk, namely:

they failed in the basic requirement to keep receipts and records of income and expenditure and so be able to properly account for charitable funds raised and spent. These basic requirements are all the more important when charitable funds are raised from members of the public and used for humanitarian needs in conflict zones;

there were no basic financial controls or policies in place to account for and safeguard funds coming into the charity and being spent.

The commission concluded: "In summary, the charity was not properly governed, managed or administered by its trustees – as a result of those failings its reputation, that of the wider charitable sector, and charitable funds donated by the public to the charity were put at risk."
Ron McKay, Galloway's sometime spokesman, who went on the convoys, insisted Viva Palestina was a campaign and not a charity.
"It's taken the Charity Commission getting on for a decade to come up with this nonsense. A quick viewing of YouTube would have shot this down. Viva Palestina took hundreds of vans, cars, lorries, ambulances, you name it, to Gaza and they were not empty I can vouchsafe. If the participants' pockets were also stuffed with money which they gave to Gazans, I don't know. But I hope they did," he said.
"Finally, to reiterate, VP was set up as a campaign, it was the Charity Commission, in an undisguised attempt to shut down the politics, which decided it was a charity. For this kangaroo judgment they haven't even attempted to contact me or any of the others involved, which doesn't surprise me in the least. I don't even accept the premise of it, far less the conclusion. I'm proud of what we did."
https://www.theguardian.com/politics/2019/jun/06/galloway-charity-may-have-delivered-no-aid-despite-1m-donations
____________________
PeterMac's FREE e-book
Gonçalo Amaral: The truth of the lie
NEW CMOMM & MMRG Blog
...and we are surprised by allegedly fraudulent charities how?

sar




Posts

: 1335


Activity

: 1680


Likes received

: 341


Join date

: 2013-09-11



No, we are not surprised any more. If the donkey charity I support turns out to be dubious, I will shoot myself.

CaKeLoveR




Posts

: 1416


Activity

: 1761


Likes received

: 345


Join date

: 2018-09-19



How is the investigation into Kid's Company/Batmanghelidjh/Yentob of the BBC charity coming along?
____________________
PeterMac's FREE e-book
Gonçalo Amaral: The truth of the lie
NEW CMOMM & MMRG Blog
Sir Winston Churchill:
"Diplomacy is the art of telling people to go to hell in such a way that they ask for directions."

Liz Eagles




Posts

: 10632


Activity

: 13029


Likes received

: 2206


Join date

: 2011-09-03



They can always find a reason not to investigate:
Charity Commission's inquiry into Kids Company 'on hold'
12 February 2019 by Liam Kay
The regulator's statutory inquiry, opened three-and-a half-years ago, is being delayed by disqualification proceedings being brought by the Insolvency Service against the defunct charity's former trustees
The Charity Commission's inquiry into the defunct charity Kids Company remains on hold almost three and a half years after it began while legal proceedings by the Insolvency Service are concluded.
The charity closed in August 2015, citing a lack of funding after the withdrawal of government support for the organisation. The commission swiftly announced it had opened a statutory inquiry.
In July 2017 the Insolvency Service announced it was bringing disqualification proceedings against the charity's eight former directors and Camila Batmanghelidjh, its founder and former chief executive.
If the proceedings are successful, the directors could face bans from running or controlling companies for between two-and-a-half and six years.
A statement made at the time by the directors said they would "robustly defend"themselves against the proceedings.
The action by the Insolvency Service has meant the Charity Commission has had to put its inquiry on hold while the disqualification proceedings play out.
A spokeswoman for the Charity Commission said the regulator was conscious that the outcome and results of its inquiry into Kids Company were awaited.
"We recognise the high public interest in this case and we have been and remain committed to progressing matters thoroughly but as swiftly as possible, without compromising due process and the outcome," she said.
"We have always made clear that the work of the Insolvency Service/Official Receiver takes precedence over the commission's inquiry, and that our inquiry would take into account their findings.
"The inquiry is therefore currently on hold pending the progress of those legal proceedings.
"As soon as we are able to, without prejudicing any proceedings or outcome, we will provide an update on our investigative work."
A spokesman for the Insolvency Service told Third Sector the case was proceeding as normal and that it was waiting for a hearing date to be agreed.
https://www.thirdsector.co.uk/charity-commissions-inquiry-kids-company-on-hold/governance/article/1525436

Doug D




Posts

: 3436


Activity

: 4919


Likes received

: 1225


Join date

: 2013-12-03



It gets even better:
Kids Company founder urges judge to spare her the 'stress' of a court case over the charity's financial meltdown after taking £42m of public money
By SAM GREENHILL FOR THE DAILY MAIL and RORY TINGLE FOR MAILONLINE
PUBLISHED:
22:02, 13 May 2019
| UPDATED: 02:02, 14 May 2019
The controversial founder of the defunct Kids Company charity yesterday begged to be spared the 'stress' of court proceedings.
Camila Batmanghelidjh asked a judge to help her avoid taking the blame for its financial meltdown.
Her solicitor told the High Court it would be a 'blessing' if she was let off, adding: 'It would save time, cost and stress for her.'
Kids Company, which helped troubled children in south London, was given £42million of public money, including £3million sanctioned by David Cameron just days before its collapse in 2015.
But an inquiry found an 'extraordinary catalogue of failures' at the charity and now the Insolvency Service is trying to impose a six-year ban on Batmanghelidjh being a company director.
The charity's former chairman Alan Yentob, an ex-BBC executive, and six others also face three-year bans.
At a preliminary court hearing yesterday, Batmanghelidjh argued she should escape blame because although she was 'heavily involved' in the charity, she was 'not involved in the governance'.
Her solicitor, James Nicholls, complained that 'stones are being thrown at her by the official receiver', who has amassed 56 lever arch files of evidence, which he described as 'a plethora of noise'.
Although Batmanghelidjh was not a director at the time the charity collapsed, she was described at a previous inquiry as the 'unaccountable and dominant' chief executive who regarded Kids Company as 'her personal fiefdom'. 
The Insolvency Service is arguing that she was a 'de facto director', and should be banned.
Her solicitor asked for a separate hearing to decide whether she could be excused from the case. 
But Gareth Tilley, for the official receiver, said it would be better if all eight defendants faced trial at the same time so that the court could get 'the full picture'.
He said it was not yet known whether Batmanghelidjh and the board directors might blame each other for the collapse, to which Deputy Insolvency and Companies Court Judge Middleton replied: 'It does have the "cut-throat" feel about it doesn't it?'
He threw out Batmanghelidjh's application and rejected her request to be given longer than her co-defendents to file her defence, so she could see what they said.
'She wants to see the other directors' evidence before she puts pen to paper? Your client just has to say the truth,' he told her.
Kids Company received millions of pounds in taxpayer funding and was backed by high-profile celebrities. 
Inquiries have previously found the charity gave brown envelopes stuffed with cash to troubled children as a matter of course. 
Some £50,000 was allegedly spent on taxis at the charity's Christmas party, and Batmanghelidjh had the use of a driver. 
Twelve-year-old clients were given £150 trainers, while others were flown first class to America.
In 2015, one of the youngsters helped by the organisation told how she and her friends would splash the spending money they were given on cannabis.
She told Radio 4's The Report: 'We would queue up and sign our names down and get an envelope with £30 and an Oyster travelcard.
'Then we would go to the shop and buy whatever we wanted with that money. It was weed heaven on a Friday, you could smell it coming down from the landings.'
Other alleged instances of waste included someone's PhD studies being funded, and a stay at Champneys spa for a man with mental health problems who booked a chocolate massage treatment. 
Batmanghelidjh denies all the allegations against her. The case continues.     
https://www.dailymail.co.uk/news/article-7025093/Kids-Company-founder-urges-judge-spare-stress-court-case.html

Doug D




Posts

: 3436


Activity

: 4919


Likes received

: 1225


Join date

: 2013-12-03



Oh the "Irony" that a Charity fund supported by Mr George Galloway, "Viva Palestina" had failed  to adhere to the financial regulations, regarding the Charity?

Is this the new Political Football, aka Liverpool's win over Tottenham Hotspur, talk Radio comments, a "Witch hunt" for Mr Galloway quotes about Israel and flags?

Now you have Camila Batmanghelidjh, cavorting to be kept out of the "Stress" of the Courts proceedings, poor Camila not wanting to face the Truth of her Charities underhanded deceitful shenanigans of a Conservative Government,Cameron, public funding?

Also note the figures quoted between Viva Palestina, Kid's Company, as it seems the "Total Amount of deception" is irrelevant, we'll see?

willowthewisp




Posts

: 3393


Activity

: 4912


Likes received

: 1159


Join date

: 2015-05-07



Inquiry into charity Islamic Centre of England that called Iran's Soleimani a martyr
A British charity run by a representative of Iran's supreme leader is being investigated by the charity regulator and Whitehall officials after praising General Qasem Soleimani as a martyr.
The Islamic Centre of England organised a vigil in London on Saturday to mark the death of Iran's leading general that was attended by more than 2,000 people, including Iran's ambassador to London, Hamid Baeidinejad.
Seyed Moosavi, 51, director of the Islamic Centre and the UK representative of Ayatollah Khamenei, the Iranian supreme leader, issued a statement in which he praised Soleimani as a "dedicated soldier of Islam" who had died at the hands of "the most wicked members of the human race".
The centre, based in a former cinema in northwest London, is a registered charity which boasts assets of more than £4 million. It funds other Islamic centres in Glasgow, Cardiff, Birmingham, Manchester and Newcastle. The centre's legal aims are "advancing the religion of Islam and education, and the provision of social and religious welfare facilities". Charity Commission rules allow political campaigning only "in the context of supporting the delivery of its charitable purposes".
The centre is entitled to claim taxpayer-funded gift aid on donations, which could be up to £150,000 a year.
Separately, Whitehall officials have begun examining its finances. They are understood to be furious at the comments amid threats of revenge from the Iranian regime and are investigating if the charity receives any public funds.
The centre, which is one of the leading Shia Muslim mosques in the UK, is part of a network of organisations considered to have close links to the regime in Tehran, including the Islamic Human Rights Commission (IHRC).
The IHRC's founder and chairman, Massoud Shadjareh, 68, told the crowd outside the centre on Saturday: "We work hard to make sure there will be many, many more Qasem Soleimanis. We aspire to become like him."
Paul Stott, research fellow at the Henry Jackson Society think tank, described the Islamic Centre as "an important outpost of Iran's theocratic regime". He said: "Here the mullahs take advantage of the open nature of our liberal democracy, enjoying political and religious freedoms they would never dream of extending to minorities in Iran.
"Given the affection in which the murderous Qasem Soleimani was clearly held by the congregation at the ICE, and threats emanating from Iran's leadership to seek revenge for his death, the authorities will have to keep a careful eye on events in this part of London.
"Taxpayers will be horrified that an organisation which lights candles for the likes of Soleimani, has charitable status in this country."
The Islamic Centre referred calls about Soleimani to the Iranian embassy. The IHRC could not be reached for comment.
Both groups have been praised by Jeremy Corbyn, the Labour leader, and have special consultative status with the United Nations economic and social council.
Last year The Times revealed the IHRC has received £1.2 million in charity money despite its leaders, who are closely aligned to Iran, saying the West is "the enemy" and Britain a "Stasi state".
The Islamic Centre's leaders have previously caused controversy by saying it is forbidden for Muslims to serve with the British armed forces and for linking gay marriage to bestiality.
Nicola Sturgeon, Scotland's first minister, pulled out of a conference last November to avoid sharing a platform with Mr Moosavi's predecessor, Mohammad Shomali, after he suggested that gay marriage could lead to the desire for "marriage with animals".
In June 2018 Mohammad Saeed Bahmanpour, director of interfaith relations at the Islamic Centre of England, said "resistance" will "wipe Israel off the map". Mr Bahmanpour was for four years director of The Islamic College based in Willesden, northwest London, which also has strong links to Tehran.
A Charity Commission spokeswoman said last night: "We are aware of a vigil held by the Islamic Centre of England over the weekend and publications on its website. We will be contacting the charity to seek further information."
https://www.thetimes.co.uk/article/inquiry-into-charity-islamic-centre-of-england-that-called-irans-soleimani-a-martyr-zp25l3lpc

____________________
" The secret of life is honesty and fair dealing. If you can fake that, you've got it made" - Groucho Marx

Verdi

Moderator/Researcher





Posts

: 22713


Activity

: 29499


Likes received

: 5744


Join date

: 2015-02-02



Whilst the
very important
charity regulator is going about it's
very important
business, I can think of another charity - ooops no sorry, limited company, that's in drastic need of a regulatory investigation.

____________________
" The secret of life is honesty and fair dealing. If you can fake that, you've got it made" - Groucho Marx

Verdi

Moderator/Researcher





Posts

: 22713


Activity

: 29499


Likes received

: 5744


Join date

: 2015-02-02



And for those who think donating things rather than money is the answer, read this.  And weep.
Pay wall, so I'll post in full.
https://www.thetimes.co.uk/article/how-the-clothes-you-donate-to-charity-can-end-up-on-dumps-in-ghana-pzmbsk3k5
How the clothes you donate to charity can end up on dumps in Ghana
Only America chucks out more clothes than we do and our charity shops can't keep up. What happens to those they can't sell? Shanti Das follows the trail
Cows forage for edible scraps atop one of Accra's many waste dumps, piled high with discarded garments
ANDREW ESIEBO FOR THE SUNDAY TIMES MAGAZINE, THE OR FOUNDATION
Shanti Das
Sunday June 27 2021, 12.01am BST, The Sunday Times
W

alking around Kantamanto, you can hardly move for clothes. There are T-shirts from Asos, pink jeans from Primark, checked shirts from H&M and silk pyjamas from M&S. Hanging from rails, scattered on blankets and packed into bales on the heads of the kayayei (female porters) who transport them, they change hands at a dizzying pace. This market in Accra, the capital of Ghana, is where thousands of tonnes of British clothes and shoes end up when we're done with them. Less than a mile away sits a mountain of more clothes — too ripped, stained or soiled to sell. One of several informal dumps in the city, it is about 25ft high and spills into a river near the Old Fadama slum, home to about 80,000 people. Cattle forage on top as waste pickers search for scraps to salvage. A sequinned dress, probably a showstopper in its heyday, glints in the sun. Yet more clothes fill the gutters and are swept into the Gulf of Guinea, clogging fishing nets and washing up on beaches for miles along the coast.
This is the product of our throwaway culture. Over the past few years our consumption of clothes has surged. In 2019 UK consumers spent a record £61 billion on new outfits — the most in Europe and double what the stylish Italians buy. As a result an estimated 13 million items of clothing every week end up in landfill, according to Oxfam. Figures from the United Nations show that in 2018 an additional 400,000 tonnes were exported to buyers overseas. That makes the UK the second biggest exporter after the US. Our top trading partners for our cast-offs include Poland, Nigeria and Pakistan but the number one destination is Ghana, where our discarded items are known as obroni wawu — dead white man's clothes.
Recycled clothes from the West are sold at the sprawling Kantamanto market in Accra, Ghana
ANDREW ESIEBO FOR THE SUNDAY TIMES MAGAZINE, THE OR FOUNDATION
In 2019 we sent used clothes and shoes worth a total of £70.5 million to Ghana — double the amount in 2010 and more than 20 times as much as 2000. Many were donations: bagged up for charity shops or dropped into textile recycling banks. "If someone in the UK puts a bag on their doorstep or dumps some clothes off at the local supermarket, we have a perception that they are going to end up in a local charity shop. [But] the amounts are simply too large for charity shops to cope with," says Andrew Brooks, a lecturer at King's College London and the author of Clothing Poverty.
Estimates vary, but little more than half of donated clothes make it to the shop floor, according to the Charity Retail Association (CRA). Instead, leftovers and items that don't sell quickly are bought by rag merchants, who also buy clothes donated through textile recycling schemes. They sort them into categories and remove some for landfill, incineration or recycling into products such as mattresses or insulation. The rest is packed into bales for export.
The "cream" — the highest-quality product — is skimmed from the top and sent to eastern Europe to be sold in shops. The "B-grade" bales typically go to Africa, where they are bought by wholesalers and sold on to stallholders at markets such as Kantamanto, one of the biggest clothing resale markets in the world. As a result, in Kantamanto you can find not only UK high street brands such as Next and M&S, but also piles of clothes from charity shops with the labels still attached: Barnardo's, Dogs Trust, Age UK and the British Red Cross.
In many ways Kantamanto market — a chaotic, creative space the size of three football pitches — is an example of sustainability done right. Some 30,000 people make a living here and many clothes get a new life. There are seamstresses, tailors, designers and printers who reimagine garments, making something new from things we discarded. Chloe Asaam, 28, creates stylish pieces with materials from the market such as our old T-shirts. "I love the intimacy of creating clothes that are unique and tailored to the individual customer," she says.
Bales of second-hand clothes arrive — but many are of too poor quality to salvage
ANDREW ESIEBO FOR THE SUNDAY TIMES MAGAZINE, THE OR FOUNDATION
The OR Foundation, an NGO that supports garment workers, has an office in Ghana and monitors the local clothing trade. It estimates that 40 per cent of clothing entering the market leaves it as waste and about 70 tonnes a day are trucked to informal dump sites. Much of the waste is caused by the poor quality of clothes supplied by some exporters.
Clothes from the UK have the best reputation and are usually well sorted. "The UK bales are more fashionable than other European countries'," says Vida Oppong, 38, who has worked in the market for 20 years selling denim. But every bale is a gamble. "Sometimes something very dirty will be inside and you will have to go and wash it before you sell it," she says. "If they bale it well, we do not have a problem. If you cut open the bale and just get a few [things you can sell], the waste will be plenty."
British recycling banks are overflowing
ALAMY
"Bad items are just not saleable," agrees Kwadwo Amofa, 38, a suit merchant. "So I remove the buttons and other parts that may be useful and trash them. You open a bale of 40 suits to find only 10 in a saleable condition. That means you have to sell the 10 suits for 100 cedis (about £12.20) to make back the 1,000 cedis you invested."
Many of the problems in the trade are down to rogue companies that don't sort clothes properly, says Ross Barry, managing director of the London-based textile recycling merchant LMB & Co, who is also a spokesman for the Textile Recycling Association (TRA). Some companies "just put it [unsorted] in a massive sack and it's sold by the trailer-load to places with lower overheads — such as eastern Europe, the UAE, Pakistan and India — and they do the sorting and grading," he says. "As soon as it's gone 1,000 miles down the road, you don't know what's happening.
A skilled fashion designer sourcing old clothes at Kantamanto
ANDREW ESIEBO FOR THE SUNDAY TIMES MAGAZINE, THE OR FOUNDATION
"It's people sending rubbish to Ghana and trying to make a quick buck that make the 90 per cent of companies that are good look bad. We're one of those industries that says, 'We need more regulation.' "
All the high street shops named in this article say they take reducing clothes waste seriously and do not export unsold stock to Ghana. Some, such as Asos and M&S, sell surplus stock to third parties that recycle and resell garments responsibly. The charities say they regularly audit their recycling partners. A spokesman for Age UK says: "While we make every effort to sell all donations we receive, we do not have the capacity to hold on to unsold items for an unlimited amount of time given the volume we handle. Alongside the rest of the charity sector we utilise textile recyclers in an effort to prolong the life of goods rather than them being diverted to landfill."
The sourced clothes are then remade into unique pieces to sell
ANDREW ESIEBO FOR THE SUNDAY TIMES MAGAZINE, THE OR FOUNDATION
Barry says his firm collects about 100 tonnes of clothing each week (it decreased by nearly half during lockdown) and exports it around the world, including to 16 African countries. His team removes and recycles items that are ripped, stained or have broken zips or missing buttons — more than half of them — and "semi-sorts" the rest, including separating them into hot and cold-weather clothes to be shipped to different markets.
For charity shops in the UK, selling clothes to textile recyclers, usually for export, is an important source of revenue, making up about 4 per cent of their income, according to the CRA. But charities often get only a fraction of the true value of that clothing. In the UK most recyclers pay about £375 per tonne for clothes collected from shops and £185 per tonne for clothes from textile banks. Several offer far less. Yet by the time it reaches Accra the average shipment fetches up to £2,500 per tonne.
ANDREW ESIEBO FOR THE SUNDAY TIMES MAGAZINE, THE OR FOUNDATION
"A lot of the textile bins are commercially run and the people running those bins will take a proportion of the income and give a very varying amount to charity," says Robin Osterley, chief executive of the CRA. "It's quite depressing. Can you imagine what would happen if they wrote on the side '5p per kilo goes to charity'?"
Proponents of the trade argue that exporting clothes — done responsibly — is sustainable, helps cut waste and provides jobs and low-cost clothing for those on lower incomes; but critics say it shifts our waste problem overseas and stifles the growth of African textile industries.
Shirts arrive with UK charity shop tags still intact. Exporters pay the shops about £350 per tonne of unsold clothes
ANDREW ESIEBO FOR THE SUNDAY TIMES MAGAZINE, THE OR FOUNDATION
Some believe Ghana should ban imports of second-hand clothes, as Rwanda has done. Others say this is no solution since many people rely on the trade for jobs. They also argue that if the flow of clothes from the richest industrialised countries was stemmed, it would simply be replaced by old clothes imported from Asia. LMB's Ross Barry is among those calling instead for the establishment of a global strategy to ensure large volumes of damaged clothing are not sent to countries that do not have the infrastructure to deal with them.
Rather than halting donations entirely, though, experts say that the priority for western consumers should be to reduce the amount we buy, keep clothes for longer and donate only high-quality goods.
So vast is the tidal wave of old clothes pouring into Ghana that many end up polluting the Gulf of Guinea
ANDREW ESIEBO FOR THE SUNDAY TIMES MAGAZINE, THE OR FOUNDATION
"If you're thinking, 'What can I do with this bag of jumpers?', you're starting at the wrong end of the problem," says Andrew Brooks, the Clothing Poverty author. "We can't recycle our way out of this problem. You're better to think about reducing your purchases in the first place, buying less often and buying higher quality."
Yayra Agbofah, who grew up in Accra, has striven to do his bit by founding the Revival, a community project that teaches sellers at Kantamanto how to upcycle clothes. But he knows it needs consumers in Britain and elsewhere to lend a hand too.
"The amount of clothing is increasing and the quality is decreasing. More trash is being brought here," he says. "The more we don't do anything about it, the more the problem grows. The person who disposes of their clothes is not aware of the repercussions. If they knew, I don't think they'd do it."
How our unwanted clothes end up in Africa
1 Garments are donated to charity shops, recycling banks or through door-to-door collections. Items not sold in charity shops are sold on to textile merchants
2 Merchants take the garments to a sorting plant. This is often in the UK, but some are shipped to countries where labour costs are lower before they are sorted
3 At the plant the lowest quality items are separated and may be recycled for mattress stuffing, insulation, carpet underlay and cleaning rags or incinerated. Other items are packed into bales and loaded into shipping containers. If the sorting plant is outside the UK, its quality thresholds may be lower, which leads to waste items ending up in bales
4 Typically, the best quality garments are shipped to eastern European countries and lower grade items to Africa. At the recipient country the bales are sold to an importer and then onward to retailers to sell at shops or markets
5 The waste may be distributed to rural villages and other parts of the country for use as rags or cloths, but is often burnt or dumped at landfill
---
Permissions in this forum:
You
cannot
reply to topics in this forum