Galloway charity 'may have delivered no aid despite £1m donations'

Inquiry into Viva Palestina finds litany of failings and little evidence of Gaza aid missions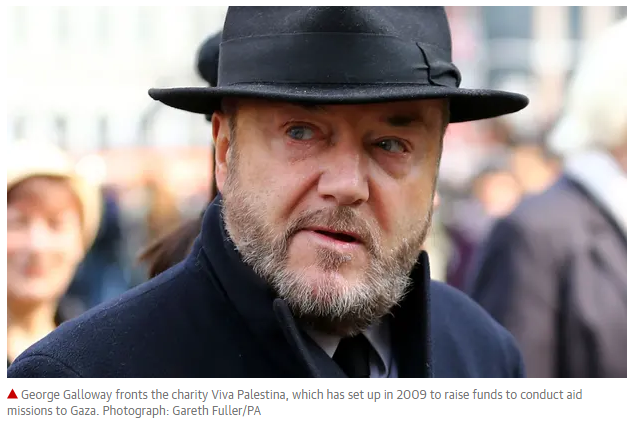 A charity fronted by the former MP George Galloway may not have conducted any charitable activity or distributed any humanitarian aid despite claiming to have gathered £1m in public donations, according to
an investigation
from the charity regulator.
Viva Palestina was established in early 2009 and launched a large-scale media fundraising campaign to finance aid convoys to
Gaza
from the UK, bringing food, medicine, medical equipment and essential goods and services.
In February 2009 its website claimed the initiative had raised over £1m and included a statement from Galloway – then MP for Bethnal Green and Bow in London – which said: "I have launched a major initiative in response to the humanitarian crisis in Gaza."
On the website, Galloway – who was
sacked this week by
TalkR
adio
after sending an allegedly antisemitic tweet – was also listed as a "subscriber" and had signed the charity's constitution, which said it was formed "for the alleviation of suffering and to help the people of Gaza to rebuild their land".
But investigators from the Charity Commission
found
that the charity's trustees (who did not include Galloway) failed in the basic requirement to keep receipts and records of income and expenditure and never submitted any accounts.
It concluded: "In terms of activities, it was difficult for the inquiry to establish with any certainty whether any charitable activity had taken place, as it found little if any evidence that humanitarian aid was distributed to those in need in accordance with the charity's objects."
An earlier investigation by the commission found that in the first three months of its existence Viva Palestina actually raised only £180,000 in donations, not £1m.
In 2009 Galloway went on two Viva Palestina convoys and in 2012, after being elected the MP for Bradford West, he also spoke at a fundraiser for the organisation.
The commission first took an interest in Viva Palestina in 2009, when it forced the trustees to register as a charity and imposed an action plan.
The regulator began a second inquiry in 2013 after trustees ignored the plan and failed in their statutory duty to submit annual returns and accounts for the financial years in 2010, 2011 and 2012.
On Thursday it finally concluded its investigation and found that the trustees had:


Failed in their statutory duty to provide any financial accounts, in breach of the charity's own governing document and charity law.

Failed to address the outstanding regulatory concerns by completing the steps required in the action plan.

Failed to co-operate with the commission during its investigation, including failing to provide information.

Failed in their duty to provide and maintain proper financial controls and to properly manage and administer their charity.

Failed to discharge their duties to safeguard the charity's money and assets and to act prudently, which included avoiding activities that may have placed their funds, assets or reputation at undue risk, namely:

they failed in the basic requirement to keep receipts and records of income and expenditure and so be able to properly account for charitable funds raised and spent. These basic requirements are all the more important when charitable funds are raised from members of the public and used for humanitarian needs in conflict zones;

there were no basic financial controls or policies in place to account for and safeguard funds coming into the charity and being spent.

The commission concluded: "In summary, the charity was not properly governed, managed or administered by its trustees – as a result of those failings its reputation, that of the wider charitable sector, and charitable funds donated by the public to the charity were put at risk."
Ron McKay, Galloway's sometime spokesman, who went on the convoys, insisted Viva Palestina was a campaign and not a charity.
"It's taken the Charity Commission getting on for a decade to come up with this nonsense. A quick viewing of YouTube would have shot this down. Viva Palestina took hundreds of vans, cars, lorries, ambulances, you name it, to Gaza and they were not empty I can vouchsafe. If the participants' pockets were also stuffed with money which they gave to Gazans, I don't know. But I hope they did," he said.
"Finally, to reiterate, VP was set up as a campaign, it was the Charity Commission, in an undisguised attempt to shut down the politics, which decided it was a charity. For this kangaroo judgment they haven't even attempted to contact me or any of the others involved, which doesn't surprise me in the least. I don't even accept the premise of it, far less the conclusion. I'm proud of what we did."
https://www.theguardian.com/politics/2019/jun/06/galloway-charity-may-have-delivered-no-aid-despite-1m-donations
...and we are surprised by allegedly fraudulent charities how?

sar




Posts

: 1032


Join date

: 2013-09-11



No, we are not surprised any more. If the donkey charity I support turns out to be dubious, I will shoot myself.

CaKeLoveR




Posts

: 56


Join date

: 2018-09-19



How is the investigation into Kid's Company/Batmanghelidjh/Yentob of the BBC charity coming along?

aquila




Posts

: 9414


Join date

: 2011-09-03



They can always find a reason not to investigate:
Charity Commission's inquiry into Kids Company 'on hold'
12 February 2019 by Liam Kay
The regulator's statutory inquiry, opened three-and-a half-years ago, is being delayed by disqualification proceedings being brought by the Insolvency Service against the defunct charity's former trustees
The Charity Commission's inquiry into the defunct charity Kids Company remains on hold almost three and a half years after it began while legal proceedings by the Insolvency Service are concluded.
The charity closed in August 2015, citing a lack of funding after the withdrawal of government support for the organisation. The commission swiftly announced it had opened a statutory inquiry.
In July 2017 the Insolvency Service announced it was bringing disqualification proceedings against the charity's eight former directors and Camila Batmanghelidjh, its founder and former chief executive.
If the proceedings are successful, the directors could face bans from running or controlling companies for between two-and-a-half and six years.
A statement made at the time by the directors said they would "robustly defend"themselves against the proceedings.
The action by the Insolvency Service has meant the Charity Commission has had to put its inquiry on hold while the disqualification proceedings play out.
A spokeswoman for the Charity Commission said the regulator was conscious that the outcome and results of its inquiry into Kids Company were awaited.
"We recognise the high public interest in this case and we have been and remain committed to progressing matters thoroughly but as swiftly as possible, without compromising due process and the outcome," she said.
"We have always made clear that the work of the Insolvency Service/Official Receiver takes precedence over the commission's inquiry, and that our inquiry would take into account their findings.
"The inquiry is therefore currently on hold pending the progress of those legal proceedings.
"As soon as we are able to, without prejudicing any proceedings or outcome, we will provide an update on our investigative work."
A spokesman for the Insolvency Service told Third Sector the case was proceeding as normal and that it was waiting for a hearing date to be agreed.
https://www.thirdsector.co.uk/charity-commissions-inquiry-kids-company-on-hold/governance/article/1525436

Doug D




Posts

: 2942


Join date

: 2013-12-03



It gets even better:
Kids Company founder urges judge to spare her the 'stress' of a court case over the charity's financial meltdown after taking £42m of public money
By SAM GREENHILL FOR THE DAILY MAIL and RORY TINGLE FOR MAILONLINE
PUBLISHED:
22:02, 13 May 2019
| UPDATED: 02:02, 14 May 2019
The controversial founder of the defunct Kids Company charity yesterday begged to be spared the 'stress' of court proceedings.
Camila Batmanghelidjh asked a judge to help her avoid taking the blame for its financial meltdown.
Her solicitor told the High Court it would be a 'blessing' if she was let off, adding: 'It would save time, cost and stress for her.'
Kids Company, which helped troubled children in south London, was given £42million of public money, including £3million sanctioned by David Cameron just days before its collapse in 2015.
But an inquiry found an 'extraordinary catalogue of failures' at the charity and now the Insolvency Service is trying to impose a six-year ban on Batmanghelidjh being a company director.
The charity's former chairman Alan Yentob, an ex-BBC executive, and six others also face three-year bans.
At a preliminary court hearing yesterday, Batmanghelidjh argued she should escape blame because although she was 'heavily involved' in the charity, she was 'not involved in the governance'.
Her solicitor, James Nicholls, complained that 'stones are being thrown at her by the official receiver', who has amassed 56 lever arch files of evidence, which he described as 'a plethora of noise'.
Although Batmanghelidjh was not a director at the time the charity collapsed, she was described at a previous inquiry as the 'unaccountable and dominant' chief executive who regarded Kids Company as 'her personal fiefdom'. 
The Insolvency Service is arguing that she was a 'de facto director', and should be banned.
Her solicitor asked for a separate hearing to decide whether she could be excused from the case. 
But Gareth Tilley, for the official receiver, said it would be better if all eight defendants faced trial at the same time so that the court could get 'the full picture'.
He said it was not yet known whether Batmanghelidjh and the board directors might blame each other for the collapse, to which Deputy Insolvency and Companies Court Judge Middleton replied: 'It does have the "cut-throat" feel about it doesn't it?'
He threw out Batmanghelidjh's application and rejected her request to be given longer than her co-defendents to file her defence, so she could see what they said.
'She wants to see the other directors' evidence before she puts pen to paper? Your client just has to say the truth,' he told her.
Kids Company received millions of pounds in taxpayer funding and was backed by high-profile celebrities. 
Inquiries have previously found the charity gave brown envelopes stuffed with cash to troubled children as a matter of course. 
Some £50,000 was allegedly spent on taxis at the charity's Christmas party, and Batmanghelidjh had the use of a driver. 
Twelve-year-old clients were given £150 trainers, while others were flown first class to America.
In 2015, one of the youngsters helped by the organisation told how she and her friends would splash the spending money they were given on cannabis.
She told Radio 4's The Report: 'We would queue up and sign our names down and get an envelope with £30 and an Oyster travelcard.
'Then we would go to the shop and buy whatever we wanted with that money. It was weed heaven on a Friday, you could smell it coming down from the landings.'
Other alleged instances of waste included someone's PhD studies being funded, and a stay at Champneys spa for a man with mental health problems who booked a chocolate massage treatment. 
Batmanghelidjh denies all the allegations against her. The case continues.     
https://www.dailymail.co.uk/news/article-7025093/Kids-Company-founder-urges-judge-spare-stress-court-case.html

Doug D




Posts

: 2942


Join date

: 2013-12-03



Oh the "Irony" that a Charity fund supported by Mr George Galloway, "Viva Palestina" had failed  to adhere to the financial regulations, regarding the Charity?

Is this the new Political Football, aka Liverpool's win over Tottenham Hotspur, talk Radio comments, a "Witch hunt" for Mr Galloway quotes about Israel and flags?

Now you have Camila Batmanghelidjh, cavorting to be kept out of the "Stress" of the Courts proceedings, poor Camila not wanting to face the Truth of her Charities underhanded deceitful shenanigans of a Conservative Government,Cameron, public funding?

Also note the figures quoted between Viva Palestina, Kid's Company, as it seems the "Total Amount of deception" is irrelevant, we'll see?

willowthewisp




Posts

: 3274


Join date

: 2015-05-07



---
Permissions in this forum:
You
cannot
reply to topics in this forum