Page 12 of 12 •
1, 2, 3 ... 10, 11, 12
Previous German Defence Minsters who worked towards the unification of Europe include Keitel and Speer.

____________________


No chance she will go over the books then 

ferrotty




Posts

: 56


Join date

: 2017-12-08



Miss Lagarde has been found to have been "Incompetent" on Regulations of finance, but alas escaped prosecution,Jail etc?

It's Not what you Know, its Who you know,eh Christine?

willowthewisp




Posts

: 3274


Join date

: 2015-05-07



Today's BBC Headlines, 4500 job(William Hills) losses caused by MP's placing restrictions on Gambling dens, where you can use your Credit cards to access Machines?

As opposed to Thousands of Engine plant Jobs lost, aka Jaguar Land Rover bribed £130 Million to transfer to Slovakia,2020?

Honda plant closes 1800 jobs?

Mr Hammond chancellor of Exchequer reveals £90 billion Pound cost to No Deal leaving, Brexit, couldn't put a price on it when sweet theresa was in charge?   
But guess what these 650 MP's have suddenly found an extra £26 billion from behind the Sofa after 10 yrs austerity to the public? 

"Yeah we'er All In this together" except when it involves the public bailing out Privatised Banks, quantative Easing, eg, we'll rebadge the "Shit Shares" as New shares for the public to invest in?

The UK only owes £2.1 Trillion Pounds as opposed to £1,000,000,000 in 2010?

simples, £2.100,000,00 divide by 650 + Ex MP's time period as appropriate. MP's Names and Addresses via Parliament, like you did to Mr Derek Hatton, Antony Mulhearn, as Liverpool Councillors, or is One rule for One set of MP's, cohorts?

Misconduct in Public Office, like dodgy Dave Cameron stated, Gideon Osbourne Head of finance in EU, after bolloxing up UK finances on his CV, balancing books, Northern Powerhouse, X amount of years later?

The UK will now Never Leave EU as a Straight "Your Out" process, where existing agreements phased out of existence should have been applicable, repatriation of UK Laws etc.

No We had to have Theresa May's shambolic EU "Deal" for nearly four yrs, 551 pages of legal, your not Leaving deal, eg, you can Remain, but you now pay £18 Billion+ plus per year on top of £39 billion you agreed to pay them?

__________________________________________________________________________________________________________________________

Topic merged.  Mod

willowthewisp




Posts

: 3274


Join date

: 2015-05-07



BBC headline has branded Anne Widdecombe's remarks as "disgusting".

I think the BBC are disgusting.

What AW said was in no way disgusting.

"UK leaving the EU is like slaves rising up against their owners".

Not disgusting.

BBC still flying it's pro-remain colours.

BlueBag




Posts

: 4989


Join date

: 2014-06-06



Hi Bluebag, what is disgusting is the "Gall of MP's" appearing on Question Time, Preston, with beaming bullshit smiles, conning the public, We'er doing our Best?

I know not All MP's are alike, but if more than 88% of MP's flout open defiance on the referendum result 2016, that they said they would implement, Four yrs after the vote, its time for them to go?

Article 50 should have been implemented straight after the result, they wouldn't have pissed about for the Three/ Four yr nonsense, its been a connived plan, All along, wrong result "Old boy", Shit, what do we do now?

Ask any MP If Remain had won, it would have taken Four years to pass through Parliament process, No?

The " 650 Buffoons" simply will Not process the "Leave Vote"?

It is the Mysterious concocted 551 page "May/EU Deal" to keep UK in EU indefinitely process, they want to implement?   With a few tweaks, here, there, the UK Electorate have been conned by a "Bunch of Con Artist MP's", who now need to be deselected?

News Headlines, Theresa May, kept "Secret Plans Away from Boris" as Foreign Affairs Minister(He knows all about foreign Affairs though) shows how much Theresa May trusted him doesn't it?

The One thing for certain is, the "Public" don't have a say of who the next Conservative Leader will be, but they will have a Say in who the next UK Prime Minster will be?

Imagine the shenanigans from Government, Four parties on 21% each and 16% floating votes at next General Election, 2022?

First Past the Post, Three 33% votes, where Two combine to Govern the UK, Liberal Dems,Conservatives once again?

Or Brexit Party and Labour?

Or Brexit and Conservative Party coalition!

At least the last selection States Leaving the EU, by Both Parties?

willowthewisp




Posts

: 3274


Join date

: 2015-05-07





BrexBox Episode 1: Champagne, Chocolates and the Dalai Lama

BrexBox
Published on Jul 8, 2019
Welcome to BrexBox from the Brexit Party.

This episode comes direct from Strasbourg where the Brexit Party's MEPs have taken their seats and voted on the next President of the Parliament.

Join David Bull, Belinda de Lucy, Martin Daubney and Louis Stedman-Bryce as they take an irreverent look at their first week as MEPs.
So the Labour party and Union cohorts have decided that 17.410,742 UK people who voted to Leave EU, June 2016, votes don't matter, but Remain Votes Do, after they lost the vote 52% to 48% on a turnout of 72.20 percent of the electorate?

Remain to be put forward on EU future "Referendum", which they lost over Three years ago, "Your allowed to Change your mind", before implementation of the last "Referendum"?

willowthewisp




Posts

: 3274


Join date

: 2015-05-07



Brexit: Labour to back Remain as it calls for a new EU referendum
33 minutes ago
Jeremy Corbyn has challenged the next Tory leader to hold another referendum before taking Britain out of the EU, saying Labour will campaign for Remain.
Mr Corbyn says the party will take this position to stop "no deal or a damaging Tory Brexit".
But he does not say what he would do if he won a general election and was placed in charge of the Brexit process.
Some senior members of his team want him to take a pro-Remain stance in all circumstances.
In an interview with the BBC's John Pienaar, Mr Corbyn said Labour was now the "party of choice" when it came to Brexit.
He said he had done "what I think a leader should do... an awful lot of listening" - to party members, unions and the wider Labour movement - before coming to a revised position.
He said he would "make a case" to Parliament in September to get another referendum and in the meantime, Labour will "do everything we can to take no deal off the table or stop a damaging deal of the sort Hunt or Johnson propose".
Asked if he had changed his position because of pressure from colleagues, Mr Corbyn said: "Not a bit of it. I've been listening and I've enjoyed it."
Mr Corbyn said he could not say what Labour's position would be at a general election, but would decide it "very quickly", depending on the circumstances at the time, whenever one was called.
In a letter to members, he said Labour continued to believe the "compromise plan" set out for Brexit during cross-party talks with the government earlier this year was a "sensible alternative that could bring the country together".
This included a customs union, a strong single market relationship and the protection of environmental regulations and rights at work.
Can the next PM force through a no-deal Brexit?
What is 'no deal'?
Mr Corbyn's statement followed a shadow cabinet meeting on Tuesday morning, and a meeting with trade union leaders on Monday.
The bosses of Labour's five-biggest affiliated unions called for the move the party has made - but also for it to hold a "confirmatory vote" on any new deal it negotiated if Labour won a general election.
The BBC's political correspondent Iain Watson said there was disagreement about the second part of the unions' stance in shadow cabinet, with deputy leader Tom Watson wanting a "straight Remain stance", meaning a decision on it was "kicked down the road".
The deputy leader is among leading figures who have argued that confusion over Labour's message on Brexit contributed to its poor performance in the recent European Parliament elections.
Set against them, other Labour MPs have warned that backing a fresh referendum could cost the party votes in Leave-supporting areas.
Mr Watson said he was "happy" with the new Brexit position "up to the election", but the party had "yet to cross that bridge" when it comes to its manifesto for the next election.
"Our members have been telling us for some time now that they want us to be a Remain party and that they want us to put the new deal to the people," he added.
"We're now going to campaign for that and I'm very proud that the shadow cabinet have now listened to their concerns."
Unions agree Brexit vote stance
Labour must 'get on with' changing Brexit policy
Don't panic over Brexit, McCluskey tells Labour
Shadow Treasury minister Clive Lewis said if a snap election was called, Labour would try to renegotiate the Brexit deal agreed by Theresa May, despite saying it "very much looks like" Labour is now the party of Remain.
He told the BBC's Politics Live: "If we win that general election, we will come into power, and if we can renegotiate that deal - a Labour deal - we will because that's what people asked for."
But asked if he would campaign for his own party's deal in a referendum, he said: "No, I wouldn't."
Halfway to Remain
Analysis by Norman Smith, BBC assistant political editor
This move is another shift by Labour to become an openly Remain-backing party in this Parliament, ahead of a general election.
But after that, we still don't know.
Jeremy Corbyn doesn't say what would happen if, for example, Boris Johnson becomes leader and were to hold a new general election.
We have clarity ahead of a general election, but no real clarity after a general election.
However, this is, as expected, another definite step by Labour toward becoming a Remain party.
They are halfway there - even if they are still slightly at sixes and sevens.
Former Labour MP Chris Leslie - who left the party to found Remain-backing Change UK - said Mr Corbyn's stance had "confirmed that if you vote Labour, you'll get Brexit".
He said the position "wasn't good enough", adding: "Brexit - whether a Labour Brexit or a Conservative Brexit - will cost people's jobs, put businesses in jeopardy, and diminish Britain in the eyes of our neighbours.
"Corbyn's refusal to be honest about that fact is a deep betrayal of the people Labour used to represent."
The Liberal Democrat's Brexit spokesperson, Tom Brake, said Labour "are still a party of Brexit".
He added: "Jeremy Corbyn can pretend all he likes that the Labour Party are finally moving towards backing the Liberal Democrat policy of a People's Vote, but it is clear it is still his intention to negotiate a damaging Brexit deal if he gets the keys to No 10."
But Miriam Mirwitch, chair of Young Labour, welcomed the move, adding: "This vital shift shows that Labour is a party centred around democracy that has listened to what it's members have wanted for some time: a People's Vote in which Labour campaigns to Remain."
Labour's position on Brexit
June 2017 - Labour's general election manifesto accepts referendum result
28 September 2018 - Labour agrees if a general election cannot be achieved it "must support all options… including campaigning for a public vote"
November 2018 - Shadow chancellor John McDonnell says Labour will "inevitably" back a second referendum if unable to secure general election
16 January 2019 - 71 Labour MPs say they support a public vote
6 February 2019 - Mr Corbyn writes a letter to Mrs May seeking five changes to her Brexit policy with no mention of a "People's Vote"
25 February 2019 - Labour says it will back a public vote if its proposed Brexit deal is rejected
14 March 2019 - Labour orders its MPs to abstain on an amendment calling for a second referendum
27 March 2019 - The party instructs its MPs to support Margaret Beckett's amendment which calls for a confirmatory public vote on any Brexit deal
30 April 2019 - NEC agrees that the European election manifesto will commit to a further referendum under certain circumstances
9 July 2019 - Labour calls on the next PM to hold a referendum and pledges to campaign for Remain against "no deal or a damaging Tory Brexit"
https://www.bbc.co.uk/news/uk-politics-48919695

Verdi

Moderator/Researcher




Posts

: 13668


Join date

: 2015-02-02




sallypelt




Posts

: 3850


Join date

: 2012-11-10



So, its the Bojo-Nigel-Donald New Tri-partite system of Government for the UK, "!We'er All In This Together" MAGA?

willowthewisp




Posts

: 3274


Join date

: 2015-05-07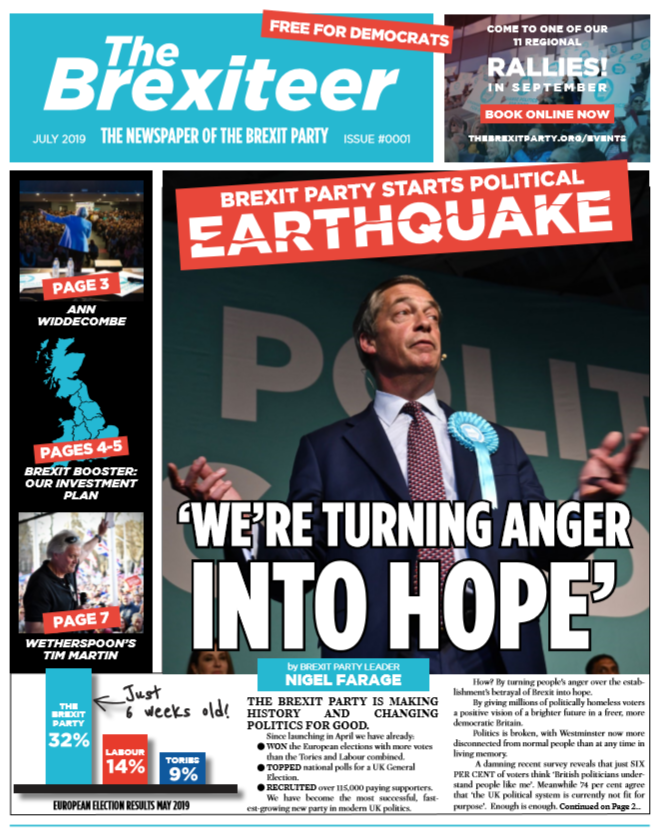 First edition of the new Brexit Party newspaper
https://www.thebrexitparty.org/brexiteer
Brexit Party leader Nigel Farage threw down a challenge to Tory leader-elect Boris Johnson:
"Boris says he wants to put me back in my box. If he wants a fight – hold my jacket!"
Page 12 of 12 •
1, 2, 3 ... 10, 11, 12
---
Permissions in this forum:
You
cannot
reply to topics in this forum