by 
HiDeHo
on 04.09.16 20:28
As can be seen in the video below, there were huge discrepancies and/or confusion about who picked up Madeleine...and also the TWINS...
According to the PJ Diagram of \events it appears that the twins only went in the AFTERNOON and not the morning!
This would explain why Kate and Gerry could not get their story straight about picking up the twins...
Many of us also believe that Maddie was not at the creche either so that leaves us wondering, did they LIE about taking and picking up the twins from the tapas creche and IF SO... What were they doing?
This could make a huge difference to what everyone has told us...
Rachael claims that Maddie and twins went to creche..
Jez tells us that two of Gerrys friends were NOT at tennis Thursday morning... (and more)
This has only just come to my attention, as previously I thought the twins creche records were missing from the files, but the diagram of events \'tells us' they weren't needed as the twins were not at the tapas creche!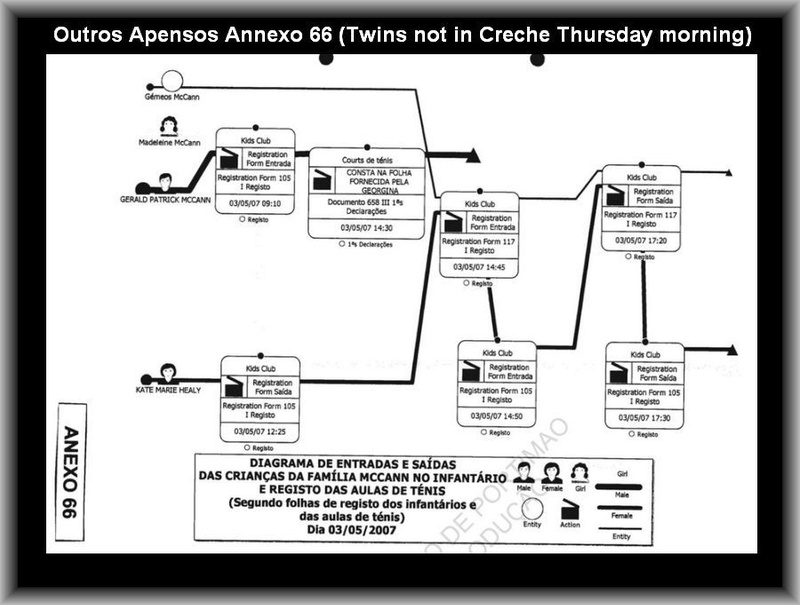 McMINUTE DISCREPANCIES: Who picked up Madeleine from the creche on Thursday? 
For discussion, please visit this thread: https://jillhavern.forumotion.net/t13105-if-the-twins-were-not-at-their-creche-thursday-morning-why-did-the-mccanns-lie-and-what-were-they-doing-between-9am-and-12-30pm
____________________
PeterMac's FREE e-book
Gonçalo Amaral: The truth of the lie
NEW CMOMM & MMRG Blog
George Orwell, '1984':
"If you want a vision of the future, imagine a boot stamping on a human face - forever."
---
Permissions in this forum:
You
cannot
reply to topics in this forum