Five Creepy Facts – Most watched Madeleine YouTube video in 2018 – Ernie Allen – Kevin Halligen
by 'Fully Sourced' 
------------
With some hesitation I bring this video to the notice of the forum.
Today I was researching how many had watched Richard Hall's films in the past year, but then I noticed that this film, uploaded a year ago yesterday, had had 3,519,657 views since it was uploaded.
That's an astonishing average of 9,617 views every single day in the past year. 
Titled: "Five Creepy Facts About the Madeleine McCann Case", it's been uploaded by someone called 'Fully Sourced'. It would appear that s/he has very considerable 'reach' and may well have many subscribers: https://www.youtube.com/watch?v=_0AuBVd7NjM
It is a strange mixture of truth and some big errors. It will not impress anyone who is well acquainted with the facts of the case. But on the surface, to someone who knows little about the case, it looks well researched and tells a credible story. It is entitled 'Five Creepy Facts'. In places, some may find the narrator a tad creepy.  
For me there is one point of interest for us, namely the connection, albeit indirect, between Kevin Halligen, the Podestas, and ernie Allen of ICMEC.
The uploader highlights that Kevin Halligen founded Oakley, and other firms of his, in Washington.
In doing so, as we know, he used the services of top Washington lawyers Squire Patton Boggs. The Podesta brothers – implicated in the Pizzagate affair – appear to have had a connection with Patton Boggs. The Podesta brothers were acting in close contact with Democrat Party leaders Hillary Clinton and Barack Obama and clearly were a key part of all that party's corrupt dealings in Washington, which hare gradually being exposed ('The Swamp').
Also based in Washington is the International Centre for Missing Children (ICMEC) headed by Ernie Allen until last year. Gerry McCann visited Washington for 5 days in July 2007 and spent most of his time with Ernie Allen. I have dovcumented connections between Ernie Allen, Richard Branson, Jeffrey Epstein and the Podesta brothers on another thread. Now it seems that Kevin Halligen is also connected to this mix of high flyers. We know from the Mark Hollingswotth Evening Standard article in August 2009 that Keven Halligen went through a fake marriage in Washington at which much of Washingtom high society attended. 
The segments of interest to us are at:
22 min .50secs to 23min 35 secs and
25 min 35 secs to 26 min 20 secs.
An excerpt from Richard Hall's films can be seen as early as 1 min 50 secs on the films, and his website www,MadeleineFilms.Net is credited with several scenes in the 39-minute film.
CMOMM's home page features for 50 seconds as the narrator runs through the quotes, at 35 min.45 sec to 36 min 35 sec. 
The film is divided into 5 parts:
1 Focus on the Make-Up Photo
2 It happened on 3 May (and Clement Freud - Robert Murat - Stephen D Birch)
3 Podesta and Pizzagate  (and Martin Smith)
4 The condemning evidence (including 'Embedded Confessions' and the cadaver dogs), and
5 The Cover-Up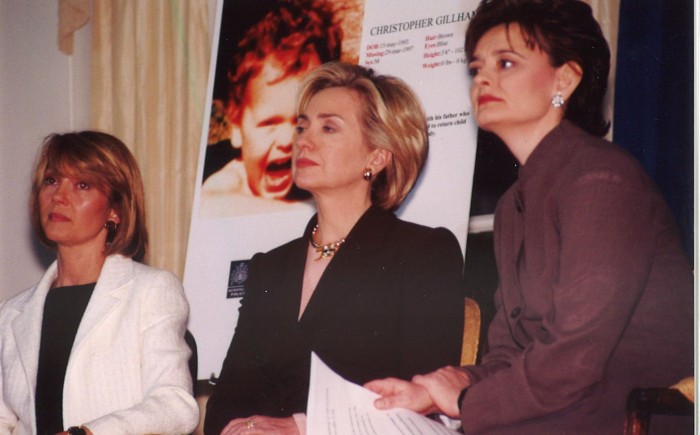 Patrons - Hillary Clinton & Cherie Blair
 ====== 
THE RETIREMENT OF ERNIE ALLEN
It appears that Ernie Allen announced his retirement last year (can't find the date), here is the announcement on the ICMEC website: 
https://www.icmec.org/press/leading-child-protection-advocate-ernie-allen-announces-retirement/ 
https://www.icmec.org/board/Leading Child Protection Advocate Ernie Allen Announces Retirement 
ALEXANDRIA, VA – The International Centre for Missing & Exploited Children (ICMEC) announced today that long-time President and CEO, Ernie Allen will retire later this year.
Allen created ICMEC in 1998 to address the issues of child abduction and the sexual exploitation of children on a global basis. He has served as President and CEO of ICMEC since its creation. 
During his tenure, Allen built ICMEC into the leading international resource on the issues of child abduction, child sexual exploitation and child sex trafficking used today by governments and policymakers around the world. Some of the accomplishments under his leadership include:
•Creating of the respected Koons Family Institute on International Law & Policy which has reviewed laws in 200 countries and worked with parliaments in 100 countries to enact new law on child pornography. And developed model law on child sexual exploitation and worked with international bodies to change national legislation;
•Training for law enforcement in more than 121 countries;
•Creating of a global missing children's network that includes 22 countries;
•Entering into formal partnerships with INTERPOL, the Organization of American States, the Hague Conference on Private International Law and others;
•Working with Belgium, Romania, South Africa, Russia, Belarus, South Korea and others to establish national centers on missing and exploited children. And created a Southeastern European Center on Missing and Exploited Children that serves 13 countries in the Balkan region;
•Hosting numerous international conferences involving world leaders including a 2007 meeting in Paris attended by the Queens or First Ladies of Belgium, Egypt, the European Union, France, Poland, Russia, Sweden and the U.S. which was referred to by French media as "the G8 for Children" and a 2009 meeting of 400 Arab leaders in Cairo creating the first opportunity to engage with leaders in the Middle East on child protection;
•Bringing together financial leaders which worked together to eliminate the commercial child pornography industry and technology companies to develop innovative technology to attack the exploitation of children;
•Creating a new initiative, the Global Health Coalition, comprised of leading pharmaceutical companies and health care institutions, working together to attack child sexual abuse and exploitation not just from a legal and law enforcement perspective but for the first time as a public health crisis and much more; 
"Ernie's life work has been dedicated to the protection of children. He has been the visionary and the heart of ICMEC. Under his leadership the organization has achieved enormous success and he has made a difference. His work has touched the lives of thousands of children and he will be missed," said Franz Humer, Chairman of the Board of ICMEC. 
In the US, more than thirty years ago police could enter information into the FBI's national crime computer about stolen cars, stolen guns, even stolen horses but – not stolen children. Allen has devoted most of his professional life to changing that and to addressing the equally serious problem of child sexual exploitation. A critical part of this journey began when Allen helped establish the National Center for Missing & Exploited Children in 1984, served as its first Chairman and then as President and CEO until he retired in 2012 to devote more time to the international work that was being done by ICMEC. 
"America and many other countries have changed the way they search for missing children and nations around the globe have been awakened to the under-recognized, under-reported crisis of child sexual exploitation. Today there is a coordinated national and increasingly international response to the problem of missing children and sexually exploited children and more children come home safely today than any time in history. And more offenders who prey upon children are brought to justice than ever before," said Allen. 
"I am proud to have played a role. We have brought together law enforcement, business leaders, technology leaders, researchers, nonprofit groups and the general public to overcome borders and jurisdiction. Today we have better law and better technology. Law enforcement is better prepared and responds more swiftly and effectively. Families and children are more alert and aware," said Allen. "We have achieved the vision we had in 1984 with the creation of the national center and in 1998 with the extension of that work and the creation of ICMEC. We have changed the lives of countless children and touched the lives of families around the globe."
.

____________________

Dr Martin Roberts: "The evidence is that these are the pjyamas Madeleine wore on holiday in Praia da Luz. They were photographed and the photo handed to a press agency, who released it on 8 May, as the search for Madeleine continued. The McCanns held up these same pyjamas at two press conferences on 5 & 7June 2007. How could Madeleine have been abducted?"
Amelie McCann (aged 2): "Maddie's jammies!".  

Tony Bennett

Researcher




Posts

: 16780


Activity

: 24629


Likes received

: 3740


Join date

: 2009-11-25


Age

: 75


Location

: Shropshire



I enjoy browsing on youtube quite a lot. Subjects totally diverse, although of course the vanishing of Madeleine has my interest. But always, every day, I get the video you mention in my recommended list.... I think there must be an algorithm that favours videos of a list-like nature. Like 6 life hacks, 5 ways to eat more healthily, 7 unsolved mysteries etc..

Guest

Guest





---
Permissions in this forum:
You
cannot
reply to topics in this forum