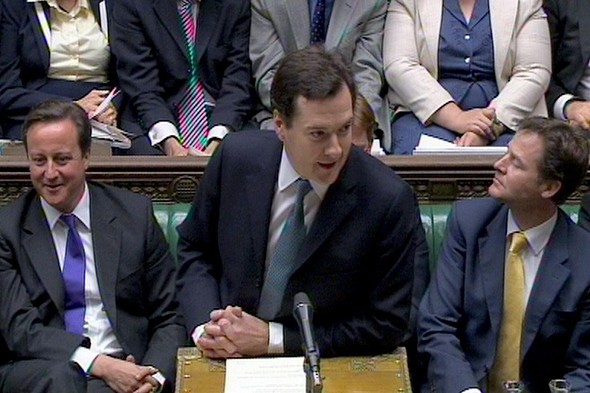 George Osborne has taken the axe to the welfare budget, slashing benefit payments by £7 billion, as he sought to put the nation's finances back on a sound footing.
The Chancellor set out plans to cut government spending by a massive £81 billion over the next four years, in a settlement he described as "tough but fair".
Announcing details of the Comprehensive Spending Review in the House of Commons, he said that the measures had been necessary to pull the country back from the "brink of bankruptcy".
He was accused by Labour of taking a "reckless gamble" with the economic recovery with a cuts package which would see the poorest in society shouldering a greater burden than the richest.
However his measures have won the backing of the Fitch ratings agency, which said that it should help the UK retain its prized triple-A credit rating.
In other key announcements, Mr Osborne said he was bringing forward the date at which the state pension age would rise to 66 for both men and women, saving £5 billion a year.
He confirmed that 490,000 public sector jobs were expected to be lost over the next four years as most Whitehall departments were forced to cut their budgets by around a fifth in real terms. The police, prisons, universities and local councils, will all be hit hard as the cuts bite.
But the centrepiece of his plan was a series of benefit cuts totalling more than £7 billion on top of the £11 billion already announced in the emergency Budget in June - representing a hefty increase on the £4 billion previously predicted.
Among the big losers are the Home Office which will lose 24% over four years - with spending on policing falling by 16% - while the Ministry of Justice is to axe 3,000 prison places as its budget is cut by 23%. The Foreign Office faces a similar 24% cut, with a sharp reduction in London-based diplomatic staff.
Shadow chancellor Alan Johnson said that the Government's "rush" to cut the deficit was a "recipe for unemployment".
****************************************
Did anyone here vote for them and are they glad they did?



Posts

: 31


Reputation

: 0


Join date

: 2010-05-17



This is just my own personal opinion. I don't understand half the figures but I do understand that the country is bankrupt and I wouldnt want the job of trying to balance those books for love nor money!!
I do remember when many people around me were over-joyed when suddenly hundreds of pounds started being paid into their bank accounts every month in working tax credit and child tax credit. They didnt know why they were suddenly entitled to it when they never were before. Everyone was on it. Most slashed their working hours to just 16 a week as it wasn't worth them working full time - they could afford not to. Employers suddenly stopped taking on full-time staff - everyone became part time and the government paid the difference in their wages. Even I could see that that was un-sustainable.
It couldnt go on! The next year they wanted all the money back.The system was and still is in chaos. It created a nation of part-time workers - no-one needed to work full time any more.
If what one single mother who lives with her parents (who both have good jobs) tells me is true, then she gets the best part of £1000 a month in benefits. Out of this she pays private nursery fees for her child four weekdays a week (she doesnt work in the week and the child is two). She works 16 hours at weekend. I know whole families who barely survive on just over a £1000 a month.
It can't go on - we are skint. There is no more money. Everyone has to do their bit even though it hurts.
How the opposition can sit there and object and ridicule every cut is beyond me. Ordering air-craft carriers when they didnt have the money to pay for them. Money was splashed around and stolen for years that we just didnt have.
Rant over



Posts

: 1344


Reputation

: 12


Join date

: 2009-11-29



I agree with you littlepixie, something had to be done. Labour has left us in a mess, and I think they were quite happy not to be voted in. If they had they couldn't have continued as they were, they would have been forced to to something along the same lines. The Iraq war alone must have cost us untold millions or even billions. A war we should have never been involved in. Of course, with all these cuts, and making life harder for everyone, they will get voted out next time, as usually happens, the finances will be in better shape, and Labour will be back in spending again, and so it will continue.

Guest

Guest





I agree candyfloss. I actually feel sorry for the government now. I definitely wouldnt want their job. I don't really follow any political party, they are all a bunch of thieves and liars in my opinion but it was really weird how Labour suddenly threw those tax credits at people. They received loads more money than they ever had before and none of them knew why. It really seemed like a bribe to me.
Last year they got bills asking for most of it back!!



Posts

: 1344


Reputation

: 12


Join date

: 2009-11-29



The United Kingdom is not, and was not, bankrupt.

If, as they claim, the Tories think people are claiming Job Seeker's Allowance while remunerative employment is available, why are they paying any benefit at all? We should be told.

In general, the Anglo-Saxon idea that you can have good services and low taxation is a myth. You can have clean & safe streets and secure borders, but you hafta pay for them. The price is worth it, but it's not free.

The near abolition of building affordable homes for rent, started by Margaret Thatcher, has increased annual Housing Benefit expenditure to £20 billion. The Tories propose to resolve this, not by building homes as civilised governments do, but by cutting Housing Benefit entitlements.

These policies have moved tenants from council homes to private lettings, and will move more tenants into Bed & Breakfast, which is the most expensive form of housing (hotels are cheaper). Remember "a stich in time saves nine?"



Posts

: 26


Reputation

: 0


Join date

: 2010-09-27



The way they are going about publicising the benefits stuff and trying to force people back into work, is seriously effecting those with mental illness, many are fearing they will be forced back to work before they are well enough to work, that in itself could cause a relapse, the anxiety that this has brought on for some of those with poor mental health who are desperately trying to get well, has in itself caused setbacks for many, some have committed suicide because of the stress and pressure of feeling they may be forced to work when they are at present genuinely too ill to do so.

The government should quite rightly be getting malingerers and people who are playing the system who are clearly well enough to work - back to work, but people who are genuinely ill are feeling targetted and this is wrong. On a short interview with a doctor who knows nothing about them some people who are ill are being told they are well enough to work, this is inspite of those who are working with them on a regular basis knowing that they are not well enough to work.

I am wondering how many more suicides do their have to be before the government are going to start listening to those who are working in the mental health field!

Guest

Guest





---
Permissions in this forum:
You
cannot
reply to topics in this forum