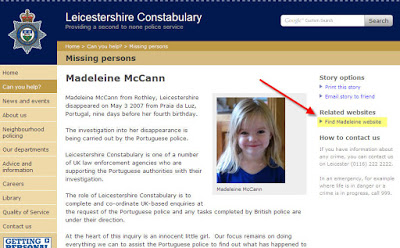 Whilst I can understand the Leic Police no longer linking directly to the McCann's private website, I don't understand why ALL mention of Maddy has been removed. After all, she's still missing isn't she? And she's from Leicester so why isn't she being listed as missing anymore?
https://leics.police.uk/canyouhelp/missing/63_madeleine_mccann/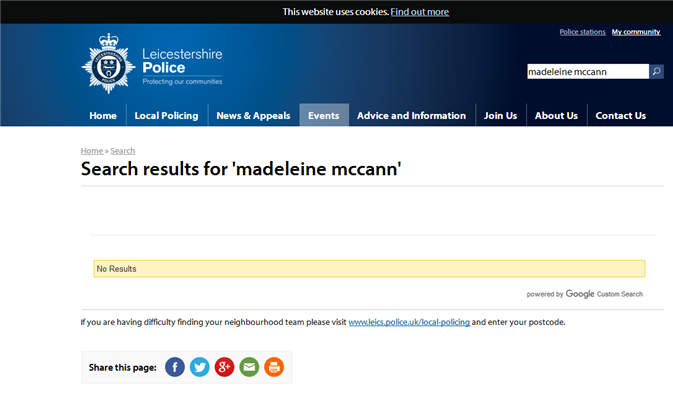 Verity




Posts

: 114


Activity

: 221


Likes received

: 71


Join date

: 2016-07-12



Could be for GDPR compliance.

Sundance




Posts

: 105


Activity

: 187


Likes received

: 82


Join date

: 2018-08-23



11 years on, are Kate and Gerry's buddies still stationed there or do we have a proper police force in place now?

____________________
"WE ARE ALL IN THIS TOGETHER" - Rebekah Brooks to David Cameron
@Sundance

wrote:Could be for GDPR compliance.
Or not, as the link was removed in 2010....
Leicestershire constabulary remove link to the McCann's fraudulent fund
7 Sep 2010
Following a letter from Tony Bennett of the Madeleine Foundation to Leicestershire Constabulary - the relevant section posted below - the link to the McCann's fraudulent fund has been removed:
QUOTE:
"Why before, during and after the time the McCanns were 'arguidos' (which the McCanns insist means 'persons of interest' but is more usually translated 'suspects'), did Leicestershire Police:
(i) Link their website to the McCanns' fund-raising website, and
(ii) In doing so, encourage those who might have relevant information, to give this not to Leicestershire Police nor to the Portuguese Police, but to the McCanns' own team of private investigators?
In the view of many, this set a dangerous and wholly new precedent in the history of criminal investigations anywhere in the world. A police force, openly and in a high profile manner, invited the public to donate to the fund-raising campaign of two suspects in a serious criminal investigation and helped them by diverting people who wished to supply information away from official police investigators and to their own private investigators, some of whose controversial history we have demonstrated above."
UNQUOTE


Update from Tony Bennett:
Madeleine McCann has been restored, after a few days, to the list of officially missing persons on the Leicestershire Police website.
But now there are TWO crucial differences between the previous page and the one put up by Leics Police last night, after some cleaning up:
1. Their page no longer links to the McCanns' fund-raising website, Find Madeleine - and
2. Their page now - and rightly - asks the public to contact Leicestershire Police with information, and not, er, Metodo 3, Francisco Marco, Oakley International, Kevin Halligen, Dave Edgar, Arthur Cowley etc.
By the way, The Madeleine Foundation does not claim the credit for this very significant change of policy by Leics Police.
Many people have protested about the previous situation of Leics Police inviting the public to donate to the McCanns and give information to them not to the police.
What we do say - and this is a matter of public record - is that we have continually raised this subject with both Leicestershire Police and the Home Office over the past two years, and we've asked FOI questions of Leics Police and encouraged others to do so. We cannot say what effect these may have had.
Tony Bennett
https://jillhavern.forumotion.net/t1374-leics-police-and-the-mccanns-website-then-and-now
That's startling.

Unless they have fresh evidence and are about to take action, but even that doesn't seem too wise. Even in they accept (after more than 10 years) Maddie is dead, unless they already know where her remains are, they still need further information from anyone who can provide it.

They should be querried about that. GPDR doesn't prevent Police asking people on information about missing persons and criminals.

PLL




Posts

: 49


Activity

: 69


Likes received

: 12


Join date

: 2018-08-25



That's ridiculous.
It's got nothing to do with data protection - the whole issue centres around
why
Leicestershire Constabulary posted-up a link to the McCanns official fraudulent fund website after Madeleine's disappearance in May 2007.
The missing persons listed on the police files are current.  They couldn't possibly be expected to retain details of every missing person from Leicestershire and environs on their website since the UK police force was formed back in the 19th century.
Besides, if you take a look at the Leicester police criteria for missing people..
Missing People
It can be devastating when a person goes missing; we take reports of missing people seriously and our priority is to locate the missing person as soon as possible.
It is very important to understand that there are no time factors required to be met when reporting someone missing.
You can report a missing person by ringing us on 101 (999 in an emergency) or in person at your local police station.
What is a Missing Person?
The national definition of a Missing Person is:
Anyone whose whereabouts cannot be established and where the circumstances are out of character or the context suggests the person may be subject of crime or risk of harm to themselves or another'
Many people believe that the police will not treat somebody as missing until they have been missing for over 24 hours, hence do not tell us. The first 24 hours during an individual going missing can be vital in the search for them so please contact us as soon as you believe someone to be missing.
This does not cover friends or family that you may have lost contact with over the years and you now wish to locate or make contact with. In these circumstances you may wish to consider searching on the internet or social media to locate them or employing a tracing agency to locate them for you.
https://leics.police.uk/advice-and-information/information-zone/missing-people
....................
Technically, Madeleine McCann shouldn't have been published on the Leicester police website in the first place - she disappeared whilst holidaying on the Algarve, Portugal, not from Leicester.  It is out of UK jurisdiction.

____________________
" The secret of life is honesty and fair dealing. If you can fake that, you've got it made" - Groucho Marx

Verdi

Moderator/Researcher





Posts

: 18824


Activity

: 25366


Likes received

: 5574


Join date

: 2015-02-02



---
Permissions in this forum:
You
cannot
reply to topics in this forum