Facebook data breach firm Cambridge Analytica 'ceasing all operations'
http://news.sky.com/story/cambridge-analytica-ceasing-operations-after-facebook-data-breach-11356278
Cambridge Analytica, the political consultancy at the centre of the Facebook data row, has announced it is to close and declare bankruptcy.
The British company said it had been "the subject of numerous unfounded accusations" and was "vilified for activities that are not only legal, but also widely accepted as a standard component of online advertising in both the political and commercial arenas."
Eighteen enforcement officers spent the night searching Cambridge Analytica's
offices after the High Court granted a warrant in March.
The information commissioner obtained a legal order to access their records and data after it emerged the company had harvested information from 50 million Facebook users.
The social media giant
later revealed that 87 million
people may been affected by the leak, with most of them based in the US.
Facebook's chief executive Mark Zuckerberg said the breach was a "huge mistake, it's my mistake".
Cambridge Analytica was linked with helping the Leave.EU campaign ahead of the Brexit referendum in June 2016, and Donald Trump's presidential campaign the same year.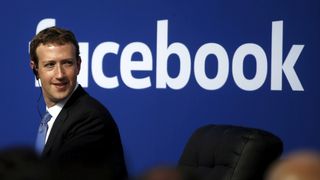 The Observer alleged in a series of articles that the firm had worked with Leave.EU in the run-up to voting day, with the pro-Brexit group failing to declare their contribution.
Cambridge Analytica chief executive Alexander Nix
denied ever working with the campaign
and said his firm had been the subject of politically motivated attacks.
Ahead of the US presidential election in 2016, Cambridge Analytica used its Facebook data to build psychological profiles on a large portion of the electorate.
They were able to amass a database quickly with the help of an app that appeared to be a personality test.
It collected information on tens of millions of people and their Facebook friends, even those who did not download the app themselves.
Cambridge Analytica was able to use the profiles to target voters with highly-personalised advertising based on their personality data.
Facebook has since tightened its privacy restrictions.
Cambridge Analytica always denied wrongdoing and Mr Trump's campaign has said it didn't use their data.
Image: Cambridge Analytica chief Alexander Nix denied working with Leave.EU
In a statement, the political consultancy firm said: "Despite Cambridge Analytica's unwavering confidence that its employees have acted ethically and lawfully, which view is now fully supported by Mr Malins' report (independent investigator Julian Malins), the siege of media coverage has driven away virtually all of the company's customers and suppliers.
"As a result, it has been determined that it is no longer viable to continue operating the business, which left Cambridge Analytica with no realistic alternative to placing the company into administration."
The firm had said it was committed to helping the UK investigation into Facebook and how it uses its information.
More from Cambridge Analytica


Cambridge Analytica inquiry to continue after collapse

Data row firm Cambridge Analytica's offices raided after court order

Elon Musk deletes Tesla and SpaceX Facebook pages after calls from privacy campaigners

Government to toughen data protection laws in response to Facebook scandal

Facebook boss 'open' to testifying before Congress

Facebook had 'wild west' approach to data security


But the information commissioner Elizabeth Denham said in March that the firm failed to meet a deadline to produce the information requested.
Mrs Denham said the prime allegation against Cambridge Analytica is that it acquired personal data in an unauthorised way.

He's come out fighting: PR supremo Clarence Mitchell is now the public face of Cambridge Analytica, the firm at the heart of the Facebook data harvesting scandal. Just two days into the job he gave a feisty press conference – accusing the media of portraying the firm as "some Bond villain". And he's robustly denied claims that data harvested from Facebook users could have been used to influence voters to back Brexit or Trump. Siobhan Kennedy went to ask him some robust questions of her own.

____________________
"WE ARE ALL IN THIS TOGETHER" - Rebekah Brooks to David Cameron
---
Permissions in this forum:
You
cannot
reply to topics in this forum