Verity




Posts

: 101


Join date

: 2016-07-12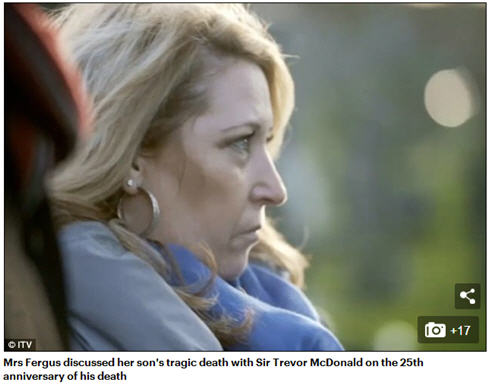 Channel 4 documentary that provoked outrage after seemingly sympathising with the killers of two-year-old James Bulger has cast a shadow over an ITV interview with his mother marking the 25th anniversary of the tragic toddler's death. ITV viewers today will see Bulger's mother Denise Fergus discuss the horrific crime, her attempts to find justice and learning to forgive herself. During the interview Mrs Fergus will reveal previously unseen pictures of herself and her child in happier times as well as revealing her hopes for a charity in her son's name. The 50-year-old mother of three more sons said: 'What I want to do is turn something so negative, that happened to James, into something positive.' Channel 4's documentary The Bulger Killers: Was Justice Done? was slammed for appearing to have sympathy for ten-year-old killers Jon Venables and Robert Thompson.
TIMELINE: JAMES BULGER'S MURDER AND THE CONVICTION OF TWO KILLERS
1993



February 12: Two-year-old James Bulger is snatched during a shopping trip to the Strand shopping centre, in Bootle, Merseyside.




February 14: The toddler's battered body is found by children playing on a freight railway line 200 yards from Walton Lane police station, Liverpool, and more than two miles from the Strand shopping centre.




February 18: Jon Venables and Robert Thompson, both 10-year-olds, are arrested in connection with the murder of James, and later charged. They are the youngest to be charged with murder in the 20th century.




February 22: There are violent scenes outside South Sefton Magistrates' Court in Bootle, when the two primary school pupils, then known as Child A and Child B, make their first appearance.




November 24: Robert Thompson and Jon Venables, now both aged 11, are convicted of James Bulger's murder following a 17-day trial at Preston Crown Court. They are ordered to be detained at Her Majesty's pleasure, the normal substitute sentence for life imprisonment when the offender is a juvenile.



1994



July: The eight year sentence tariff set by the trial judge, which has already been increased to 10 years by Lord Chief Justice Lord Taylor of Gosforth, is increased again to 15 years by the Home Secretary Michael Howard.



1997



June: The Law Lords rule by a majority that Mr Howard has acted illegally in raising the boys' tariff.



1999



March: The European Commission on Human Rights finds that Thompson and Venables were denied a fair trial and fair sentencing by an impartial and independent tribunal.



2000



March: Home Secretary Jack Straw says he will not set a date for Thompson and Venables' release.




October: Lord Chief Justice Lord Woolf reinstates the trial judge's original tariff, paving the way for their release.



2001



January: James Bulger's killers win an unprecedented court order from High Court judge Dame Elizabeth Butler-Sloss which grants them anonymity for the rest of their lives.




June: Thompson and Venables are freed under new identities.



2008



September: Venables is arrested on suspicion of affray after he and another man become involved in a drunken street fight. He is given a formal warning by the Probation Service about breaching the good behaviour expected of him as a condition of his licence.




Later the same year he is cautioned for possession of cocaine after he was found with a small amount of the class A drug, which was said to be for personal use. The public remains unaware of both offences until 2010.



2010



March 2: Venables is returned to prison after breaching the terms of his release, the Ministry of Justice says. It kick-starts frenzied media speculation over the nature of the alleged breach.




April 16: Prosecutors handed a police file over the latest allegations.




June 21: A judge at the Old Bailey lifts media restrictions, allowing it to be reported that Venables has been charged with downloading and distributing child pornography.




July 23: Venables pleads guilty to the charges. He is sentenced to two years in prison. James Bulger's mother Denise Fergus attacks the length of sentence as 'simply not enough'.




July 30: A judge rules Venables' new identity must be kept secret because of the 'compelling evidence' of a threat to his safety, saying 'unpopular' defendants had as much right to protection from retribution as anyone else.



2013



April 26: Two users of social media who breached the injunction banning the revelation of the new identities of Venables and Thompson receive suspended jail sentences.




July 4: Sources reveal Venables has been granted parole. 



2017  



Veneables is in prison again after allegedly being caught with indecent images of children.  



2018 


January: He is charged with possession of child porn and awaiting trial  


http://www.dailymail.co.uk/news/article-5360607/James-Bulgers-mother-releases-unseen-family-photos.html
Posted on CMOMM facebook:
Kirsty Louise Lewis
3 hrs
· 
Might get some stick for this post but ah well!
I was heartbroken, in actual floods of tears last night watching James Bulgers mum's interview.
Even after all these years, you can see every bit of pain still etched on her face when she talks about him. You can see the sadness in her eyes what any mum would have living with a life of what ifs and it made me think how different Denise Fergus and Kate McCann were in the days after their children went missing.
Denise knows what happened to her baby boy, she has laid him to rest and has had closure and still looks drained and heartbroken in interviews whereas Maddie has never been found yet, their baby girl is 'still out there' but just days after she was 'taken' they are seen smiling and laughing.
We have never seen Kate cry and never once have I felt that raw emotion in any interview from her that we all felt watching the clips of Denise begging for her baby back before he was found!
Maybe people just handle it differently but I know which of the two mum's I would be in the same situation!
Venebles and. Thompson were awarded thousands in compensation due to not being deemed a fair trial due to their age!

Sorry, they were old enough to know right from wrong, it is obvious they planned this and they subjected an innocent two year old to despicable and horrific torture and death! 

I have zero sympathy for them.

James Bulger deserved justice, he did not get it, his family did not get it. These evil creatures took not only James future but his families. 

My respect to his Mother, she has lived a nightmare all these years,she warned the authorities about the possibility of reoffending...and in the case of Venables  it is true.

They should have been locked up and the key thrown in the depths of the ocean! 

These two were not "normal" children in my opinion, they purposely tortured and bullied and killed an innocent little boy, and that is so far from normal and they should not be treated as "normal".

Tax payers money gave them a new life, one which they did not deserve...ever!
____________________
"Basically, I'm just an ordinary, straightforward guy who's the victim of the biggest f***-up on this planet – if you'll excuse the language." 
Robert Murat talking to David Jones, Daily Mail, 02 June 2007
http://www.dailymail.co.uk/news/article-459316/Madeleine-Is-Robert-Murat-suspect-scapegoat.html

MayMuse




Posts

: 2033


Join date

: 2016-04-15



I see that today at least one newspaper is noting that while Jon Venables went on to re-offend Robert Thompson has not. It reminded me of the strangest event that happened here in Ireland.
 On Nov. 9th 2004, a man named Sean Walsh, who was then around twenty one years old and originally from England, stabbed his then girlfriend and attempted to strangle her 3 year old daughter. He told her that he was really Robert Thompson who had killed James Bolger. He also repeated this claim at his trial and in jail. The only follow up report I can recall is this one from the Irish Examiner
Saturday, May 13, 2006By Cormac O'Keeffe
PRISON bosses yesterday said they would review security for a prisoner after he reportedly claimed he was the killer of English child Jamie Bulger.
The Prison Service said it was "absolutely certain" Sean Walsh was not Robert Thompson, who in 1993 murdered Bulger along with Jon Venables. 

Walsh, aged 25, was sentenced to 15 years imprisonment this week for a vicious attack on his girlfriend in November 2004. 

It was reported yesterday that Walsh had claimed he was Thompson and that this was being investigated by gardaí and prison officers. 

A spokesman for the Prison Service said these claims first surfaced a year ago when Walsh was held on remand. 

"We checked it out with An Garda Síochána and they told us no it was not him," said the spokesman." 
Walsh was  later released and while the press mentioned his crime and the fear locals in the area had regarding after his release, no further reference was made to his extraordinary claim. The strange thing is that Walsh bears an uncanny resemblance to Thompson. Weird or what!

Phoebe




Posts

: 1194


Join date

: 2017-03-01



Hi Phoebe,that is an interesting article with regard to re-offending,perhaps as a security issue,a "denial" of who Mr Sean Walsh being the New Identity of Robert Thompson,Garda Siochana,was all that was required,but during the sentence he was serving,a "New Identity"could have been given to the released Prisoner,to preserve non disclosure to the public!

As Kojack sang,"If a Picture Paints a Thousand Words,then Why can't I Paint you"?

willowthewisp




Posts

: 3035


Join date

: 2015-05-07



I'm not claiming Walsh was Thompson but the whole event was handled in such an odd way as to have fanned the flames of that belief for some. Three other newspaper reports from 2006 are still available online from The Irish Times and the Irish Independent but none of them mention Walsh's claim and I recall that it vanished from the news in rather quickly. Walsh pleaded guilty, so there was no testimony from his victim etc. His legal counsel claimed he had psychiatric issues and the whole thing was over very quickly. The fact that he is English, the right age and bears such a strong resemblance to Thompson means those who recall the event (and they seem to be few) wonder why the denial was not stronger in terms of giving a background re. who this Walsh chap was, his background (especially if he had "previous" in the U.K.) when and 
why he moved to Ireland etc.

Phoebe




Posts

: 1194


Join date

: 2017-03-01



---
Permissions in this forum:
You
cannot
reply to topics in this forum