Interesting to see where this one is going.
Bob Quick made the original disclosures about legal porn on the computer and this was then backed up by Neil Lewis, who said something to the effect that although it could not be proven that it was viewed by Green, the pattern of computer usage, with e-mails, letters, bit of porn viewing, e-mails, letters etc made it unlikely it was anyone else.
Nadine Dorries tried to support Green by digging a cyber-security/possible gross misconduct hole for herself over the weekend, saying that she and many other MP's openly shared their passwords, so it could have been anyone, then backtracked to something like 'shared e-mail accounts' (which can be acceptable for her staff) when it was pointed out what she had admitted to, but this of course wouldn't allow full access to the computer and the porn downloads, unless they came via e-mail, which I don't believe has ever been said and is probably unlikely.
Jacob Rees-Mogg joined in on a tangent, condemning the original searches as illegal.
Cressida Dick joined in yesterday, effectively condemning this type of 'whistleblowing',  and today Bob Quick is threatening to sue Green, unless he retracts his 'liar' accusations.
Danny Shaw
Bob Quick demands a public retraction of "liar" allegations from Damian Green: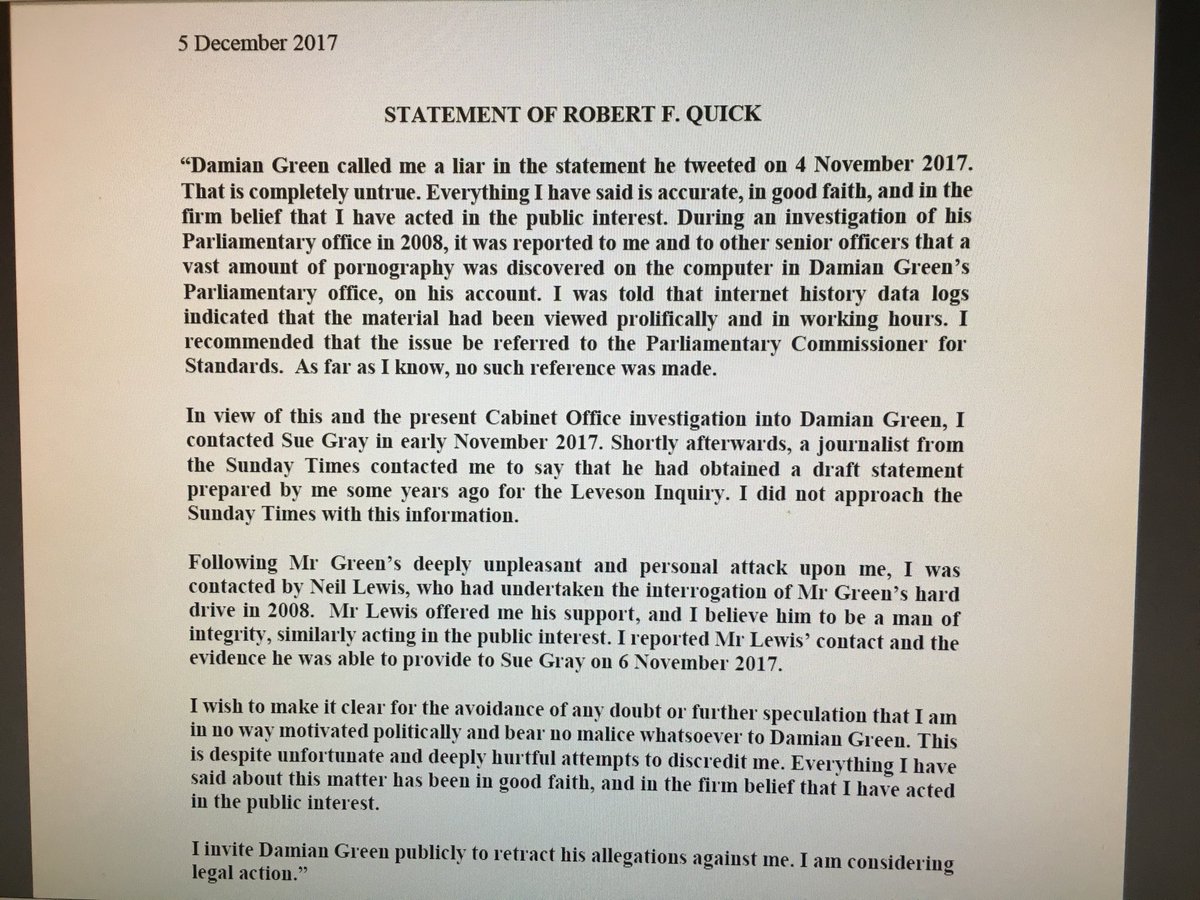 Doug D




Posts

: 2855


Join date

: 2013-12-03



Oh dear, a policeman scorned.......

polyenne




Posts

: 963


Join date

: 2017-03-31




Doug D




Posts

: 2855


Join date

: 2013-12-03



+1 Doug D, Merry Christmas!

sar




Posts

: 979


Join date

: 2013-09-11



Vendetta, plain and simple. But I don't know why, or what he did to upset that Policemean.

JimbobJones




Posts

: 174


Join date

: 2016-05-05



We might find out  why the policeman is upset as  the policeman is reportedly threatening legal action through the courts if  Green doesn't retract his comments about the policeman.   Could get very interesting in 2018.
____________________
Judge Judy to shifty  witnesses   -    LOOK AT ME  -   Um is not an answer.
If I forget to add it to a post everything is In My Opinion and I don't know anything for sure.

plebgate




Posts

: 6356


Join date

: 2013-02-01



---
Permissions in this forum:
You
cannot
reply to topics in this forum