In the same week as the McCann-supporting PR empire Bell Pottinger came crashing down, amidst proven allegations of acting as public relations advisers to a host of corrupt regimes and individuals, and even faking news stories in the South African media, another noted McCann-supporter fell this week.
Fell into his grave, in fact, for last Friday, 1 September, former Cardinal Cormac Murphy-O'Connor, Roman Catholic Archbishop of England and Wales 2001-2009, died of cancer.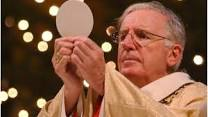 Cardinal Cormac Murphy O'Connor - covered up child sex-abusing priests
It was he who personally arranged for Pope Benedict XVI to bless the McCanns (or rather, a photograph of Madeleine) when the McCanns visited Rome on 30 May 2007, 27 days after the reported disappearance of Madeleine (Kate McCann: "Rome is preparing itself").
In an interview weeks later, Clarence Mitchell boasted that he had personally met with Cardinal O'Connor and arranged it.
Clarence Mitchell - has represented the McCanns for over 10 years
The McCanns flew to Rome in the private jet of Sir Philip Green, the thief who robbed BHS pensioners of hundreds of millions of pounds.
So the three individuals who arranged this visit were:
Clarence Mitchell – "My job was to control what comes out in the media"
Sir Philip Green – Greedy businessman who robbed his employees, and
Former Cardinal Cormac Murphy-O'Connor.
The McCanns board Sir Philip Green's private jet
Pope Benedict XVI was the only Pope in history to resign – a resignation forced by revelations about his failure, while Cardinal Ratzinger in Bavaria – to deal with child abusing priests under his watch: https://en.wikipedia.org/wiki/Pope_Benedict_XVI#Sexual_abuse_in_the_Catholic_Church
What an unholy alliance this was!     
The death of Murphy-O'Connor was greeted with predictable and generous tributes by many of the 'great and the good'.
Archbishop of Canterbury, Most Rev Justin Welby, said: "His humility, sense and holiness made him a church leader of immense impact".
Rt Rev Dr Derek Browning, Moderator of the General Assembly of the Church of Scotland, said: "We mark his passing with respect, and say, 'Well done, good and faithful servant'."
Bishop Angaelos, General Bishop of the Coptic Orthodox Church in the UK, wrote: "Farewell to a friend, brother and fellow-traveller along our shared ecumenical journey in Britain".
Current Archbishop of Westminster, Cardinal Vincent Nichols, recalled his "infectious laughter and sense of fun", while the R.C. Archbishop of Liverpool, Most Rev Malcolm McMahon, described him as "…always approachable, willing to give his time to listen to anyone and offer any help he could".
But as is clear from many obituaries of O'Connor during the past week, he will be most frequently remembered for his part, while Bishop of Arundel and Brighton, in the industrial-scale abuse of children by Roman Catholic priests in dozens of countries over past decades.
The scandal which tarnished his reputation concerned his actions in the 1980s and 1990s over twice-convicted child sex abuser Father Michael Hill. Not only did O'Connor fail to report his sex abuse crimes to the police; he also transferred Hill to another parish, making him Chaplain at Gatwick Airport, where he again abused children.
A subsequent report revealed that O'Connor was made fully aware of Hill's crimes, and was even advised by colleagues that he might re-offend. Four of Hill's many offences were committed after his appointment as Airport Chaplain. Some of the boys he molested were disabled.
It was not until 2015 that O'Connor finally admitted 'shame' and 'regret' at his actions, but even then he attempted to justify his decision by arguing that "paedophilia was not at the time understood to be addictive….No bishop would have handed over a priest to the police in those days…we were perhaps 'too kind' towards our fellow clergymen".
After his retirement as Archbishop, O'Connor was constrained to issue a statement on behalf of his fellow Cardinal, Keith O'Brien, Archbishop for Scotland, and a friend of the late Jimmy Savile, who had been accused of sexual abuse of fellow-priests. O'Connor said: "I am saddened by his resignation. The Vatican put no pressure on him to step down. That was his own decision. He is an honest man who denies the allegations".
Laughing and smirking, Cardinal Keith O'Brien and Jimmy Savile with two (pixellated) children
In a message issued shortly before his death, O'Connor declared: "I am at peace and have no fear of what is to come".
He was a firm believer in both heaven and hell.
.

____________________

Dr Martin Roberts: "The evidence is that these are the pjyamas Madeleine wore on holiday in Praia da Luz. They were photographed and the photo handed to a press agency, who released it on 8 May, as the search for Madeleine continued. The McCanns held up these same pyjamas at two press conferences on 5 & 7June 2007. How could Madeleine have been abducted?"
Amelie Mcann (aged 2): "Maddie's jammies!".  

Tony Bennett

Researcher




Posts

: 15615


Join date

: 2009-11-25


Age

: 72


Location

: Shropshire



The dominoes start to fall

lj




Posts

: 3329


Join date

: 2009-12-01



---
Permissions in this forum:
You
cannot
reply to topics in this forum