http://www.dailymail.co.uk/news/article-4235434/McCanns-ban-Portuguese-lawyer-speaking-press.html
Madeleine McCann's parents ban their lawyer from speaking to the press after Portugal's supreme court insisted they hadn't been proved innocent over their daughter's death


Isabel Duarte thought have been considering a reaction after  a failed libel battle


Ex-policeman Goncalo Amaral claimed the couple faked Maddie's abduction


But Kate and Gerry have reportedly ordered her 'not to say anything' about case

PUBLISHED: 17:58 GMT, 17 February 2017 | UPDATED: 20:19 GMT, 17 February 2017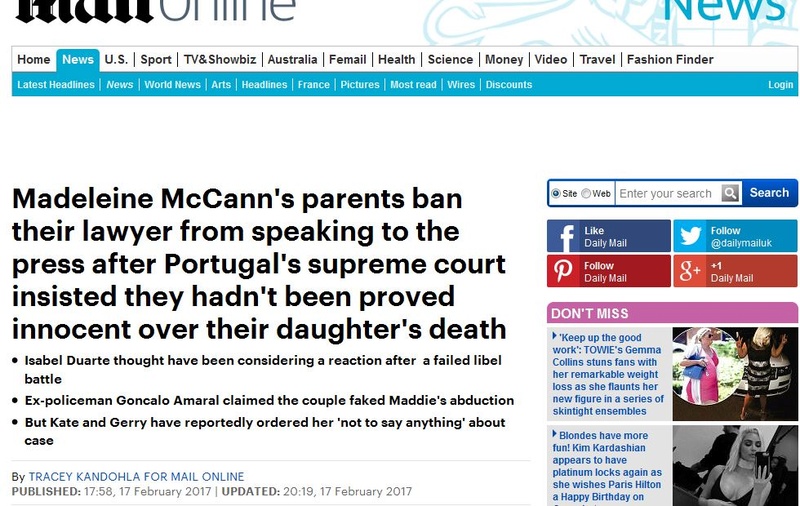 ____________________

Dr Martin Roberts: "The evidence is that these are the pjyamas Madeleine wore on holiday in Praia da Luz. They were photographed and the photo handed to a press agency, who released it on 8 May, as the search for Madeleine continued. The McCanns held up these same pyjamas at two press conferences on 5 & 7June 2007. How could Madeleine have been abducted?"
Amelie Mcann (aged 2): "Maddie's jammies!".  

Tony Bennett

Researcher




Posts

: 15899


Join date

: 2009-11-25


Age

: 72


Location

: Shropshire



The word Death is only in the headline (so probably just another sensationalist attempt to grab attention) but (and possibly more importantly) another tiny tiny step towards preparing the world for the truth.

littonlad




Posts

: 10


Join date

: 2017-01-12



There's quite a lot packed into that: 'ban', 'faked',  'failed' are all interesting choices of verbs.

Guest

Guest






____________________
ex ore parvulorum veritas

vincit omnia veritas

mootle




Posts

: 75


Join date

: 2017-01-05



I wonder how much truth is in this:
"Best-selling Portuguese daily Correio da Manha said the couple were seeking to get the Supreme Court decision invalidated after launching a formal complaint against the judges' findings".

sallypelt




Posts

: 3903


Join date

: 2012-11-10



Could this force them to finally answer some questions?

____________________
ex ore parvulorum veritas

vincit omnia veritas

mootle




Posts

: 75


Join date

: 2017-01-05



---
Permissions in this forum:
You
cannot
reply to topics in this forum