Lee Balkwell death: Essex Police pays Hornchurch family £40,000 in damages and chief constable under investigation
10:05 14 December 2016
Ryan Tute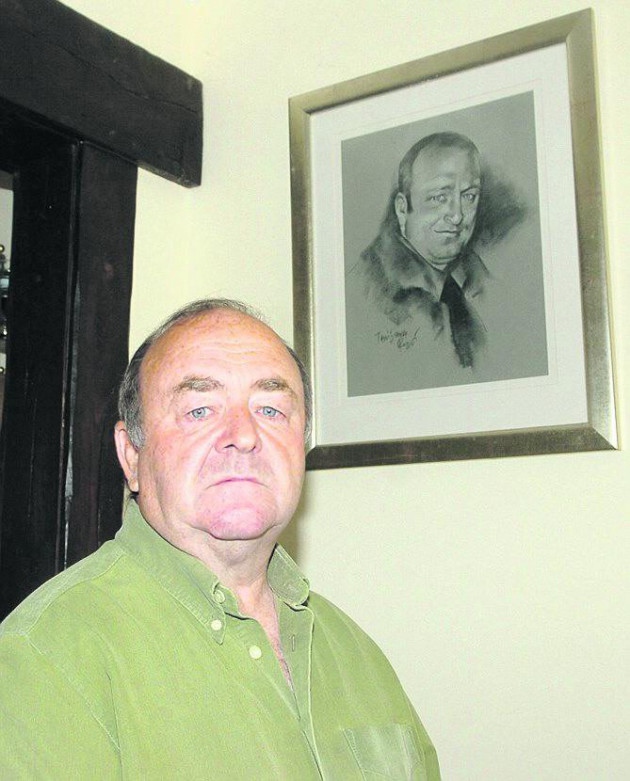 Les Balkwell stood below a picture of his son Lee.
Essex Police has apologised to the family of a man found dead in a cement mixer and paid out £40,000 in damages, 14 years after his death.
The force has accepted liability for a series of flaws into the investigation of Lee Balkwell's death, who was found dead at a farm in Dennises Lane, Upminster, in 2002.
The Recorder can also reveal Lee's father, Les, has received letters notifying him that Stephen Kavanagh, the chief constable of Essex police, has been served with notice of a misconduct investigation into his handling of complaints over the death of the 33-year-old son.
Devon and Cornwall Police, acting as an independent investigator, served the notice which is looking into allegations Mr Kavanagh failed to act on claims of corruption within the force.
Les, of Hornchurch, has been fighting for justice since 2002, always maintaining his son was murdered by an organised criminal gang.
Speaking to the Recorder, Les said: "It was never about money, it's about getting to the truth behind my son's murder.
"It's a really significant day and I would be elated if it wasn't connected to the death of my son who I still miss every day."
Les also confirmed a team of retired senior police officers, formally of the Metropolitan Police, are now going through all the evidence that has been disclosed in a bid to find the answers the 70-year-old still strives for.
Last month, the High Court ruled Essex Police must disclose original police documents to Les and his advisers.
Among the requests were personal notebooks of senior officers investigating the case, photographs taken at the scene and email exchanges between the police and pathologists.
A spokesman for Essex Police said: "Essex Police has accepted liability in a civil case relating to the investigation carried out following the death in 2002 of Lee Balkwell.
"We also accept the findings of the 2012 IPCC report which criticised a number of aspects of the investigation but concluded: "we have found no evidence to support any allegations of corruption or a conspiracy theory."
"The force has apologised to Mr Balkwell's family for the failings in the investigation and the distress and anguish that this has caused.
"As the civil case is still ongoing, it would be inappropriate to comment further." 
http://www.romfordrecorder.co.uk/news/crime-court/lee_balkwell_death_essex_police_pays_hornchurch_family_40_000_in_damages_and_chief_constable_under_investigation_1_4816096
Researcher




Posts

: 14977


Reputation

: 3029


Join date

: 2009-11-25


Age

: 70


Location

: Shropshire



£40,000 is not nearly enough compensation for what Mr Balkwell and his family have endured for the past fourteen years. All he wanted was the truth.

But very well done for helping him Tony.

____________________





Posts

: 404


Reputation

: 40


Join date

: 2011-06-14






Posts

: 2590


Reputation

: 919


Join date

: 2013-12-03



Hi DougD,Mr Tony Bennett,thanks for helping Les Balkwell over the Death of his Son(Lee)in the shambles of an Investigation?  
The UK Police force are often quoted as the"Best In The World"when it comes to Crimes and Criminal Investigations?
But when you Read of the"Massive Amount of destruction of evidence"that has been carried out by the various Police Forces on Live cases being unfolded to the Public's gaze,it is absolutely astonishing?
An IPCC Found Eight Senior Officers,made 25 errors in a"Seriously Flawed Investigation"yet at the same Time found"No evidence"of a Conspiracy in its investigation?
"Well if you don't Look" you won't find any Will You?
One can only hope that the civil matter addresses Mr Les Balkwell case in more"Professional"way than certain UK Police Forces have treated the Mysterious Death of Lee Balkwell,I convey my sympathy to you Mr Les Balkwell over your Son's Death.



Posts

: 2358


Reputation

: 893


Join date

: 2015-05-07



@ Doug D
     Thank you very much for finding and posting this.
I am glad that at last there is a news story about this, because I was at the meeting along with the TM-EYE team to meet with Roger Hirst, the new Police and Crime Commissioner for Essex last month. There have been some significant investigative developments as a result of the involvement of a forensics expert and a team of retired former senior detectives who have been helping Les over the past few months.
One of the forensic issues thrown up could turn out to be sufficient forensic evidence to convince Essex Police and the Crown Prosecution Service to charge one or more persons with murder, as it would add significantly to the overwhelming circumstantial evidence we have already that Lee Balkwell was murdered. I cannot say more than that at present.
The TM-EYE team are first-rate, committed detectives who have experienced police corruption at first hand and are determined to use their skills to get to the truth. At last I can hand over the investigative work to someone else.
I continue to assist Les with a formal complaint made to the Essex Police and Crime Commissioner about alleged misconduct by Essex Chief Constable Stephen Kavanagh in the Lee Balkwell case. The Police and Crime Commissioner has passed this to Devon and Cornwall Police.      
This has run into a sea of troubles. The man appointed by Devon and Cornwall Police as their lead investigator, Brendan Brookshaw, their Head of Professional Standards, turned out to be a senior Freemason. As we have evidence that the Lee Balkwell case cover-up has been controlled by a group of senior Essex Police officers who are also senior Freemasons and meet regularly at two lodges in the Southend area to discuss their dirty business, we asked the Assistant Director of Devon and Cornwall, Russ Middleton, to remove him from any role in the complaints investigation. He refused for 5 months, only giving way when Les Balkwell insisted that he would not co-operate further with the investigation unless he was removed.   
Now it turns out that Devon and Cornwall Chief Constable Shaun Sawyer was a close colleague and mate of Stephen Kavanagh when both worked in the Met Police Serious Crime Directorate many years back. So it looks like this is another investigation that is being compromised by a lack of independence.
TM-EYE have a website:
http://tm-eye.co.uk/all-news/
I would like to explain what the Terms of Reference are for the investigation into Stephen Kavanagh - but I cannot do so because of these words, bolded in red, on the face of the document:  
GOVERNMENT SECURITY CLASSIFICATION:  OFFICIAL classification with SENSITIVE caveat (Professional) 
No further dissemination without contacting the originator 
FOIA Closed Sections 30, 40 and 42
.
Researcher




Posts

: 14977


Reputation

: 3029


Join date

: 2009-11-25


Age

: 70


Location

: Shropshire



---
Permissions in this forum:
You
cannot
reply to topics in this forum