Page 6 of 6 •
1, 2, 3, 4, 5, 6
I would be interested to hear Peter's/Hob's views on the following 'sermon' snippets given by GM at the service in Luz church held on Madeleine's 4th birthday (12 May 2007), only 9 days after the reported 'disappearance'.
After the service the couple left the church beaming broadly - several of the gathered crowd looked genuinely taken aback by the seemingly inappropriate behaviour.
Courtesy of Pamalam:
MADELEINE'S FATHER SPEAKS OF ORDEAL
| | | | | |
| --- | --- | --- | --- | --- |
| HOMEPAGE | NEWS REPORTS INDEX | BLOGS | PHOTOGRAPHS | NEWS MAY 2007 |
Original Source:

Express 12 May 2007  [Now removed from internet]

Saturday May 12,2007
The father of missing Madeleine McCann has described a "tidal wave" of devastation wreaked by her abduction.

At a special Mass held in Portugal on Saturday - Madeleine's fourth birthday - Gerry McCann told villagers that he and his wife Kate had drawn "strength, hope and courage" from the support they had received in Praia da Luz, across Europe and around the world.

Speaking with emotion but determination, he told the packed church: "We are looking forward to the day when Madeleine returns to us as a joyous one."

It is the first time he has spoken at length about the tortuous days he and his wife have suffered as they wait for news. He told the congregation at the tiny 16th century church of Nossa Senhora da Luz: "Today we should be celebrating the fourth birthday of our daughter Madeleine. Instead we have had to remember what a normal, beautiful, vivacious, funny, courageous and loving little girl that we are missing today.

"I like to think about the effects of Madeleine's abduction from us nine days ago like a tidal wave. The devastation - which was tremendous - was greatest for Kate and I."

The couple were showered with kisses, hugs and flowers as members of the congregation queued to greet them at the end of the service. His wife, who in recent days has appeared increasingly drawn, smiled as scores of villagers lined up to kiss her on each cheek. Among the presents which had been left at the front of the church before the service were a yellow fluffy duck, a multi-coloured striped handbag and a fluffy pink flower with a yellow smiling face.

The McCanns had spent much of the anniversary in private and away from the ill-fated Algarve complex from where their daughter vanished nine days ago. Meanwhile, as messages of support continued to flood in, a reward of £1.5 million was offered for information leading to Madeleine's safe return.


 Set of photos at:
 
  http://www.gerrymccannsblogs.co.uk/4TH_BIRTHDAY.htm

  Tried to copy over but coming up as too long even with one - sorry. The last one of the Mc's in the  series of shots is particularly telling (look at GM).

skyrocket




Posts

: 755


Activity

: 1537


Likes received

: 732


Join date

: 2015-06-18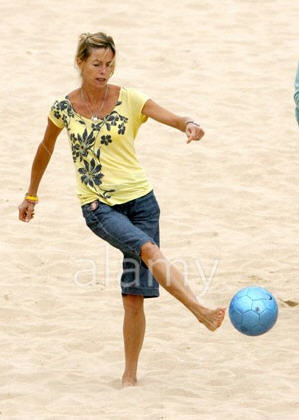 And then she went and played football.

hogwash




Posts

: 209


Activity

: 472


Likes received

: 197


Join date

: 2015-09-20



Those photos with Madeliene missing just 9 days always have been real eye-openers.
Along with the smiley Madeleine t-shirt picture.

Guest

Guest





According to the Sky reporter, Gerry and Kate are displaying 'extraordinary amounts ( amounts?) of courage and hope. Very extraordinary, laughing like a pair of hyenas.

Cmaryholmes




Posts

: 445


Activity

: 914


Likes received

: 461


Join date

: 2016-03-01



Snip from a comment reply by PH to 'Part 3':
 
'This is very similar to 'asking questions'; that is, seeking information. At this point, there may be, truly, a desperation to know what law enforcement knows about this sensitive specified point in time. This "unknown" is frightening to them, and causes desperation.
 
It is the "unknown" that innocent parents fear about the current status of their kidnapped child.
 
For the McCanns, there is no such element.
 
   
The more statements I view, the more the original analysis is affirmed. I am always wiling to change, turn direction, correct, and so on, should the statement lead. We follow the language, not our instincts nor opinions.'

Doug D




Posts

: 3695


Activity

: 5256


Likes received

: 1297


Join date

: 2013-12-03



Who needs interview analysis when you have just two embedded examples of deceit right before your eyes - and ears..

The prologue:

Gerry McCann speaks late 4th May 2007

https://www.youtube.com/watch?v=avf4jHNuzPU

The epilogue:

Gerry McCann speaks on return to the UK 9th September 2007

https://www.youtube.com/watch?v=pepDNi7WSYs

Both occasions reading from a prepared script - no expression;  no emotion;  no heart;  no feeling;  no love.   So endeth any hope for Madeleine - only hard sociopathic self interest.

NB:  Still haven't got the hang of uploading videos - if anyone can oblige I thank you.  Better still give me an idiots guide!

____________________
" The secret of life is honesty and fair dealing. If you can fake that, you've got it made" - Groucho Marx

Verdi

Forum Manager





Posts

: 29357


Activity

: 36510


Likes received

: 5911


Join date

: 2015-02-02







There you go verdi.

In the 'post a reply' bit along with the 'Bold, Italic, Underline' stuff you get 'Insert Image, Insert Link, Insert Youtube'. Just click on 'youtube' and it asks for the 'url'. 

Even I have mastered that bit (although I still can't get screenshots to show as anything other than a '?' in a blue box)!

Doug D




Posts

: 3695


Activity

: 5256


Likes received

: 1297


Join date

: 2013-12-03



I thank you kindly 
.  Testing testing..
Voila !!!
What a total ass I am - it really is that easy
I'll be posting videos nillywilly in future .  I must explore the stuff and see what else I've been missing  
.

____________________
" The secret of life is honesty and fair dealing. If you can fake that, you've got it made" - Groucho Marx

Verdi

Forum Manager





Posts

: 29357


Activity

: 36510


Likes received

: 5911


Join date

: 2015-02-02



Another one from PH:
 
Interview Analysis: Kate McCann
 
http://statement-analysis.blogspot.co.uk/2016/12/interview-analysis-kate-mccann.html
 
He has also done an analysis of the Papini case which makes for interesting reading, especially his rationale for saying what he does:
 
http://statement-analysis.blogspot.co.uk/2016/12/statement-analysis-keith-papinis-public.html

Doug D




Posts

: 3695


Activity

: 5256


Likes received

: 1297


Join date

: 2013-12-03



Page 6 of 6 •
1, 2, 3, 4, 5, 6
---
Permissions in this forum:
You
cannot
reply to topics in this forum