Lizzy Hideho Taylor
July 29
Jan 12th 2010 during the Injunction Hearing in Lisbon, Tavares de Almeida and Ricardo Paiva gave witness statements which included the dog alerts.
On January 13th, there were 50 news articles NEGATIVE to the McCanns. Gerry left the court early, claiming 'unexpected work commitments' and returned to the UK.
Within a few days there were NO news articles about the McCanns.
Can we really believe the press CHOSE not to report about the witness claims (under oath) that Maddie was dead, her parents hid her body and simulated an abduction?
We know that Hanover PR were able to change public opinion from hostility to sympathy by removing negative news articles (at a cost of £30,000) when the McCanns returned from Portugal.
Did Gerry arrange something similar on Jan 14th 2010?
SEE THIS PAGE TO SEE THE AMAZING DISAPPEARANCE OF NEWS ARTICLES!
Chronological Index January 11 - 20th 2010 Maddie Case Files
http://themaddiecasefiles.com/topic5313-10.html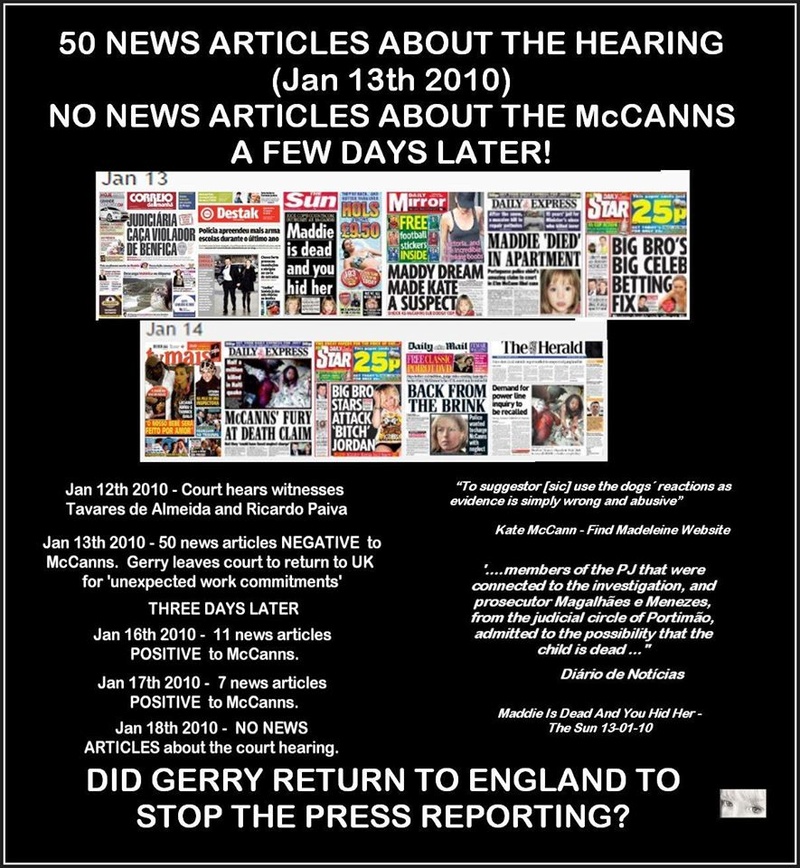 ---
Permissions in this forum:
You
cannot
reply to topics in this forum