Thanks to PeterMac, I now have a copy of the current copy of
Private
Eye
, which features the Lee Balkwell case once again (see previous
Private Eye
thread, here: 
https://jillhavern.forumotion.net/t12450-private-eye-6th-feb-2016-stun-gun-was-used-to-kill-lee-balkwell-says-former-top-met-police-forensics-expert-robert-milne-as-les-balkwell-demands-a-complete-re-investigation-by-an-independent-police-force-14-years-after-his-son-was-killed
).
Here it is: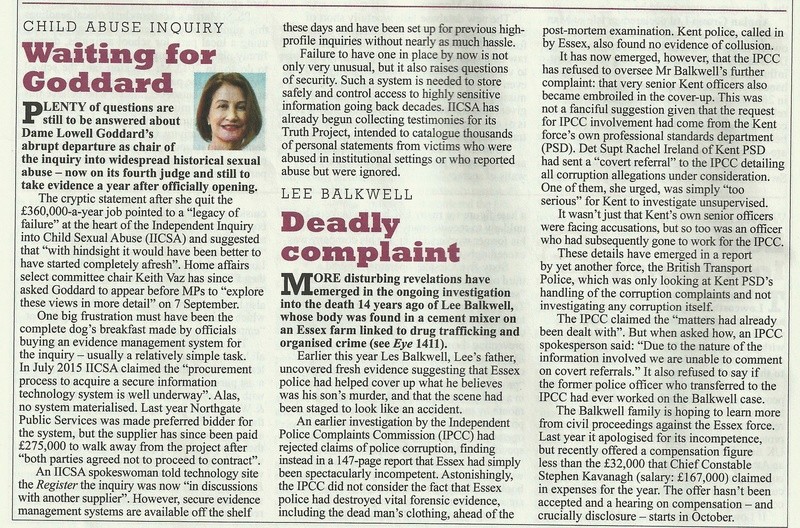 By way of background, ever since Simon Bromley was prosecuted unsuccessfully in October 2014 by Essex Police for the alleged gross negligence manslaughter of Lee Balkwell, Les Balkwell has made a number of formal complaints to the IPCC against senior officers of both Kent and Essex Police forces.
In short, they allege serious professional misconduct, police corruption and actual criminality, in that we say the evidence suggests criminality by certain police officers in the form of perverting the course of justice.
Several complaints were made about Kent Police, who conducted an ineffective review which wholly lacked independence from Essex Police. Numerous attempts were made by Kent Police Professional Standards Department to persuade the IPCC to drop the complaints, alleging e.g. that the complaints were 'vexatious' or otherwise had no substance. Happily senior IPCC officers overturned these attempts on appeal.
Matters were then referred by the IPCC to the Head of Professional Standards of Kent Police, Rachel Ireland, to investigate. Once again we objected strenuously, because - in the light of the history of the case - it was clear that the Head of Kent Police Professional Standards could not possibly investigate these very serious accusations against her own senior officers.
It has now emerged that Ms Ireland did indeed consider that she was being put in an utterly impossible position and made her own secret approach to the IPCC to suggest that, at the very least, the IPCC should supervise her investigation.
As has now, just in the last few days, been made clear, she covertly attended a meeting at Kent Police on 1 October 2014, just days before Simon Bromley was due to be prosecuted for the manslaughter of Lee - a charge incidentally that the jury, after six days of hearing, threw out within the space of 20 minutes. It must have been patently obvious to the jury members that Lee did not die in a 'tragic accident', as Essex Police have tried to maintain for the past 14 years.
As this heavily redacted report of the meeting demonstrates...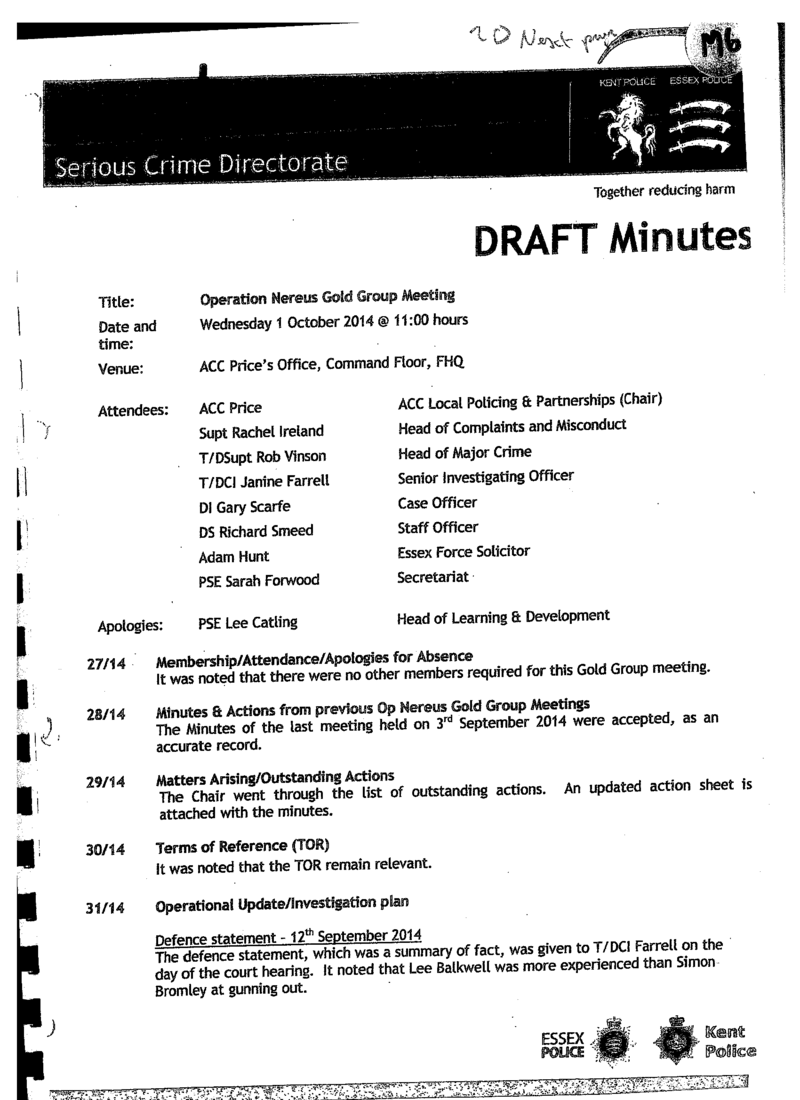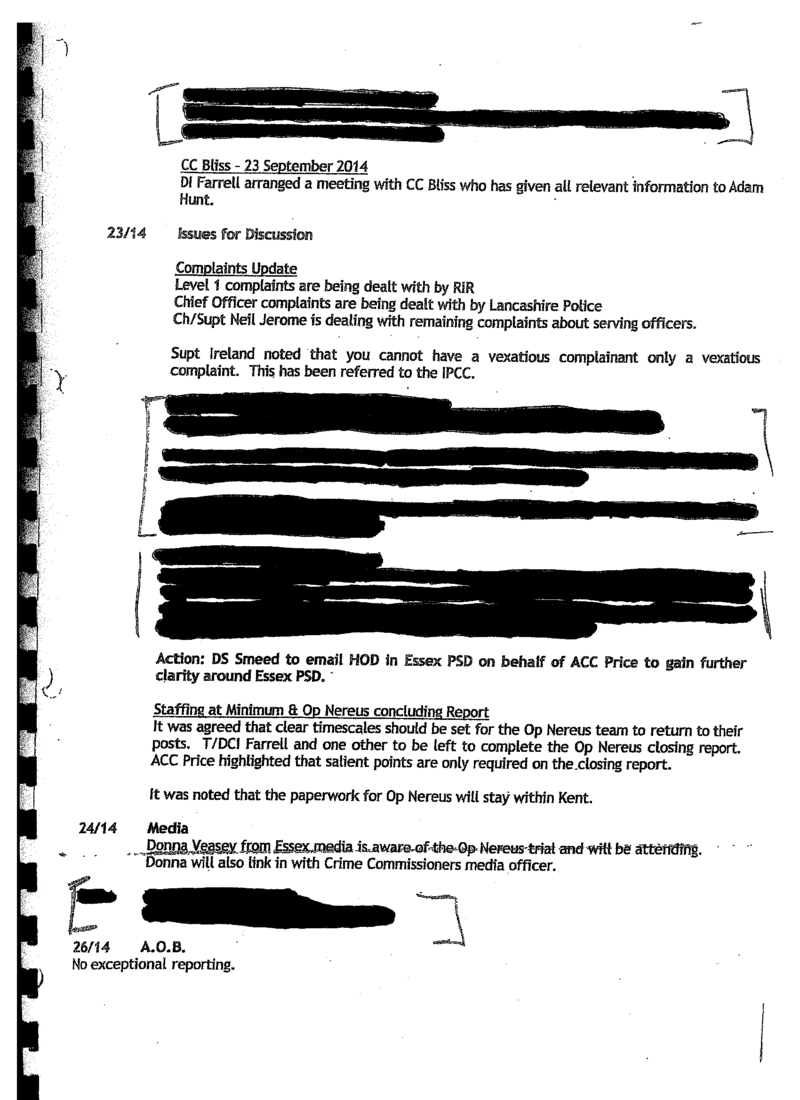 ...the dark dealings surrounding this case are still being covered up.
So far as Les Balkwell's High Court claim against Essex Police is concerned
, as most of you here know, Essex Police admitted liability in July last year, but the level of compensation tor Les and his wife for Essex Police's failure to carry out an effective investigation (Human Rights Act 1998) has not been agreed.
Hence at 10.00am on Thursday 20 October at 10.00am, there will be a 2-hour hearing to determine whether Essex Police should disclose a considerable number of police documents that Les Balkwell has asked to see.
The final trial will take place in December this year.
Les Balkwell on a visit to Kent Police, 11 July 2016, to discuss his latest complaint with Assistant Chief Constable Steve Worron (Photo: Tony Bennett)

____________________

Dr Martin Roberts: "The evidence is that these are the pjyamas Madeleine wore on holiday in Praia da Luz. They were photographed and the photo handed to a press agency, who released it on 8 May, as the search for Madeleine continued. The McCanns held up these same pyjamas at two press conferences on 5 & 7June 2007. How could Madeleine have been abducted?"
Amelie McCann (aged 2): "Maddie's jammies!".  

Tony Bennett

Researcher




Posts

: 16807


Activity

: 24660


Likes received

: 3744


Join date

: 2009-11-25


Age

: 75


Location

: Shropshire



Congratulations Mr Bennett in your fight for Justice on Mr Balkwell senior and his wife family members,interesting to note how undercover Officers using surveilance techniques(Cameras)in an open Court session,who are they filming and why,thought it was against the Law to Film in a Court Room? 
At least Private Eye is raising the disturbing case of possible Police Collusion(perverting the Court of Justice)IPCC,Daz testing techniques?
Don't you just love the Police Terminology,"Messers Balkwell & Bennett"you couldn't make it up could you of how they react to how they have investigated Homicides, Mr.Lee Balkwell,Daniel Morgan,Theresa's been awfully quiet on that case hasn't she,now swiftly given to Amber Rudd and Operation Grange,hot potatoes?

willowthewisp




Posts

: 3392


Activity

: 4912


Likes received

: 1160


Join date

: 2015-05-07



---
Permissions in this forum:
You
cannot
reply to topics in this forum