Simon Jack, BBC - 'Don't Panic'
Deutsche Bank: World's most dangerous bank?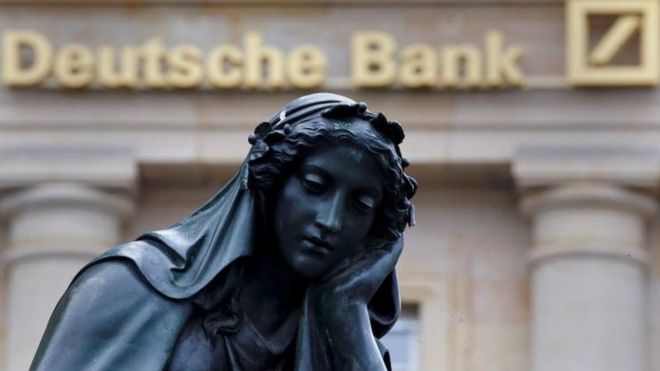 www.bbc.co.uk/news/correspondents/simonjack
Business editor
8 hours ago
From the section Business
Deutsche Bank shares hit a new record low today. Its value has halved since the beginning of the year.
So is it now the most dangerous bank in the world?
According to the International Monetary Fund - yes.
Last week, the IMF said that, of the banks big enough to bring the financial system crashing down, Deutsche Bank was the riskiest. Not only that, Deutsche Bank's US unit was one of only two of 33 big banks to fail tests of financial strength set by the US central bank earlier this year.
It's not hard to get scared when you look at a few numbers. Bear with me.
In simple terms any bank is worth the difference between what it's owed and what it owes. In the case of Deutsche Bank that means the difference between assets of 1.64 trillion euros (yes, trillion) and liabilities of 1.58 trillion euros. Its net value is 60 billion euros.
Sounds like a lot. BUT the value of what its owed doesn't need to move by much to wipe out its value completely.
'Financial apocalypse'
The IMF and the US central bank aren't the only ones who think Deutsche Bank is risky. The share price has fallen early 70% in the last year. In fact, you can buy the whole bank for 20bn euros - a third of what it's worth on paper. Other banks trade at a discount to their net worth but Deutsche Bank is by far the biggest.
For that reason, many people fear Deutsche Bank could be the first horseman of a new financial apocalypse.
This is a strange position for the one-time financial muscleman of European banking to find itself in. There are few German companies more associated with the post-war economic miracle than Deutsche Bank. Long before the European Central Bank existed, it worked hand in glove with the seemingly infallible Bundesbank to provide rock solid non-inflationary growth for decades.
It went truly global in the 1990s when it took the fight to the big US investment banks like JP Morgan and Goldman Sachs and was "around the hoop" (a US basketball metaphor beloved by investment bankers) wherever big deals were being done.
That in a way is part of the bank's problem. Deutsche Bank, the parent company, is considered reasonably solid by the odd rules of banking regulation.
The key score of a bank is its capital ratio. (I won't bore you with this but it's a calculation that divides the bank's own money (capital), plus anything you can convert into capital, by your assets, adjusted for how risky they are).
The bare minimum is 7%. Deutsche Bank scores 11% - not great, but not terrible. Roughly the same as Barclays. The problem with Deutsche is that it doesn't have big retail banking and credit card businesses (both seen as reasonably safe and boring) to balance its bigger and riskier investment banking operations.
'Rock solid'
There are two people standing in the way of Deutsche Bank and panic. The first is the current chief executive John Cryan. He is no swashbuckling Fred Goodwin (RBS) or Bob Diamond (Barclays) of pre-crisis notoriety. He is a very conservative, feet on the ground pragmatist. He's already managed to reduce the debt of the bank and has plans to do more.
The other is even more important. German Finance Minister Wolfgang Schaeuble. He has said this year that he considers Deutsche Bank "rock solid".
That is not only reassuring in itself, but indicates there is no way on earth that a rich German government would let the most important bank in Germany - and by extension Europe - come to any harm.
At the time of writing, the Italian government is considering ignoring state aid rules to shore up its own fragile banks. If there was a similar need in Germany, you can be sure, say my banking sources, that Germany would do the same.
Just to be clear - we are nowhere near that point now. However, as we learnt in the crisis of 2008, when governments do get involved investors can end up with next to nothing and that is why the shares are so cheap.
+++++++++++++++++++++++++++++++++++++++++++++++++++++++++++++++++++++++++++++++++++++++++++++++++++++
Chris Vermeulen - 'Be Afraid'
Deutsche Bank to Initiate the Next Financial Crisis?
Stock Could Be Headed to Zero
If you thought Lehman Brothers was bad, you should watch Deutsche Bank. There are similarities that will scare you.
Remember Lehman Brothers and the chaos that it created when it failed? If you think that the Worlds' Central Banks are now wiser and consequently will not allow another similar event to occur, think again. We will not only see a repeat of this occurrence, but it could be exponentially larger than Lehman's was. Allow me to explain.
On June 29, the IMF stated that "among the [globally systemically important banks], Deutsche Bank  (
DB
) appears to be the most important net contributor to systemic risks, followed by HSBC and Credit Suisse," reports
The Wall Street Journal
.
Even if true, why should you be concerned about a German bank and how it will affect you while living in the U.S.? The IMF adds: "In particular, Germany, France, the U.K. and the U.S. have the highest degree of outward spillovers as measured by the average percentage of capital loss of other banking systems due to banking sector shock in the source country," reports
Bloomberg
. This
Wall Street Journal
chart
shows that Deutsche is inextricably connected to many important banks around the world, including all of the most important banks in the U.S.
Now the bad news: For two years in a row, the American unit of
Deutsche Bank has failed the Fed's stress test
, which determines the ability of the bank to weather another financial crisis.
Leverage of Lehman vs. Deutsche Bank
SMALL INVESTMENT, BIG POTENTIAL.
TheStreet's Stocks Under $10 has identified a handful of stocks with serious upside potential. 
See them FREE for 14-days.
In 2007, Lehman had a leverage (the ratio of total assets to shareholder's equity) of 31-to-1. At the time that Lehman filed for bankruptcy, it had $639 billion in assets and $619 billion in debt. Still, it caused a systemic risk worldwide.
In comparison, Deutsche Bank has a mind-boggling leverage of
40-times
, according to Berenberg analyst, James Chappell. He stated, "facing an illiquid credit market limiting Deutsche Bank's ability to deliver and with core profitability impaired, it is hard to see how [Deutsche Bank] can escape this vicious circle without raising more capital. The CEO has eschewed this route for now, in the hope that self-help can break this loop, but with risk being re-priced again it is hard to see [Deutsche Bank] succeeding."
Why Can't the European Central Bank save Deutsche Bank?
The nominal value of derivatives
risk
that Deutsche Bank holds on its books is $72.8 trillion, according to the banks' April 2016 earnings report. What is astounding about this, is that a single bank owns 13% of the total outstanding global derivatives, which was a staggering $550 trillion in 2015.
What is more alarming is that the market cap of Deutsche Bank is less than $20 billion.
Nonetheless, the nominal value of derivatives exposure does not mean that Deutsche Bank will have a default worth trillions of dollars, seeing as most of the contracts are covered by counterparties. However, when the domino effect is put into motion, we have already witnessed how it can engulf the entire world.
If the domino effect does occur, Germany with its GDP of $4 trillion or the EU with a GDP of $18 trillion will not be in a position to gain control over it
Why Negative Interest Not the Solution
The European Central Banks' NIRP (Negative Interest Rate Policy) is making matters worse for Deutsche Bank, as the banks' profits are getting squeezed, thus making it difficult for it to repair its' balance sheet. Higher interest rates usually give banks more room to book profits on lending.
The bank is finding it difficult to sell its assets because of illiquid credit markets. The banks' management will also find it difficult to raise capital as the investment-banking industry is in a "structural decline," according to Berenbergs' Chappell.
Brexit Is Adding to the Woes
Deutsche Bank receives 19% of its revenues from the U.K. After the Brexit vote, the uncertainty regarding future relations of the U.K. with Europe has increased the risk for all of the banks. President Francois Hollande of France is eyeing the financial industry and is pitching for them to move to Paris from London.
Deutsche Bank is the
biggest
European bank in London. Moving operations, which are handled by 8,000 members of the staff, will not be an easy task for Deutsche Bank and will further weaken its balance sheet.
How Is the Stock Behaving?
The stock is in a downtrend and has broken below the panic lows of 2009.
The stock is quoting at a price to book ratio of 0.251, which indicates the pessimism of the markets towards the stock. The investors believe that the stock is not worth more than a quarter of its liquidation value.
A
comparative study of the stock with Lehman
gives a more accurate picture of the future price of Deutsche Bank, which is zero.
The German Newspaper
Die Welt
reported that the great George Soros had recently opened a short position of 0.51% of Deutsche Bank's outstanding shares. This equates to seven million shares, worth $7.5 billion, reports 
Investopedia
.
So, What Should You Do?
The easy monetary policy of various central banks is the main reason for banks holding such massive leverage. The next financial crisis will cause the central banks' actions to be redundant and ineffective, as they may not be in a position to control this impending catastrophe. In such a situation, the world will revert to the only remaining resort left, and that is is gold.
---
My readers have benefited immensely during the mini-crash post-Brexit. Please continue to follow me so as you can protect yourself from the next big one, which will wipe out tens of trillions of dollars around the world.
Chris Vermeulen
TheGoldAndOilGuy.com
____________________
"This is a faithful saying, and worthy of all acceptation, that Christ Jesus came into the world to save sinners" - Paul's first letter to his disciple Timothy,  1 Timothy 1 v 15
Researcher




Posts

: 14727


Reputation

: 2847


Join date

: 2009-11-25


Age

: 70


Location

: Shropshire



Thanks TB, no need to worry as LSE and the DAX are merging, imagine unicorns gambolling in a rainbow wonderland.  Things will be just fine.  Promise - Says Mark Carney.



Posts

: 686


Reputation

: 224


Join date

: 2013-09-11



---
Permissions in this forum:
You
cannot
reply to topics in this forum