Page 5 of 5 •
1, 2, 3, 4, 5
@jeanmonroe

wrote:All these Labour 'resignations' are, imo, 'prompted' by the war 'criminal' Tony B.
UPDATE ON THE RESIGNATIONS
:
'Then there were 10' -
two-thirds
of them have gone
------------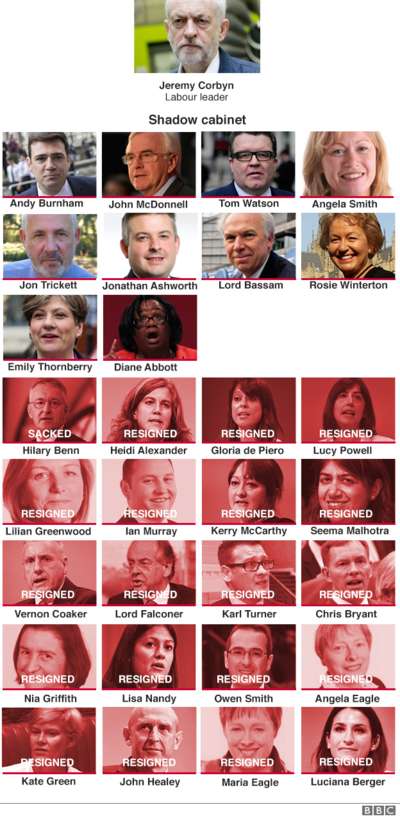 Researcher




Posts

: 14905


Reputation

: 2996


Join date

: 2009-11-25


Age

: 70


Location

: Shropshire



IMO I wouldn't rule out a break-away new political party if it isn't sorted out.



Posts

: 747


Reputation

: 296


Join date

: 2013-07-04



Today, in my local area, a Labour politician, who supported the Remain camp, is still spouting off hateful comments against those who voted OUT. He's been told in no uncertain terms, that 60% of HIS supporters voted OUT, so he had better be careful what he's saying, because he's not representing the views of the majority of his area, and if he can't do so, then he should step down.

I believe that this backlash against the politicians who voted to remain, in areas where the majority voted OUT, could run and run.



Posts

: 3720


Reputation

: 851


Join date

: 2012-11-10



Yep they are showing their True Blairite colours now aren't they,perhaps some one should withdraw the Whip and force them to fall on their own petards, to resign as an MP or to have new elections held in the Constituencies they represent, so that Democracy can be given back to the electorate?
Hilary Benn gone into hiding in Blairs bunker, which has stored the "Chilcot" findings,Teflon Tony won't be found to have been at any fault in his Iraq War exposure, it will be down to the Press and Media who "Over hyped" the weapons of mass destruction to the public,not that he ever "Strong Armed the Attorney General" in any way or Form?
You would have to feel some empathy with Jeremy Corbyns predicament over the Referendum,eg,the resignations from the cabinet by the Traitor Hilary Benn, that he did not campaign hard enough for the "Remain Team", they still do not get it. The Electorate voted on this Referendum not them, the Elite!?



Posts

: 2174


Reputation

: 866


Join date

: 2015-05-07



What are all these Tory 'lite' Labour MP's going to 'do' when the NEW shadow 'cabinet', guys and gals, do a lot 'better' job opposing the Goverment, than they supposedly 'did' whilst they were 'there'?
A lot of the 'old' shadow cabinet tory 'lites' were/are 'sponsored' by trade unions and their members.
The very same trade union 'members' (that voted overwhelmingly for JC) that are now being told by 'the resigned' that THEY were all 'wrong' for voting Brexit and 'we, the 'elite MP's' were 'right'!
Good luck with getting trade union 'sponsorship' as you battle 'deselection'!
Margaret Dodge, the Labour 'millionaire' MP for Barking and Dagenham, told the 62.8% of her constituents who voted Leave, 'you've got it all wrong'!
(I'm sure she'll 'represent' the 62.8% to the best of her 'ability'
)
Well she was 'wrong', wasn't she?
Not a 'hint' from her, about her ACTUALLY 'resigning' as an MP!
Perhaps the Westminster 'gravy train' is going too 'fast' for her to 'get off'?
Turkeys don't 'vote' for Christmas, do they?
Thought so!



Posts

: 5818


Reputation

: 1665


Join date

: 2013-02-07



Democracy can be so
irritating
for elected politicians, can't it, jeanmonroe



Posts

: 1865


Reputation

: 457


Join date

: 2012-01-17



@worriedmum

wrote:Democracy can be so

irritating

for elected politicians, can't it, jeanmonroe

 
Can't it just!
They seem so peeved that us plebs are allowed to vote at all!
I can't wait for the next general election so the electorate can put more two-faced 'career politicians' out of a job. Now with the added bonus of their ability to scuttle away and feed from the EU gravy train diminishing rapidly.
Top of the list will be those who lied to their constituents at the last election to get voted in - Kelly Tolhurst being a prime example. Voters haven't forgotten and won't forgive.
UKIP were taking votes off ALL the mainstream parties. With the labour parliamentary party disintegrating and no tactical voting required due to the threat of a Sturgeon/Miliband coalition, I think UKIP could be in a position to hold the balance of power and be part of a government coalition negotiating our exit from the Federation of Unavailing Bureaucrats Against Republics (FUBAR) - also referred to as the EU.



Posts

: 69


Reputation

: 111


Join date

: 2016-05-24



I have been thinking about this contest for PM in the Tory party.

I wonder if Theresa May stands whether we will get to know what The Sun would have printed on the front pages of the newspaper for a week?

We have never been given an inkling of what it could have been and I find it very intriguing.

I read last week that if Boris stands his enemies would be digging dirty.   I wouldn't be surprised if the media might be digging up things on anyone  who is going to stand.

Same could be said for the Labour leadership.  

Very, very interesting times ahead indeed me thinks.
____________________
Judge Judy to shifty  witnesses   -    LOOK AT ME  -   Um is not an answer.
If I forget to add it to a post everything is In My Opinion and I don't know anything for sure.



Posts

: 6185


Reputation

: 1845


Join date

: 2013-02-01



Page 5 of 5 •
1, 2, 3, 4, 5
---
Permissions in this forum:
You
cannot
reply to topics in this forum