Page 43 of 43 •
1 ... 23 ... 41, 42, 43
Or the missing toothbrushes were used to clean the tiles?
____________________
Everything I post is ALL MY OWN OPINION and therefore I.m allowed to think whatever I please!

Roxyroo




Posts

: 421


Join date

: 2016-04-04


Location

: Scotland



I know this printout for the PJ is dated 8
th
May and room allocations could have been changed, but a room swap between families probably wouldn't even have been recorded by the OC and I think we are trying to create something that didn't happen. 
The Paynes are clearly allocated 5H & the Mc's 5A.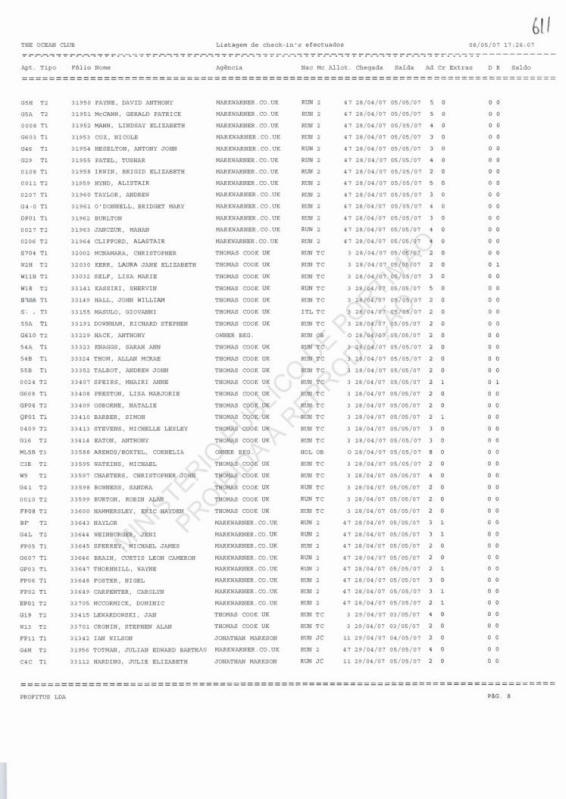 Doug D




Posts

: 3027


Join date

: 2013-12-03



Hi DougD,thanks for the print out of the apartments allocation sheet for Ocean Club,not trying to create something that didn't happen,but one of the Tapas group did describe a different lay out of the suggested apartment person's were stopping in!

willowthewisp




Posts

: 3394


Join date

: 2015-05-07



Where does Pamela Fenn and the cleaner that serviced apartment 5a fit in with all this?
ETA:
Witness statement Maria Julia Serafim da Silva  -  5As cleaner
Date/Time: 2007/05/07 16H45
Cleaner.  Portuguese
She remembers that when she entered Apartment A on the Wednesday, the parents were inside. After being duly authorized, she entered and carried out her work, because they were already on their way out.
While she was in the apartment,
there were

no

children there, and she supposed that they were in the creche.
While performing her work, she remembers having noticed that the couple was sleeping in the room located opposite the entrance, where she confirmed the presence of a child's bed (crib). The room gives onto an outdoor garden by means of a terrace, as it is on the ground floor,. In the room next to the entrance to the apartment there was a bed placed next to the wall (where she supposed the missing child slept), and also the second child's bed (crib). All these beds were untidy at the time, meaning that they had been used. She also declares that in the room next to the entrance was another bed that had not been used.

____________________
" The secret of life is honesty and fair dealing. If you can fake that, you've got it made" - Groucho Marx

Verdi

Moderator/Researcher





Posts

: 16031


Join date

: 2015-02-02




HelenMeg




Posts

: 1782


Join date

: 2014-01-08



The sisters Jayne Jenson and Annie Wiltshire allegedly made a number of claims according to the Portuguese and UK press, in and around December 2007 - whether or not this has any connection with the blitz of reporting at that time, including Bridgette O'Donnell's article published by the Guardian, is a matter of conjecture.
One of the reported claims made by the sisters was that they saw Robert Murat lurking around apartment block 5 on the night of 3rd May 2007.  That evening, according to Neil Berry's witness statement, he Balu and the two sisters were drinking for a while at the Tapas bar.  Despite reports to the contrary, the sisters were not formally interviewed by the PJ - at least if they were the statements aren't included in the PJ files to my knowledge.
Personally I don't believe a word of it but I could well be wrong.  Another instance they allegedly reported that they passed on the information they had to Leicester police but after seeing appeals by the McCanns, they decided to get in direct contact with Metodo3 - all sounds a bit suspect to me.

____________________
" The secret of life is honesty and fair dealing. If you can fake that, you've got it made" - Groucho Marx

Verdi

Moderator/Researcher





Posts

: 16031


Join date

: 2015-02-02



"a child crying for 75 minutes on Tuesday May 1st calling for "daddy"."  This has always irked me.  Doesn't a child alone usually cry for Mummy?  I could be wrong but it seems that the interpretation of "...calling for  'daddy'" is an assumption; an  interpretation without evidence.  
What if the child were not 'calling for' but pleading with? What caused 75 minutes of crying?
Secondly, "
Searches made of the local section of child abuse investigation shows a registration number 19309 in CATS (system of action location). A consultation with the DC Soand from the department in question confirms that this is just a file reference, but as a complement to Operation Task system for the purpose of reference, if any investigation should be necessary by the department. No work has been done on the basis of this file.
" A CATS number is inconclusive on its own.  Within the context of what has happened it gains greater credibility as to what may have happened to Madeleine.
Thirdly, Kate wrote,
"I asked Gerry apprehensively if he'd had any really horrible thoughts or visions of Madeleine. He nodded. Haltingly, I told him about the awful pictures that scrolled through my head of her body, her perfect little genitals torn apart". Kate 
herself raises this possibility. What was in her mind that this possibility should occur?
I began as a naysayer. At the other end of the scale have little confidence in 'the authorities' to hold out for truth and justice. (Witness the Jeremy Bamber Case.) In the middle, among the details, there are no satisfactory answers.  That says it all.

second-guessed




Posts

: 21


Join date

: 2017-01-06




____________________

Dr Martin Roberts: "The evidence is that these are the pjyamas Madeleine wore on holiday in Praia da Luz. They were photographed and the photo handed to a press agency, who released it on 8 May, as the search for Madeleine continued. The McCanns held up these same pyjamas at two press conferences on 5 & 7June 2007. How could Madeleine have been abducted?"
Amelie Mcann (aged 2): "Maddie's jammies!".  

Tony Bennett

Researcher




Posts

: 15778


Join date

: 2009-11-25


Age

: 72


Location

: Shropshire



Aha, more twists and turns in this terrible case.  Thank you for bringing this aspect of it to my attention.  
Yes, I was never sold on the burglary story, nor of Mrs Fenn's narrative of grasping him by the ankle.
As I said in my Introduction remarks, I am relatively new to this subject although I kept an eye on it over the years.  This Mrs Fenn report has it seems, according to you and others, wormed its way into the narrative from somewhere.  Clarence Mitchell.  For me, that is most telling of all.  We tend to get stuck into the minutiae without keeping the bigger picture in mind. Madeleine's death occurs in a bigger picture consisting of too many bigwigs and too much power. So even the alleged Mrs Fenn narrative points back to senior organisational involvement.
Another important point for me, is how damaging it is to get close to the truth - or at least to the pertinent questions.  The old question of why parents would either attack or be indifferent to helpful remarks is also very telling.  
Biggest of all, 
"It is therefore obvious that the British government was very actively involved in this investigation, from the start, and at the very highest levels of government. Other citizens of the U.K., or indeed of other countries, whose child goes missing in mysterious circumstances, have nothing like the same level of involvement from their government. In addition, the British government has been evasive about its role, which has surely been not about finding Madeleine but much more about protecting the McCanns and their 'Tapas 9' friends." 
Tony Bennett http://www.cwporter.com/mccann.htm
Agree.

second-guessed




Posts

: 21


Join date

: 2017-01-06



Page 43 of 43 •
1 ... 23 ... 41, 42, 43
---
Permissions in this forum:
You
cannot
reply to topics in this forum