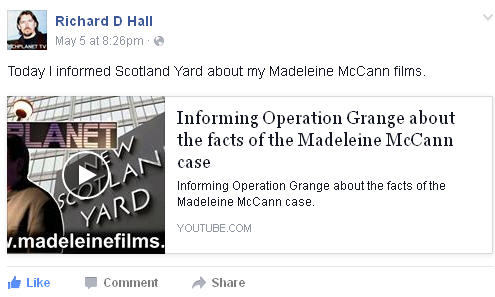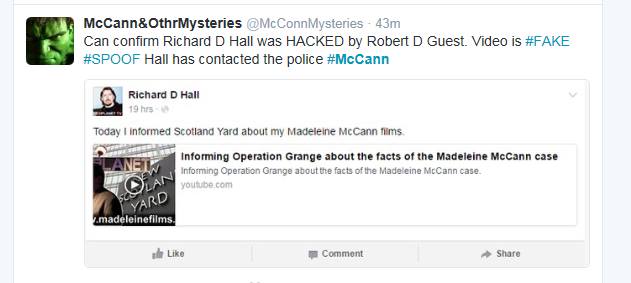 One of the McCann supporters, believed to be Robert D. Guest (again  
), cloned Chris Roberts on Twitter to inform everyone on
#mccann
that Richard's video had been hacked and that it was a fake/spoof (even though Richard had posted his video on his facebook page and on this forum) and that Richard had informed the police.





Posts

: 11616


Reputation

: 5592


Join date

: 2009-11-25


Location

: parallel universe



So is Guest a paid agent or does he sincerely believe that engaging in underhanded tactics on behalf of 'innocent' parents is benefiting his cause?

**Before hitting 'send' I noticed the word benefiting had auto-corrected to 'befitting', in which case the answer would be a resounding 'yes'.



Posts

: 467


Reputation

: 443


Join date

: 2015-02-08



Games again, when will they stop!? 

It's getting tiresome!



Posts

: 2033


Reputation

: 1399


Join date

: 2016-04-15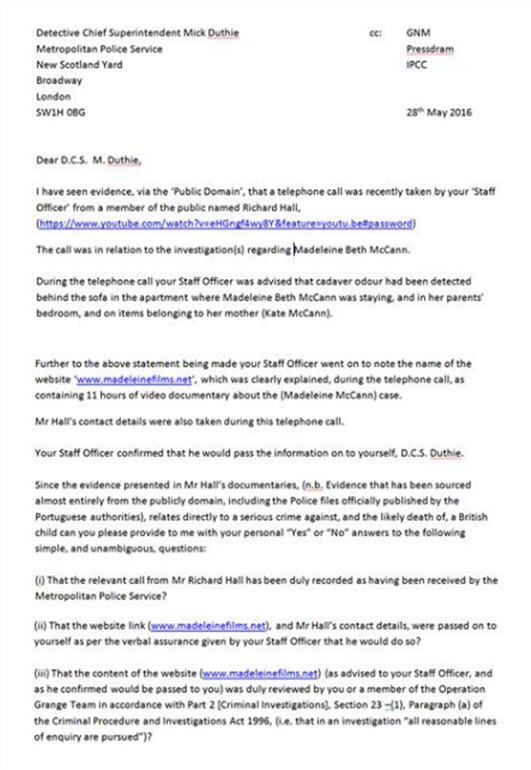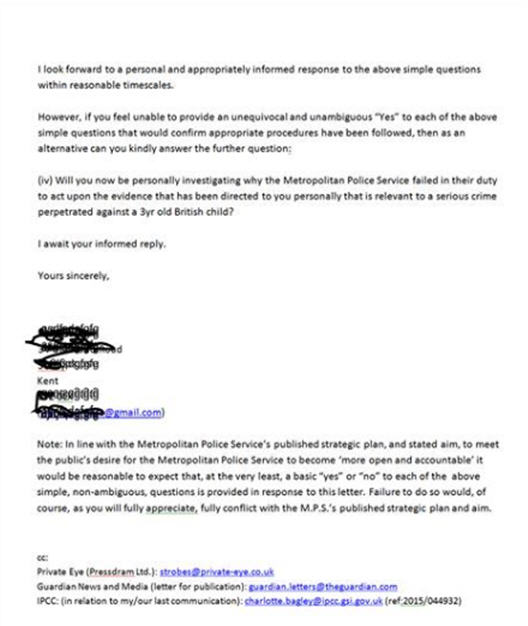 Darren (Knitted) posted this on the CMOMM facebook page yesterday
https://www.facebook.com/groups/JillHavernCompleteMysteryofMadeleineMcCann/permalink/1748662302044922/





Posts

: 11616


Reputation

: 5592


Join date

: 2009-11-25


Location

: parallel universe



This case doesn't half attract some fruitloops.  I half wondered whether Birch and Guest are one and the same.  Exactly the same delusional frothing at the mouth.
Poor Madeleine.
____________________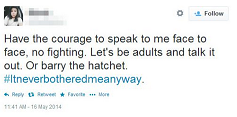 Posts

: 187


Reputation

: 256


Join date

: 2016-05-08



I re-edited the above letter, originally shared via the CMoMM Facebook site, prior to my re-printing it and posting it, (I've spent an hour trying to repeatedly re-save and re-upload the revised file...but to no avail!  I spent many years working in IT... and it's completely baffling me!)
So... Here's a copy of the audit trail of cc'ing it to three independent email addresses.
Richard Hall's videos are important as they simply/primarily draw upon facts... just as HiDeHo's videos do... just as Joanna's records do... and just as the innumerable rational and logical comments posted each and every day by others on this forum also do.



Posts

: 117


Reputation

: 4


Join date

: 2014-03-31



---
Permissions in this forum:
You
cannot
reply to topics in this forum