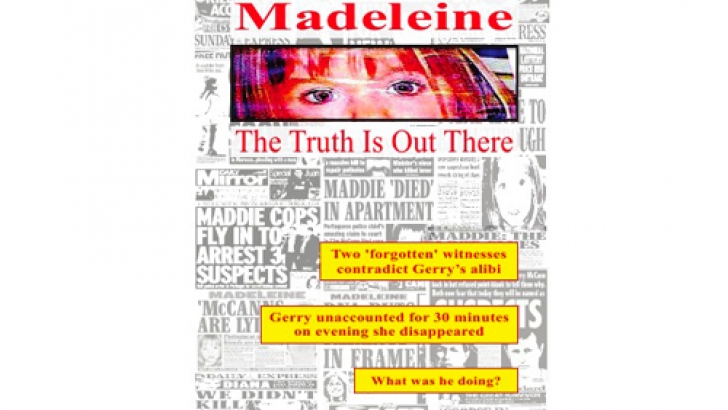 A new book on the disappearance of Madeleine McCann has been published in English this week, claiming to have discovered the missing nugget that has been baffling police for the last nine years.
The Truth is Out There - a title taken from the cult TV series X-files - has been written by Dutch investigative journalist Peter Scharrenberg who says he found two witnesses who "told quite a different story" to the accepted version of events on the night of May 3.
Promising to lift the lid on what he calls the "false timeline" "an impossible burglary" and "a mysterious pool picture", Scharrenberg's book has been available in Dutch for €15.95 for over a year, but this is the first time it can be read in English.
Coincidentally, it has been published a week after Lisbon's Court of Appeal freed-up a book written by the original investigation's coordinator, PJ detective Gonçalo Amaral, after deciding that nothing Amaral had written in it warranted censure (click here).
Amaral was also absolved from paying the 500 euros in damages that a lower court fixed last April over a civil action taken out by Kate and Gerry McCann (click here).
This new book, costing 12.95 pounds, "will be in bookstores, online and very soon as an ePublication" says Scharrenberg.
For further details, see:
http://www.thetruthisoutthereblog.com/
Earlier this week British police chief Sir Bernard Hogan Howe revealed that "only one line of inquiry" was being followed by the vastly reduced Scotland Yard team that has already spent over €15 million investigating Madeleine's disappearance. But he did add the proviso of "unless something else comes up".
It remains to be seen whether Scharrenberg's book constitutes that 'something else'.
For now, British media is reinforcing the 'botched burglary' theory, carried out says the Mirror today by three 'key suspects' all of whom have been interviewed at least twice before and freed without charge.
Calling the theory "new" the Mirror claims it could give police "renewed hope they can solve the mystery".
natasha.donn@algarveresident.com
- See more at:
http://portugalresident.com/new-maddie-book-claims-to-have-nugget-police-have-been-waiting-for#sthash.dVymxvcH.dpuf
------
Review of this book on tigger's blog
http://fytton.blogspot.co.uk/2016/04/new-book-reviews.html
"From paying 500 euros" was that a slip of the tongue/print 
Do we know of stockists yet?

MayMuse




Posts

: 2033


Join date

: 2016-04-15



I'm not sure that Natasha Donn is 'promoting' the book, more like just mentioning it.
I honestly think it might have been better, however, if Natasha or someone at the
Portugal Resident
had read the book and given us a summary of its contents and an analysis.
The book was so bad when first published (in Dutch) that many McCann researchers contacted the author to point out numerous important factual errors in it, which have presumably have been since corrected.
For newcomers to the Madeleine McCann case, they will at least learn things about some of the contradictions and changes of story. 
But for any members and guests here who have at least a nodding acquaintance with the case, the book will add nothing to what we already know and will divert from some of the promising lines of enquiry advanced lately by e.g. HideHo, Richard D. Hall and PeterMac.
In its first edition, Scharrenberg backed the hugely controversial 'Smithman' sighting. Hall's patient analysis of the four 'phantoms' in his Phantoms documentary - Sagresman, Tannerman, Smithman and Crecheman - is not covered. All the robust analysis on here of things like the 'First Photo' and the 'Last Photo' is entirely missing as well. 
I had an idea that 'Chatelaine' and 'tigger' may have contributed to the English translation. Chatelaine was banned from CMOMM after several outbursts while 'tigger' is known as a strong advocate of 'Smithman' being a genuine sighting of a man - one of the 'Tapas 9' - carrying away Madeleine McCann from G5A.    
Thirty-one different people have uploaded 115 YouTube videos of part or all of Hall's films and they have had two million plus views on YouTube alone. People have learnt much from them. 
@ Natasha Donn
     Maybe you could publish an analytical review of both Scharrenberg's book and Hall's films...
...and direct your readers to wherever you think they may get closer to the truth 

____________________

Dr Martin Roberts: "The evidence is that these are the pjyamas Madeleine wore on holiday in Praia da Luz. They were photographed and the photo handed to a press agency, who released it on 8 May, as the search for Madeleine continued. The McCanns held up these same pyjamas at two press conferences on 5 & 7June 2007. How could Madeleine have been abducted?"
Amelie Mcann (aged 2): "Maddie's jammies!".  

Tony Bennett

Researcher




Posts

: 15785


Join date

: 2009-11-25


Age

: 72


Location

: Shropshire



The McCanns and their mates must be aware of this impending publication and yet there are no threats of book burning / banning. Any reason for this ?

Cmaryholmes




Posts

: 445


Join date

: 2016-03-01



'Star' McCann 'witness' Emma L.

Guerra & Paz's lawyer's questions

GP – I understand that, from 2010, you and the McCanns met once every three months. Do you know when the book was published?

GP – Do you know if the book was published in the UK?

EL says she saw it in bookshops.
-------------------------------------

NO 'Mcthreats/legal action' taken against the book 'sellers' at any of those UK 'bookshops' either!

Weird innit?

jeanmonroe




Posts

: 5818


Join date

: 2013-02-07



@Cmaryholmes

wrote:The McCanns and their mates must be aware of this impending publication and yet there are no threats of book burning / banning. Any reason for this ?
Probably because it's unlikely to sell many copies, the writer is a complete unknown - and they know that trying to ban it would increase its profile and sales. They target books whose authors have credibility. The American Criminal Profiler, Pat Brown (despite her detractors) is well-known and has a long history in criminal case analysis. She had to be banned. And of course Amaral - the man with world-wide credibility - has been and always will be their nemesis. Their attacks against him will never end.

Bishop Brennan




Posts

: 695


Join date

: 2013-10-27




Cmaryholmes




Posts

: 445


Join date

: 2016-03-01



The Resident mentions 500 thousand but the thousand has got lost on the c&p along the line.

I don't think anyone took PS book seriously last time it was mentioned.

I don't think anyone burgled/broke in/walked in 5A except the tapas members.

Abduction...no proof

Burglary...no proof

Who has been acting the most suspicious for 9 years?

Who has failed to answer questions that the police put to them?

Who would swear at the police and complain about the high speed of a police car?

Who gave wooly answers to the police?

Who gave several variations of the Payne visit?

Patsies 1...Most likely 0

whatsupdoc




Posts

: 601


Join date

: 2011-08-04



wonder what 20th Century Fox think of the title??

sar




Posts

: 1196


Join date

: 2013-09-11



---
Permissions in this forum:
You
cannot
reply to topics in this forum