A  NOTABLE VICTORY FOR FREEDOM OF SPEECH IN THESE ISLANDSPastor James McConnell not guilty of making grossly offensive remarks about Islam
Tue 05 Jan 2016
 -                       
By Marcus Jones
A Belfast pastor has been found not guilty of making grossly offensive remarks during a sermon in which he described Islam as "heathen".
Pastor James McConnell called the religion "satanic" and a "doctrine spawned in hell" during a sermon broadcast online.
He had always maintained it was his right to free speech and a judge has agreed.
Delivering his verdict, District Judge Liam McNally said: "The courts need to be very careful not to criminalise speech which, however contemptible, is no more than offensive. It is not the task of the criminal law to censor offensive utterances.
"Accordingly I find Pastor McConnell not guilty of both charges."
He added: "If he had clarified this in his sermon and set out in a clear and precise way why Sharia law was repugnant to him he could have saved himself a lot of trouble."
The 78-year-old faced two charges - improper use of a public electronic communications network and causing a grossly offensive message to be sent by means of a public electronic communications network - after the comments made from the pulpit of his Whitewell Metropolitan Tabernacle on May 18 2014 were streamed online.
During the case, the judge was shown a dvd recording of the entire religious service during which the controversial sermon was made, including gospel singing, scripture reading and prayer.
In it McConnell also said he did not trust Muslims.
Prosecutors said the pastor was not on trial for his beliefs but alleged the "straightforward" case centred on his carefully chosen words which they claimed were "grossly offensive".
Giving evidence in his defence, McConnell said he had not intended to provoke, hurt or offend Muslims but was unrepentant for preaching the gospel.
He also revealed that he had turned down a lesser punishment of an informed warning because he did not want to be "gagged". 
Several hundred evangelical Christian supporters attended each day of the hearing to show solidarity with McConnell.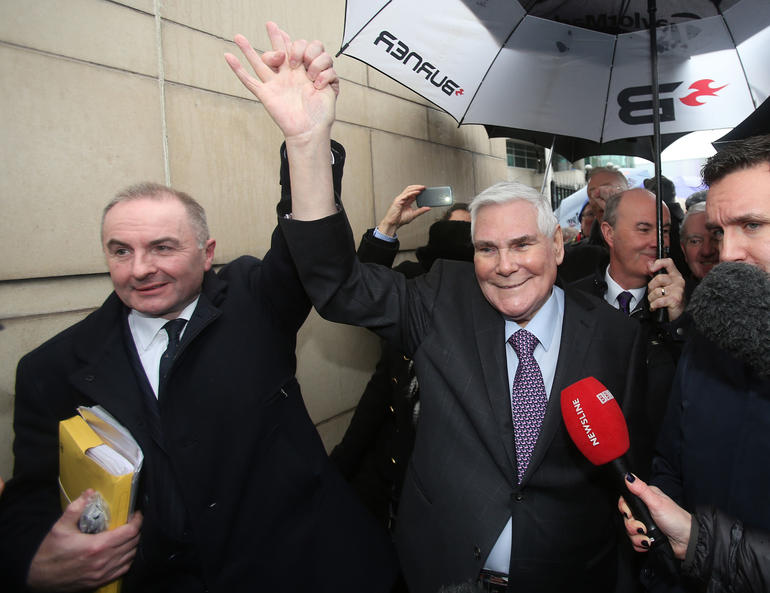 Peter Lynas, national director of the Evangelical Alliance Northern Ireland, said: "Today's verdict is a victory for common sense and freedom of speech. However, until the law is changed or clear guidance is issued, there will still be concern about further prosecution.
"The Public Prosecution Service need to explain why this case was brought and assure everyone that this will not happen again.
"This case contains challenges to both the State and the Church. It is vital that the State does not stray into the censorship of church sermons or unwittingly create a right not to be offended.
"Meanwhile, the Church must steward its freedom of speech responsibly, so as to present Jesus in a gracious and appealing way to everyone."
When considering the remarks about mistrusting Muslims, Judge McNally said he had taken the preacher's good character into account.
He added: "He is a man with strong, passionate and sincerely held beliefs. In my view Pastor McConnell's mindset was that he was preaching to the converted in the form of his own congregation and like-minded people who were listening to his service rather than preaching to the worldwide internet.
"His passion and enthusiasm for his subject caused him to, so to speak, 'lose the run of himself'."
Outside court, hundreds of supporters cheered as Pastor McConnell emerged.
Some sang hymns as the preacher gave his reaction to the judgment.
"I am very happy," he said.
He added that he give the sermon again, though he would word it differently.
"The only regret I have is the response from the Muslim community - that I was out to hurt them," he said.
"There was no way I was out to hurt them - I wouldn't hurt a hair on their head.
"But what I am against is their theology and what they believe in.
"If there are Muslims out there, I want to assure them I love them and, if they need help, I am there to help them, but their theology and their beliefs I am totally against them."
He added: "I would do it again but I would word it differently because I would be conscious I was hurting innocent Muslims, I would be conscious I was hurting Muslims who have come here to work hard and are doing their best - there's no way I would hurt those people, but I would do it again, yes."
Senior Fellow in Islamic Studies at the Westminster Institute, Sheikh Dr Muhammad Al-Hussaini, speaking to Premier's Hannah Tooley:
Sheikh Dr Muhammad Al-Hussaini is a Muslim academic who has supported James McConnell - the Belfast pastor who was taken to court for saying 'Islam is heathen'

____________________

Dr Martin Roberts: "The evidence is that these are the pjyamas Madeleine wore on holiday in Praia da Luz. They were photographed and the photo handed to a press agency, who released it on 8 May, as the search for Madeleine continued. The McCanns held up these same pyjamas at two press conferences on 5 & 7June 2007. How could Madeleine have been abducted?"
Amelie Mcann (aged 2): "Maddie's jammies!".  

Tony Bennett

Researcher




Posts

: 16093


Activity

: 23723


Likes received

: 3577


Join date

: 2009-11-25


Age

: 73


Location

: Shropshire




Liz Eagles




Posts

: 10390


Activity

: 12776


Likes received

: 2195


Join date

: 2011-09-03



GUNMEN frogmarched nine Christians off a bus in Kenya and shot them because they refused to recite the Islamic Shahada, the statement of faith prayed by Muslims.
********
(A Muslim Spokesman in London said . . . err Nothing)
@PeterMac

wrote:

GUNMEN frogmarched nine Christians off a bus in Kenya and shot them because they refused to recite the Islamic Shahada, the statement of faith prayed by Muslims.
********

(A Muslim Spokesman in London said . . . err Nothing)
Try taking a taxi in UK and listening to Islamic prayer on the radio.

Liz Eagles




Posts

: 10390


Activity

: 12776


Likes received

: 2195


Join date

: 2011-09-03



How Ramadan Challenges Islam's Reliability 
Ramadan and the Prophet's Ignorance 


In just over a week Muslims around the world will begin to celebrate Ramadan, the annual month of fasting that was decreed as one of the Five Pillars of Islam. Even in the midst of the Covid-19 pandemic the show must go on. In fact, the BBC in Britain is so concerned that this will not be a 'proper' Ramadan that they've committed to broadcast the Islamic call to prayer over some of their radio stations. 
So when are Muslims supposed to fast during this month? The Qur'an is clear on this: "Eat and drink until the white thread of dawn becomes distinct
to you from the black thread of night. Then complete the fast unfil the sunset." (Qur'an 2:187)
It is clear from this verse that you should actually be able to observe the illuminating effect of the sun rising before beginning the fast.
Sahih Bukhari confirms this by having Muhammad say that the thread refers to: 'the blackness of the night and the whiteness of the day.' (Sahih Bukhari 35:1817) In other words Allah commands you to eat when it is dark and fast while it is light.
Let's unpack the implications of this verse for a bit:
[list="-webkit-font-smoothing: antialiased;"]
[*]Muslims believe that Islam is God's final revelation for the whole earth and you should therefore be able to practice it anywhere on the planet
[*]Because the Muslim year is shorter than the universal calendar Ramadan can occur in all seasons
[*]There are places north of the Arctic circle (inhabited in Muhammad's time and in the present) where it is dark for 24 hours during winter and light for 24 hours during summer.
[/list]
All of this leaves Muslims with two rather uncomfortable options:



The Qur'an was written by someone who had no idea of the existence of the 'midnight sun

Almighty, All-Knowing Allah wants his followers in the Arctic to die of starvation in summer and not keep the fast in winter.


So the question that fasting Muslims should answer is: Why did an All-Knowing God give a command that is impossible to keep somewhere on earth?
Kind regards, 

Peter Townsend

PS. For a thorough investigation of the truth-claims of Islam, please see my book 'Questioning Islam - Tough Questions and Honest Answers about the Muslim Religion' 
The Muslim Council is now criticising the inclusion of Sir Trevor Phillips in the enquiry into why BAME people seem to be overrepresented in the list of victims of COVID, on the grounds that he has referred to them as a
nation within a nation.
Now read this, from Private Eye - on-line for anyone who wishes to see the original. at 
https://www.private-eye.co.uk/rotten-boroughs
Faulty Towers
Radicalisation, 
Issue 1520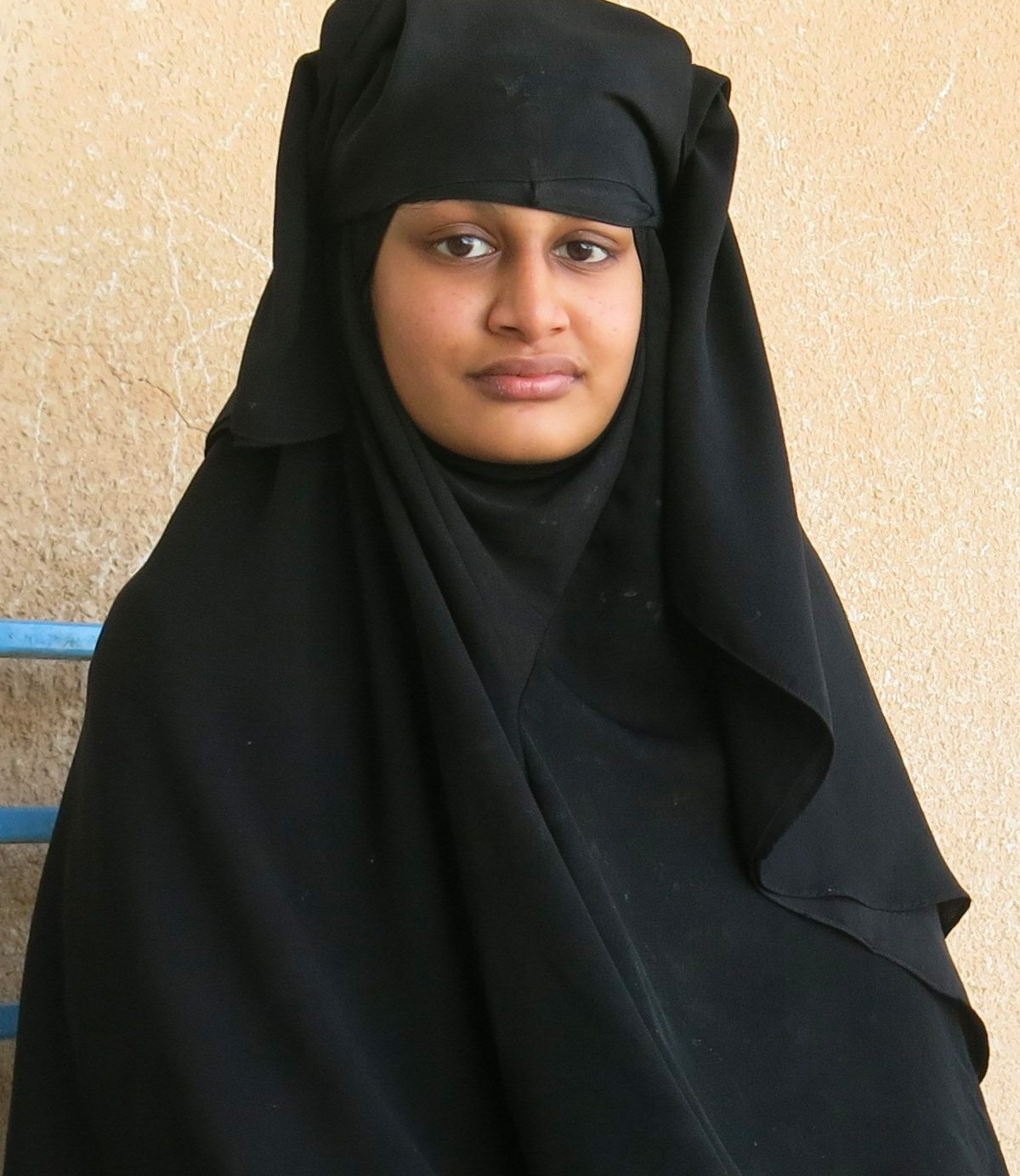 Shamima Begum - the east London schoolgirl who travelled to Syria to join Islamic State in 2015
THE Labour council responsible for safeguarding "jihadi bride" Shamima Begum "covered up" a network of financial corruption and mismanagement in its youth and counter-extremism teams when the schoolgirl fled to join Islamic State, according to internal documents obtained by the Eye.
The cache of reports from Tower Hamlets council in east London, which it fought to keep secret (Eye 1504), were disclosed on public interest grounds by a judge overseeing an employment tribunal. They reveal corruption in the youth services department and Prevent, a Home Office-funded initiative to tackle the radicalisation of vulnerable young people.
Begum and two other schoolgirls aged 15 and 16 went to Syria in February 2015. They were part of a wider radicalised group from the same school, the first of whom had joined Islamic State two months earlier.
According to a whistleblower: "There was heightened sensitivity in the council after the girls had left that they may have been radicalised by groups linked to and funded by youth services. The council didn't want the full corruption picture from coming out. [Data management firm] 15billionebp was asked to erase the names of the three girls from a database and replace them with unique numerical identifiers to neutralise any media requests under the freedom of information act."
A lawyer for Begum, who was stripped of British citizenship last year and remains stateless in a Syrian refugee camp, blames Tower Hamlets for allowing her to be "groomed". The council denies this but admits wiping the databases. "Heightened interest in the disappearance of these girls at the time meant it was necessary as a safeguarding measure to shield their identities on a number of council systems including the database operated by 15billionebp," a spokesman said.
Death threats
THE internal corruption probe into youth services started in July 2014 in response to anonymous emails alleging fraud, corruption and cronyism. Andy Bamber, a former Metropolitan police borough commander who headed the council's safer communities team, led the investigation, assisted by Mark Edmunds, a former Home Office investigator.
The employment tribunal heard that in April 2016, Bamber resigned suffering from "enormous stress" having received numerous "death threats" and feeling that political obstruction rooted in Labour's reliance on the Bangladeshi vote was hampering his efforts. The following year, Edmunds brought a discrimination claim on the grounds he had been sidelined before the investigation was completed. In his witness statement, Edmunds said the council wanted to "cover up to avoid political embarrassment to the Labour party, whose members were involved in both the initial corruption and later the control of the investigations".
Bamber and Edmunds initially targeted Dinar Hossain, head of youth services. But the probe "mushroomed" to a group of more than 60 men associated with 19 organisations that had received council grants and money from the Home Office Prevent budget.
Some of the recipients were "fictitious" companies; others were connected to youth workers already employed by the council to do the same training. Others in the network had criminal records and were "linked to organised crime", including drug dealing, according to Edmunds's statement.
"There was concern that some of the fraudulently obtained money was funding political causes that could be regarded as extremist," said one source. "The concerns grew when a covert examination of work emails discovered evidence several youth workers had briefly entered Syria. The information was passed to the Met's counter-terrorism command."
The investigation also looked at Nojmul Hussain, co-ordinator of the council's Prevent strategy, which shared responsibility for safeguarding Begum and the other schoolgirls from Bethnal Green Academy. An external audit by accountancy firm Mazars concluded in October 2015 that Hussain should face immediate disciplinary action for "conflicts of interest" in the awarding of Prevent grants, including to "organisations the Home Office does not wish to fund".
Separately, Hussain abused his position to help a senior council official in a legal battle over access to his children. Documents show he tried to influence the court by sending an official Prevent letter that wrongly claimed the children attended schools regarded as "extreme". The incident was kept from the Home Office. But when an official found out, he wrote an email to the council describing Hussain's conduct as "shocking". The official said the Home Office would no longer share sensitive information with him. Hussain admitted writing the letter and resigned in November 2015 with a settlement package and a reference from the council that did not disclose the misconduct issues. He did not respond to messages.
'Culture of fear'
DINAR HOSSAIN took voluntary redundancy during the investigation. A council spokesman told the Eye: "At the time of his departure, Mr Hossain was not being investigated for any matters relating to fraud, nor had any previous investigations found against him."
However, evidence from Edmunds's employment tribunal hearing last year contradicts this. Bamber told employment judge John Crosfill: "I've no doubt that Dinar Hossain was involved in everything." He added that Hossain had obstructed the corruption investigation and was "managed out". Hossain did not return messages.
Bamber accused Labour mayor John Biggs, elected in May 2015, of fostering "a culture of fear and a culture of 'if you don't look you don't find and you don't have to deal with it'." The former senior policeman also criticised the Met for its "reluctance" to launch criminal investigations.
In a statement to the Eye, the council said there was "no evidence to suggest radicalisation" in the youth service. "Eight staff were dismissed, another faced internal disciplinary action and a further five resigned. Since then we have entirely remodelled the youth service and how it operates. The culture of the council has been transformed since 2015."
A ruling in the Edmunds employment case has been delayed by the coronavirus lockdown.
---
Permissions in this forum:
You
cannot
reply to topics in this forum