PJGA Blogspot ANNOUNCEMENT - 'Sufficient'
October 21st 2015
Dear friends,

Since it was started on April 29, 2015, by Leanne Baulch, the gofundme page dedicated to Gonçalo Amaral's defence has collected donations in excess of 50 thousand pounds. These funds have been transferred to the bank account that is held by Dr Paulo Sargento and other friends of Mr Amaral. Less than half of this amount has been spent on legal expenses for the defence of Gonçalo Amaral.
The Paypal account that is associated to the bank account has received over 6 thousand euro during the same period. Donations totaling a smaller amount have also been made directly to the bank account.

We believe that it is time to close the gofundme page, as the bank account currently stands at an amount that seems largely sufficient to face eventual future expenses.

As we await the verdict of the Appellate Court of Lisbon on the appeal that has been filed by Mr Amaral's lawyer, the remaining funds will be kept in the bank account. They will be used if necessary in the future. Any unused funds will, as we stated in 2009, be donated to a Portuguese children's charity.

May we use this moment to wholeheartedly thank those who have expressed their support of Gonçalo Amaral's right to an appropriate defence? Whether you have contributed financially or by sending a support message - you have made an impact. You have made a difference.
Thank you so very, very much.

PLEASE NOTE:
Only the GoFundMe page will be closed on the 28th October, 2015.

The PJGA Donations page will still be available athttp://PJGA.Blogspot.com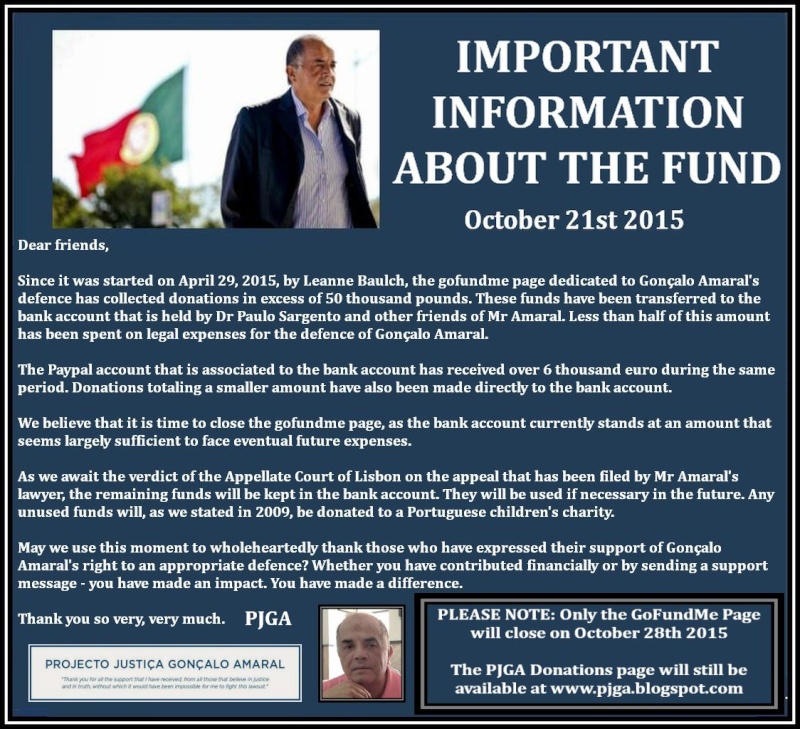 Excellent news, sufficient funds received.  
  Well done everybody.
There will be a few who wont be happy I am guessing.

plebgate




Posts

: 6716


Join date

: 2013-02-01



UPDATE a  £1,000 donation has just been added to the fund bringing it to £52,180 - £1,000 KJ M 12 mins ago - Mr. Amaral - thank you for your dedication despite all the challenges you had to suffere! You are a true prophet of justice and truth. God bless you.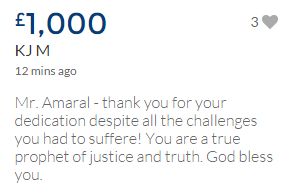 ----------------
Thank you KJM! Thanks also to the rest of the people that have continued to contribute since the closure announcement and their messages of support.. It's not just about the money, the support is overwhelming and heartwarming

The GOAL for the APPEAL more than doubled and is SUFFICIENT to fund the current legal expenses, so the GoFundMe account will be CLOSED on Wed October 28th 2015. http://www.gofundme.com/legal-defencepjga Currently  
£52,180
Any further donations until that date will be transferred directly to the PJGA which has maintained a DEFENCE fund since 2009 to cover ONLY the Legal costs and any FUTURE costs of the current TRIAL Once the trial reaches a conclusion any excess contributions will be donated to deserving Portuguese Children's Charities.

Thanks to EVERYONE that supports Gonçalo Amaral in his fight for one thing...

TRUTH!.

Projecto Justiça Gonçalo Amaral will continue to receive donations athttp://pjga.blogspot.ca/
It would be nice if true.....
https://www.gofundme.com/Legal-DefencePJGA
The Sun
3 hours ago
Gerry McCann always said it was never too late to do the right thing and to own up. He was right. All of my fellow journo's now need to man up for what we helped the McCann's do to this decent man. Sadly there is only today to show our remorse, but hopefully, if many of us donate on this last chance, we will be doing such a good thing, ensuring all of his fees are covered not just the appeal, but also having the safe knowledge anything we give will not be squandered on drinks and meals like the McCann's detectives did with public donations. We know any excess will truly go to children who need it. That in itself is a good enough reason for everyone to boost this fund now, knowing at least we may have caused a lot of harm, but we can do our penance by donating to real childrens charities at the same time. So come on boss and all the management, all of those people who got rich on this case while this man was homeless, do the right thing, donate to where it's most useful which is here.

Carrry On Doctor




Posts

: 391


Join date

: 2014-01-31



A paltry £5 ! Obviously it can't have been from the Sun.

aiyoyo




Posts

: 9610


Join date

: 2009-11-28



---
Permissions in this forum:
You
cannot
reply to topics in this forum