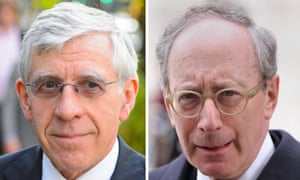 Jack Straw and Sir Malcolm Rifkind
Former foreign secretaries denied wrongdoing after a sting by undercover reporters working for the Daily Telegraph and Channel 4's Dispatches
http://www.theguardian.com/politics/2015/sep/17/sir-malcolm-rifkind-and-jack-straw-cleared-of-cash-for-access-misconduct





Posts

: 11673


Reputation

: 5594


Join date

: 2009-11-25


Location

: parallel universe



How low can British politics get?



Posts

: 4581


Reputation

: 2377


Join date

: 2014-06-06



Obviously the blinkered Parliamentary Ajudicator found the very learned friends innocent of the charges by the preposterous Channel 4 and Daily Telegraph, absolutely disgusting low level journalism of contemptuous value, how dare they question the probity and integrity of these gentle men who have served so diligently in public office?
Jack and Malcom free to take their seats in the snooze chamber after a sumptuous dinner and fine wines plus their £300 a day expenses.
Mr Fawkes must be spinning in his resting place at the thought of these parasites feeding of the poor tax payers being fleeced of the learned elite echelons governing the plebs so well?
This shows the level of corruption going on in western governments.It also shows the high level of corruption used against all victims of child abuse in the west. Funny handshake brigade at work again.

funny handshake brigade

Guest





No backdown or apology from either media organization and no libel suits either.
'Channel 4 and the Daily Telegraph issued statements defending their journalism, saying the investigation was in the public interest."Channel 4 Dispatches stands by its journalism; this was a fair and accurate account of what the two MPs said. This investigation was in the public interest and revealed matters which were of serious public concern," the broadcaster said.The Telegraph said: "The Daily Telegraph conducted an investigation that was in the public interest and accurately revealed matters … of concern to millions of voters. We raised a number of serious questions about the conduct of members of parliament. We suspect voters will find it remarkable that, despite the scandal of MPs' expenses, parliament still sees fit for MPs to be both judge and jury on their own conduct."



Posts

: 2575


Reputation

: 911


Join date

: 2013-12-03



It just shows how contemptuous the people are held in this Country by the Elected and unelected elements who govern the masses.
I think that the two investigations team should ask for a FOI on how the Adjudicator came to their decision and publish their report so the plebs in society have an insight into how their train of thought process works? 
Freud would be kept busy analysing his findings on their results?
So I await to see if"Oily Jack"appears to defend his actions over the help he gave to the USA to accommodate the"Free Transfer" of the former Libyan resident from China,who is now pursuing a claim of One Million Pounds after being detained for Six Years in a jail during the"Rendition Procedure"in which paper work makes reference to MI6 involvement?
---
Permissions in this forum:
You
cannot
reply to topics in this forum