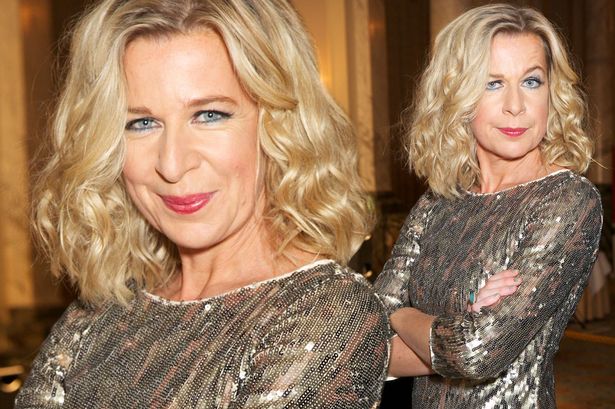 Katie Hopkins
has revealed she'd like "euthanasia vans" rolled out across the world because there are "far too many old people".
Really.
The controversial star - who launches her own panel show If Katie Hopkins Ruled The World next month - said it is "ridiculous" to live in a country "where we can put dogs to sleep but not people".
Her comments come shortly after she admitted regretting some of the extreme language she used against migrants in a column she wrote in The Sun entitled "Rescue boats? I'd use gunships to stop migrants".
In an interview in Radio Times magazine, Hopkins said: "We just have far too many old people."
She added: "It's ridiculous to be living in a country where we can put dogs to sleep but not people."
Asked for her solution, she said: "Easy. Euthanasia vans - just like ice-cream vans - that would come to your home."
The former Celebrity Big Brother contestant added: "It would all be perfectly charming. They might even have a nice little tune they'd play. I mean this genuinely. I'm super-keen on euthanasia vans.
"We need to accept that just because medical advances mean we can live longer, it's not necessarily the right thing to do."
http://www.mirror.co.uk/3am/celebrity-news/katie-hopkins-wants-euthanasia-vans-6149311?ICID=FB_mirror_main





Posts

: 11622


Reputation

: 5593


Join date

: 2009-11-25


Location

: parallel universe



Maybe she can volunteer first.



Posts

: 4578


Reputation

: 2376


Join date

: 2014-06-06



Wonder if she`s euthanase her own Mum and Dad.

Why does this woman crave to be hated?

She reflects the very worst side of human nature.



Posts

: 552


Reputation

: 264


Join date

: 2015-03-06



Some of the very finest Human beings I know are 80+. Truly magnificent, brave, full of wisdom.
The woman gets more ridiculous by the day.



Posts

: 127


Reputation

: 0


Join date

: 2010-10-05



The Nazis already invented these vans. They were used before they built the gas chambers. KH is two pennies short of a shilling in my ledger. She has a lot to deal with health wise evidently, and she would be far better just to shut up and get on with living.



Posts

: 702


Reputation

: 55


Join date

: 2012-10-29



I am a big supporter of euthanasia.

Having said that, maybe we should legalize it for almost braindead people?



Posts

: 3327


Reputation

: 200


Join date

: 2009-12-01



It wasn't so very long ago that some people clutched at a comment Katie Hopkins made about the case of Madeleine McCann. The least said about this stupid woman the better.

Sonia Poulton, is making promises of some sort of documentary which doesn't manifest, taking pay cheques from the Murkydock empire - please note, whilst Poulton is on those sofas she speaks nothing of substance.

Rosalinde Hutton, the self claimed in The Sun troll is now blogging a diet book whilst writing many blogs dedicated to her pet project which is the denigration of Tony Bennett. Cristobell's blog now has guest blogger facility.

Absolutely none of these three women mentioned above give a toss about what happened to Madeleine McCann.



Posts

: 8792


Reputation

: 1760


Join date

: 2011-09-03



Absolutely agree, aquila. Pushy self-publicists all.



Posts

: 702


Reputation

: 55


Join date

: 2012-10-29



All she is a baiter - nothing more.

My brother-in-law is the same. He baits until you bite and he loves it.

Only difference is KH has realised she can make money from it. The more ridiculous and inflammatory she is the more 'popular' she becomes and the more her 'celebrity' status and marketability increases. Kerching!

Easy job if you can stomach the backlash, which she obviously can - why do a days work when all you've got to do is spout rubbish.

The more we react, the more money she makes and the bigger and nicer house/hols she gets.

Sooner or later she'll run out of topics to be controversial about.

I've mastered my bro-in-law. Once you know a baiters game their attempts to push buttons fail every time and you can see them for what they really are - people with nothing of interest to say.

KH actually makes me chuckle when she tries so hard!



Posts

: 669


Reputation

: 652


Join date

: 2015-06-18



---
Permissions in this forum:
You
cannot
reply to topics in this forum