From the
Times
:

____________________

Dr Martin Roberts: "The evidence is that these are the pjyamas Madeleine wore on holiday in Praia da Luz. They were photographed and the photo handed to a press agency, who released it on 8 May, as the search for Madeleine continued. The McCanns held up these same pyjamas at two press conferences on 5 & 7June 2007. How could Madeleine have been abducted?"
Amelie McCann (aged 2): "Maddie's jammies!".  

Tony Bennett

Researcher




Posts

: 16808


Activity

: 24661


Likes received

: 3744


Join date

: 2009-11-25


Age

: 75


Location

: Shropshire



Given some of the responses that we have received concerning the McCann case I would say that the FOI Act was already very weak.
We are sleep-walking whilst they chip away at our legal ways of fighting.

Guest

Guest





Are they getting too close to the truth?

The link mentions "national security":

http://google-law.blogspot.co.uk/2014/07/what-happened-when-uk-police-found-out.html

sallypelt




Posts

: 4004


Activity

: 5319


Likes received

: 961


Join date

: 2012-11-10



Hi Sallypete and fellow members,
Having read the entire article and there are a few interesting names, if you look at the only anonymous comment "Fictitious story", quite unbelievable the dishonest practices carried out by persons who where supposed to uphold the laws of Parliament?

Our current serving Prime Minister David Cameron has just spat his dummy out once again, when Nicola asked her fellow MPs to vote against the fox Hunting ban being repelled "Free Vote in the chambers", Dave's reply was English votes only on English bills, so he and Rebekah can once again "Tally Ho" around Chipping Norton after he has sent his lead hound out(Gove) to lead the hunt?
David Cameron should join Sonia Poulton as they seem to have as many faces they can wear?

willowthewisp




Posts

: 3392


Activity

: 4912


Likes received

: 1160


Join date

: 2015-05-07



Its about 30 yrs. too late to be complaining about the loss of UK civil liberties, certainly post the 1998 Firearms Act, the 2002 Proceeds of Crime Act, the 2003 Criminal Justice Bill, the 2007 Welfare Refom Act to name but a few.

If ever there was an example of attempting to close the stable doors after the horses have bolted, there surely must be a serious contender.

Realist




Posts

: 421


Activity

: 602


Likes received

: 179


Join date

: 2014-11-05



Hi realist,
Thank you for your comments, a certain person who was in charge when these act's of Parliament happened one, Antony Blair, who is in the process of scaremongering how the "Labour party" is to choose it's new leader?
It is apparently clear in his rants that Mr. Blair objects to a democratic system being used by the Labour party and seems to forget how he had done deals with Gordon to step down, which he renounced on when the time came?
Mr Blair and his loyal chum George W are responsible for atroicities under taken in their illegal campaign in Iraq, which has created further turmoil in the Middle East when he was paid as the Ambassador to the Middle East as a "Peace Envoy"?
Mr Blair's form of democracy is not dissimilar to the EU's, only on our terms?

willowthewisp




Posts

: 3392


Activity

: 4912


Likes received

: 1160


Join date

: 2015-05-07



The Guardian
Rajeev Syal
Friday 9 October 2015 13.43 BST Last modified on Friday 9 October 2015 18.06 BST
The government-appointed body reviewing the Freedom of Information Act has held its first official briefing – but journalists were asked not to disclose who was there or attribute what they said.
Sources at the Independent Commission on Freedom of Information meeting disclosed that the cross-party group will consider introducing charges for applications for information for the first time.
But officials at the bizarre briefing in the Houses of Parliament asked journalists to keep it "off the record" and not quote the individuals present, despite requests to the contrary.
Anonymous source wrote:Our aim is to be as open as possible

The meeting, attended by six journalists, was held by the commission to launch a public call for evidence after being set up in July by the Conservative minister Matthew Hancock to decide whether the act is too expensive and overly intrusive.
The committee has been heavily criticised for being an establishment "stitch-up" to neuter the work of journalists, campaigners and members of the public.
The five-member committee includes Jack Straw, the former foreign secretary, who is already on the record calling for the act to be rewritten; Lord Carlile of Berriew, who accused the Guardian of "a criminal act" when it published stories using National Security Agency material leaked by Edward Snowden; Lord Howard, whose gardening expenses were criticised after being exposed following FoI requests; and Dame Patricia Hodgson, the deputy chair of Ofcom, which has criticised the act for its "chilling effect" on government.
It is chaired by Lord Burns, the former chair of Channel 4 and a former permanent secretary to the treasury. Under the terms of the briefing, the Guardian cannot disclose which members of the committee, if any, were present.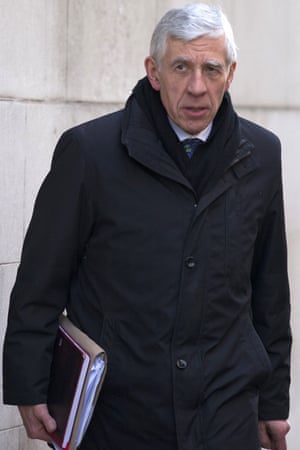 Jack Straw, the former foreign secretary, is on the commission. Photograph: Justin Tallis/AFP/Getty Images
At the briefing, sources close to the commission defended its members. "It was put together by the government. Members of the committee have been asked to be as open minded as possible. They are distinguished in their field," the source said.
It was conceded by the source that the commission's members had not submitted requests for information. "What is true is that most people who are on the committee have been the subject of FoI requests rather than made FoI requests," the source said.
"Our aim is to be as open as possible," the source continued. However, the committee source could not explain why the committee itself was not open to FoI requests and declined requests to publish transcripts of its meetings. Parties who wish to submit evidence with regards to the proposed charges for FoI requests have a deadline of 20 November to present their findings to the commission.
The source said he is confident that the commission can read all the evidence, discuss it, come to a conclusion, write a report, and print that report by the time parliament rises on 17 December, twenty working days after the deadline.
The source insisted that the commission has not come to any firm views and is open to go where the evidence leads. The source also said that Hodgson had "nothing to do" with Ofcom's criticisms of the FoI act.
Both Labour and the Liberal Democrats have made clear that they are unhappy that Straw and Carlile chose to serve. Both parties have pointed out that they chose to take part in a personal capacity and are not representing the views of their parties, which both believe the act should remain as it is.
The commission on Friday issued invitations for submissions on a list of six questions including: "What protection should there be for information relating to the internal deliberations of public bodies?", and, "Should the executive have a veto (subject to judicial review) over the release of information? If so, how should this operate and what safeguards are required?"
There is concern that charges could be as much as £20 per request. Campaigners said that when Ireland introduced a €15 charge the number of requests dropped by almost a half and led to criticism from the country's Freedom of Information commissioner. The fee was eventually dropped – though there remains a cost for appealing decisions.
Campaigners also fear that the commission could tighten rules stating that if a request from the public or the media takes a long time to process, it can be rejected on grounds of cost.
At present, anyone can ask for information so long as finding it does not cost more than £600 in the case of a government department, and £450 for another public body.
Maurice Frankel, director of the Campaign for Freedom of Information, said: "They are looking at a very wide range of potential restrictions to the act, making it harder to obtain internal discussions, new restrictions on access to cabinet material, possible restrictions on access to risk registers."
On the possibility of charging for requests, Frankel said: "We would be very worried about that. For most people a single charge for a single request might not be a problem, except for people on low incomes.
"But the problem is that many people legitimately need to make more than a single request.
"It would make the Act inaccessible for individual requesters and small and medium organisations as well as for freelance journalists."
---

Guest

Guest





---
Permissions in this forum:
You
cannot
reply to topics in this forum