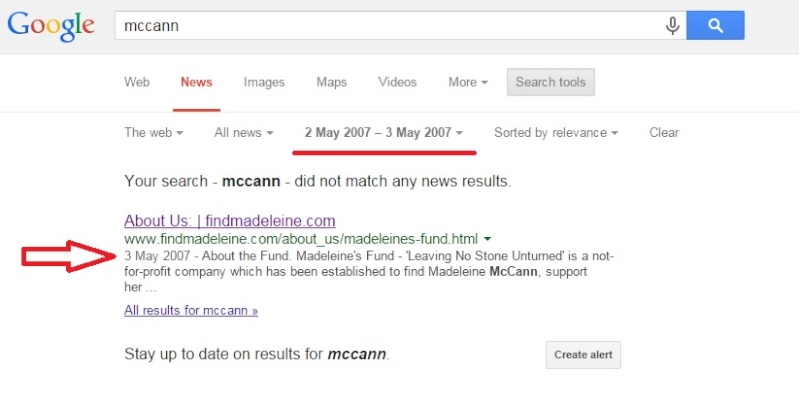 I have no explanation right now except that google news is messed up as well.
This is the URL in my search bar.
https://www.google.co.uk/search?q=eddie+george&hl=en&biw=1600&bih=767&source=lnt&tbs=cdr%3A1%2Ccd_min%3A02%2F05%2F2007%2Ccd_max%3A03%2F05%2F2007&tbm=nws#hl=en-GB&tbs=cdr:1%2Ccd_min:02%2F05%2F2007%2Ccd_max:03%2F05%2F2007&tbm=nws&q=mccann
I was looking for other stories on May 2nd / 3rd 2007, I picked eddie george and then McCann and it constructed the above.

BlueBag




Posts

: 5064


Join date

: 2014-06-06



Hi Bluebag.
Perhaps Google were using the WBM for the fund set up date as the 3 May 2007, as Gerry, Kate and friends only established the Madeleine fund after about Ten days after Madeleine's reported Abduction from Apartment 5a Ocean Club,22.00pm 03 May 2007?

willowthewisp




Posts

: 3339


Join date

: 2015-05-07




katkat




Posts

: 23


Join date

: 2015-04-12



Same thing happened re the recent plane crash, France I think. In that case it directed to news sites,  now whooshed.

snook




Posts

: 295


Join date

: 2013-10-17



I just checked the link I gave above for Google search and Lo.....the October 2006 date has now corrected itself to May 2007! In a matter of minutes too !

katkat




Posts

: 23


Join date

: 2015-04-12




Richard IV




Posts

: 552


Join date

: 2015-03-06



Yes, that one was ok when I first saw the October 2006 date given for the Google search link to the Mail article which itself was dated correctly (May 2007). Being techi ignorant, how that link updated itself to correspond to the date on the Mail article I do not know, but I kid you not.

katkat




Posts

: 23


Join date

: 2015-04-12



I believe what mr amaral says ,when the mi5 release their files  we shall know . I do think mr amaral has a lot more info and will not release it yet ,he realizes it might elert the wrong people  . so I fear we are not getting anywhere now with all the talkwe have already covered . Ofcourse it doesn't mean that we might just understand a bit more ,but its not happening yet I fear. hence so many people not logging in to talk these days ,used to be lots on here . I don't mean to be getting at anyone ,just feel no more news . joyce1938

joyce1938




Posts

: 879


Join date

: 2010-04-20


Age

: 80


Location

: england



---
Permissions in this forum:
You
cannot
reply to topics in this forum