Page 20 of 20 •
1 ... 11 ... 18, 19, 20
Guard dog refuses to do his job as he lies down next to drug dealers during raidThe huge Rottweiler was no doubt raised by the drug gang to protect them from police - but instead he hilariously chose to surrender too and flopped down beside the three suspects in Brazil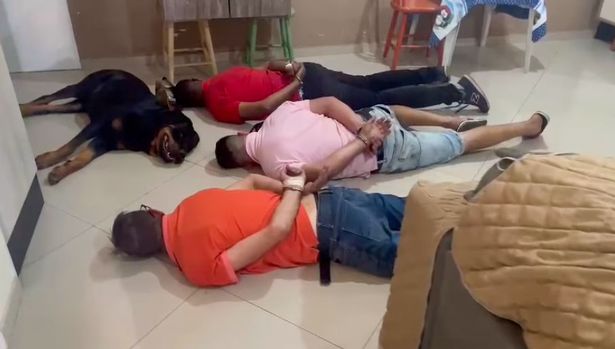 This is the hilarious moment a drug gang's guard dog refuses to do his job and protect his owners and instead lies down during a raid.
Police arrested the three men on a ranch in Hortolandia, Sao Paulo state, Brazil, on July 28.
The officers seized 1,176 bricks containing 1.1 tonnes of marijuana from the property.
A police video of the raid shows the three suspects lying face-down on the floor with their hands cuffed behind their backs.
But instead of protecting his owners, the gang's massive Rottweiler decided to surrender too and flopped down beside the three suspects.
According to Narcotics Police, the drugs had been shipped to the house in Hortolandia from Campo Grande, Mato Grosso do Sul state.
But police had been monitoring the property and swept in when the delivery arrived.
Police believe the drugs were destined to be sold in and around Campinas, Sao Paulo state.
The men - one of whom owns the house - were taken to the Narcotics Police headquarters in nearby Americana.
The dog remained in the property with the female owner of the land around the house, who police say is not involved in drug trafficking.
The scene where three suspects were caught with over a tonne of marijuana ( 
Image: 
Newsflash)
Police returned on July 29 to check on the Rottweiler and two other dogs to see if the the animal protection services need to be called.
This comes the Mirror shared the story of a cute dog who has a rare condition that means she looks permanently surprised - and it's hard not to smile looking at her.
Belle the rescue dog was born with a birth defect which means the muscles in her head are stretched back.
The seized marijuana in Hortolandia, Sao Paulo, Brazil
Video on this link:  https://www.mirror.co.uk/news/world-news/guard-dog-refuses-job-lies-27615885
____________________
PeterMac's FREE e-book
Gonçalo Amaral: The truth of the lie
NEW CMOMM & MMRG Blog
It's hard to stay mad at a dog who knows what it must do to earn its owner's forgiveness.
Italian dog owner Anthony Federica Granai had exactly that interesting experience and the world was a witness to just how cute and sweet dogs can be when they want to say they're sorry.
Antonio, who is based in Tuscany, Italy, uploaded a video of his exchange with his dog, Ettore.
In it, Antonio was scolding his dog for something he did.
Now, it was quite unclear what bad thing the dog was up to but it was pretty obvious Ettore was quite guilty based on his reaction as his master reprimanded him.
When Antonio did not stop berating him in Italian, the dog decided to turn on his charms.
Ettore buried his head on Antonio's chest as if to tell his owner that he's truly ashamed and sorry.
But Antonio pretended that he did not understand what his dog was trying to say.
The exchange went on for a few more minutes because Antonio refused to make up. So, Ettore tried another tactic when nuzzling did not work.
He went full-on cute by crawling onto Antonio's lap to make eye contact.
But the dog owner could still be heard asking Ettore in the video if he realized his mistake.
Ettore would respond by looking at its owner with its puppy-dog eyes so Antonio would show him mercy.
When his master still would not budge, Ettore proceeded to nuzzle Antonio even harder until he could no longer contain the cuteness.
The grown man just had to laugh after everything and tell his dog that all is right with him.
Antonio and Ettore's video reached over 32 million views. Later on, the Italian chap revealed that he actually shares the dog with his girlfriend Federica Riccardi.
They got Ettore, who's a Labrador mix, some six years ago. They said that the pup does have several naughty moments.
In fact, Ettore has destroyed a few sofa seaters, some of their shoes and four pairs of glasses. They have reprimanded the dog every time but he'd always turn on his charm.
It's like Ettore knows what his humans' weakness is.
Antonio also had to clarify why he was berating the dog in that viral video. Apparently, Ettore dug a hole in their red couch yet again.
Federica said that this red couch is the dog's favorite hangout and they've had it repaired many times over.
The couple shared that although Ettore is destructive, he's a sweet dog through and through. The pup actually likes giving them hugs, especially when he knows he's been a bad dog.
If he's not turning on the charms, Ettore also hides in a closet behind a door in their bedroom and he won't come out until his owners would ask for a cuddle.
Federica believes that while disciplining a dog is important, it's also vital to show them good will.
She said a dog will pay back its kind-hearted masters even more with love if he's been showered with the same affection.
https://animals.topnewstimes.com/man-yells-at-guilty-dog-bends-over-in-laughter-at-dogs-apology/?fbclid=IwAR1asZ0X1DPQnRj9x10qpRoXSRH0uSJiYGy-_xpAg5MK3jvPMbfyGtucL50
____________________
PeterMac's FREE e-book
Gonçalo Amaral: The truth of the lie
NEW CMOMM & MMRG Blog
https://euroweeklynews.com/2022/08/02/turn-your-hot-dog-into-a-cool-dog-with-a-wearable-fan/
Turn your hot dog into a cool dog with a wearable fan
By
Peter McLaren-Kennedy
• 02 August 2022 • 8:27
Wearable pet fans - Image Sweet Mommy
You can now turn your hot dog into a cool dog after a Japanese company launched a range of wearable pet fans.
Launched in July, the fans which cost around €71.50, are designed to be worn by your pet to help them
keep cool on the hottest days
. But after a month on the market, sales as of Tuesday, August 2 have been disappointing.
Launched by a Tokyo clothing company, the wearable fans were designed in conjunction with local vets in an effort to help protect pets during the unusually high temperatures experienced this summer.
Rei Uzawa, President of the maternity clothing maker Sweet Mommy, said that she wanted to keep her pet cool when they went out for walks in what has been a dry and hot summer.
Essentially a mesh vest for pets mounted with a rechargeable fan on the back that blows air around the animal's body.
With the rainy season finishing early in Japan and
summer temperatures hitting the mid-thirties
, many animals have suffered in the cities. That has led to some using ice packs to keep their pets cool whilst others have kept them indoors to escape the heat.
The fans haven't been an instant success with only around 100 sold in the first month, perhaps the high cost of turning your hot dog into a cool dog is putting people off.
____________________
PeterMac's FREE e-book
Gonçalo Amaral: The truth of the lie
NEW CMOMM & MMRG Blog
Dog of the Week: Mogli is 'an absolute sweetheart'
Aug 5, 2022
I watched an errant dog this afternoon. He was purposefully carrying half a 5ltr water bottle in his chops, he stopped before a gaggle of people wagging the container from side to side - I swear he was begging.

____________________
" The secret of life is honesty and fair dealing. If you can fake that, you've got it made" - Groucho Marx

Verdi

Forum Manager





Posts

: 26651


Activity

: 33704


Likes received

: 5885


Join date

: 2015-02-02



Page 20 of 20 •
1 ... 11 ... 18, 19, 20
Similar topics
---
Permissions in this forum:
You
cannot
reply to topics in this forum