I wonder what grandma Healy makes of all this coming up to 8 years since she last saw her first grandaughter.What did she think when she saw those pictures of her daughter and her husband,s beaming grins less than a week after the so called abduction seeing them getting on with life jogging,tennis,relaxing by the pool having a  extended holiday with all their families and friends.Then when the discrepancies in their fairy tale about what happened to Madeleine,the evidence of the dogs and the continuing changing of their story to fit estabished facts..Has she still got complete faith in the Mcscamms as responsible parents to her 2 surviving grandkids

noseyparker




Posts

: 78


Join date

: 2015-01-20



@noseyparker

wrote:I wonder what grandma Healy makes of all this coming up to 8 years since she last saw her first grandaughter.What did she think when she saw those pictures of her daughter and her husband,s beaming grins less than a week after the so called abduction seeing them getting on with life jogging,tennis,relaxing by the pool having a  extended holiday with all their families and friends.Then when the discrepancies in their fairy tale about what happened to Madeleine,the evidence of the dogs and the continuing changing of their story to fit estabished facts..Has she still got complete faith in the Mcscamms as responsible parents to her 2 surviving grandkids
Yes I wonder too... depends upon what personality traits she has..her daughter will be very dear to her. I imagine she loves her unconditionally. Also Kate.. will she lie to her mother and father for ever? That is pretty hard to do. I wouldn't want to live like that. In fact I cannot begin to imagine what the whole extended family are living through.
I think the dynamics within Gerry's family may be different. They seem like they would close in and protect their little brother (Gerry) at all costs. It depends whether Gerry has told them the truth..

HelenMeg




Posts

: 1782


Join date

: 2014-01-08



Imo Ma Healy is not woman who is capable of loving anything or anyone unconditionally and, from her tight-lipped responses to questions following her abrupt departure from PdL on the 'granny express', I very much doubt that she harbours any illusions about her daughter and son-in-law.

Again imo, Pa Healy is the only member of Madeleine's family who has spoken of her with anything approaching genuine feeling and it may be that he has chosen to keep his head firmly buried for fear of what he will see if he lets it rule his heart.



ultimaThule




Posts

: 3355


Join date

: 2013-09-18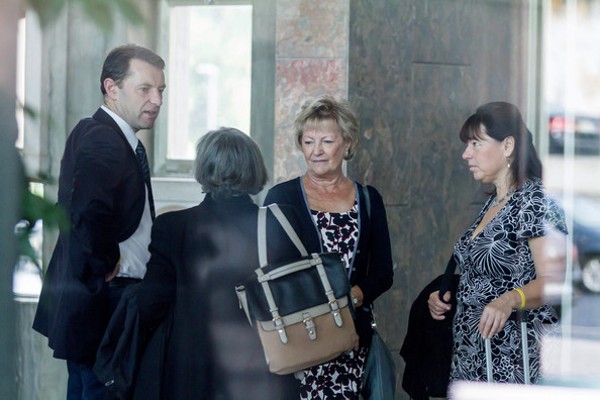 Susan Healy, Kate's mother, at the damages hearing, Lisbon, September 2013.
From gerry's blogs, pamalam.

Guest

Guest





@Ladyinred

wrote:

Susan Healy, Kate's mother, at the damages hearing, Lisbon, September 2013.

From gerry's blogs, pamalam.
All dressed up and ready for the damages hearing more than 6 years after her beloved granddaughter vanished off the face of the earth whilst under the constant watch off Mrs Healey's daughter and son in law and several friends - mostly UK Doctors. 
Ma Healey - show us the photos of you and your family actually searching for Madeleine rather than £££££.  Just one photograph will do.

sammyc




Posts

: 255


Join date

: 2011-10-06


Location

: UK



Ma Healy beams approvingly at Izzy, who has assured the family all they have to do is turn up to trouser a cool million in the Lisbon courts, while her son-in-law strikes a
I'm a little teapot
'Keep your distance, inferior being' pose as his sister gazes apprehensively at him as if expecting his jocular demeanour to change in an instant.  
What a shame there doesn't seem to be a photo of the occasion on 2nd October 2013 when Izzy was forced to tell Ma Healy her multiple journeys to Lisbon were in vain as the judge had ruled that she didn't need to hear more
claptrap
evidence from another family member, and that this situation had come about due to the little
female sardine muncher
legal eagle having c*cked up big time.  

ultimaThule




Posts

: 3355


Join date

: 2013-09-18



What I find strange is that both mothers were sent away on the 'granny express' after the professional swoop that whisked its way into the tragedy in an instance.

These grandmothers love their children and their grandchildren. To be a grandmother and find yourself in the situation of a missing grand-daughter and the grief of your own daughter/son would be overwhelming. To go to Portugal as a grandparent and have your remaining grandchildren there when your son/daughter couldn't function would screw you up. Where do you place your strength for the best?

What happened in the McCann case is that the grandparents were sent home pretty damned sharpish. Perhaps they are crap grandparents...who knows. Perhaps they had nothing much to do with the McCann kids other than 'visits'. Perhaps they were always considered 'visitors' to the McCann household. I can imagine that because I've seen it with people I know who have taken a bit of higher ground about raising their children and moving on to prove they are more than working class mentality and invite people into their homes who are useful to them rather than inviting people into their home who love them.

Who knows what Kate's mother feels. I rather doubt Kate and her mother have much of a dialogue nowadays. I can actually feel for Kate's mother.

Just my opinion.

Liz Eagles




Posts

: 9575


Join date

: 2011-09-03



---
Permissions in this forum:
You
cannot
reply to topics in this forum