Page 2 of 2 •
1, 2
I wonder if there is any mention in his GP records of any such syndrome?   At his age, one would have thought that there would be mention in existing records of symptoms of such a syndrome and of the possibility of dementia?

plebgate




Posts

: 6006


Reputation

: 1705


Join date

: 2013-02-01



@plebgate

wrote:I wonder if there is any mention in his GP records of any such syndrome?   At his age, one would have thought that there would be mention in existing records of symptoms of such a syndrome and of the possibility of dementia?
@ plebgate
On this forum, we cannot access GP records; however, a search of the internet reveals some very interesting facts about David Brinkman's history and his connections.
To summarise a long but disturbing set of connections:
1. Here is Brinkman, snapped at a recent court hearing
2. Here he is, many years ago, promoting one of his CDs: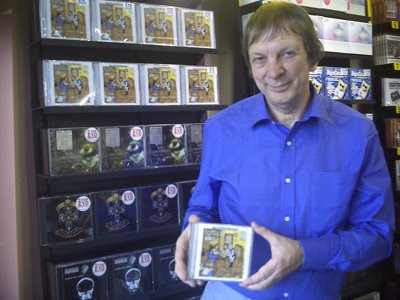 3. It would appear that Brinkman's career as a self-styled 'poet' and 'songwriter' began just weeks after paedophile Thomas Hamilton massacred 15 pupils and a teacher at Dunblane in 1996. He published a set of 13 songs for children which he said he wanted to distribute to 'every primary school in the English-speaking world
4. However, although he describes his CDs as 'mellow and family-friendly', they include songs about murder and drug-taking
5. His music company webiste, Silver Mile productions, links to the activities of the controversial figure of Steve Cardownie, a prominent Scottish national Party Councillor. Cardownie was the former Deputy Lord Provost on Edinburgh City Council and until Wednesday this week (see below), he was the Chairman of the all-powerful Edinburgh Council Entertainments Committee, responsible inter alia for the internationally famous Edimburgh Festival   
6. Cardownie received many rebukes from fellow Councillors and the media for his many Council-funded trips to Kiev, the capital of Ukraine - with which Edinburgh was twinned under the town-twinning programme. He was notorious for bringing back a series of Ukrainian young women whom he married; by the time he was 51, he had been married 5 times, 4 times to young Ukrainian women  
7. Cardownie's long-term business partner was one David Coutts, who in 2004 wrote a letter to the Aberdeen Press & Journal defending their joint business activities. They ran the controversial 'da-da-da!' club which was attracting a great deal of criticism for flouting local planning and licensing laws
8. By an amazing co-incidence, David Coutts was the first on the scene of the killing of firebrand Scottish Nationalist Willie Macrae, one of Scotland's longest-running mysteries. Macrae had been driving up to his weekend cottage in his Volvo, but his car was found off the road and Macrae had a bullet in his head. All the authorities loudly but unconvincingly tried to reassure the public that this was a simple case of suicide
9. A recent article in the
Express
suggested - with evidence - that Willie Macrae was killed by Special Branch because he had been about to expose a U.K.-wide paedophile ring. It was within weeks of M.P. Geoffrey Dickens also submitting his dossier of a high-level paedophile ring to the Home Secretary.
I will try to put up more detail- and links to all this - later today.
Was it just co-incidence, though, that on the very day child sex prevert David Brinkman was to appear in court to be sentenced, Councillor Steve Cardownie resigned from his prestigious position to 'spend more time with his family':
++++++++++++++++++++++++++
11 March 2015 Last updated at 15:24
SNP group leader Steve Cardownie steps down
Steve Cardownie, SNP councillor for the Forth ward, said he has taken the step in order to be with his family
The leader of the SNP group in Edinburgh has stood down and a replacement has been appointed.Steve Cardownie, SNP councillor for the Forth ward, reportedly took the step to spend more time with his family.

He will continue as a councillor and will be replaced by Sandy Howat, who represents Meadows and Morningside, as group leader.
On Thursday it will be decided if Mr Howat also becomes Edinburgh city council's deputy leader.
'Tireless servant'
An SNP spokesman said: "We would like to take this opportunity to thank Steve Cardownie who has been an excellent leader of the SNP group on Edinburgh council.
"We wish him well for the future and know he will continue to be a tireless servant for the constituents he represents."
Andrew Burns, Edinburgh City Council's leader, said: "I've really enjoyed working with Steve and will be sorry to see him return to the SNP backbenches.
"Politics is though a pretty rough trade, and internal change does sometimes happen.
"Most crucially, despite any changes at an individual level, the local Labour/SNP coalition will continue as we collectively understand the importance of continuity and stability for Scotland's capital city.
"I do now look forward to working with Sandy, who I've known well since 1996/7."
____________________
 Daily Mail journalist Daniel Bates wrote: "Kate and Gerry McCann have released a new picture of their daughter Madeleine as they prepare to commemorate tomorrow's third anniversary of her disappearance. The photo shows her when she was three after a raid on the dressing-up box. She has a pink bow in her hair and a gold bead necklace and is wearing blue eyeshadow. It was taken weeks before the fateful family holiday to the Portuguese resort of Praia da Luz when Madeleine vanished"

Tony Bennett




Posts

: 14655


Reputation

: 2791


Join date

: 2009-11-25


Age

: 69


Location

: Shropshire



http://news.stv.tv/north/315978-david-brinkman-not-jailed-for-abuse-images-in-madeleine-mccann-hunt/
"From the reports available it appears that you do not pose a significant risk to children."
Unbelievable!

String




Posts

: 54


Reputation

: 0


Join date

: 2014-12-06



Page 2 of 2 •
1, 2
---
Permissions in this forum:
You
cannot
reply to topics in this forum