Page 2 of 2 •

1, 2
JUSTICE DENIED
People persecuted for political reasons must be defended.   
Sunday, 28 July 2013 
Jill Dando murdered by the State to keep lid on elite paedophile Ring 
We learn this month  that Barry George has been denied compensation for being falsely imprisoned for the murder of Jill Dando. 
 Despite being innocent of all charges against him, and having almost certainly been framed by the British Establishment, the Courts have refused to allow George the right to appeal against the decision in what his sister calls a "travesty of justice".
Why on earth aren't the powers-that-be willing to acknowledge the distress and suffering caused to Barry George by being wrongly incarcerated for 8 years?
Why aren't they awarding him an automatic compensation offer as they have done in other cases where a miscarriage of justice has taken place?
Why are they allowing us to think he is in someway still guilty despite being clearly innocent?
Is it because, in their desperation to keep a lid on Britain's dirty secrets, they're willing to sacrifice bloody well anything or anyone?
The answer to that is most certainly yes. 
You see the brutal murder of Jill Dando was not carried out by a lone-stalker or Serbian warlord.
The brutal murder of Jill Dando was linked to a VIP paedophile ring which was operating within the BBC and beyond. 
The brutal murder of Jill Dando was ordered by the highest echelons of British society once it became clear that she had evidence of the ring and was about to expose it. 
Jill Dando was shot at point-blank range in the head to silence her and also to serve as a warning to other journalists to keep their mouths shut. 
We now know that child-rapist DJ Jimmy Savile had been abusing and procuring children at the BBC for decades. 
Nobody said a word because of Savile's links to the royals and government. Jill Dando must have known about these rumours and would not have kept quiet. 
Her close friend and confidante, Cliff Richard, has himself been named as a visitor to the notorious boy-brothel Elm Guest House, where vulnerable children were trafficked from local care homes to be abused by filthy VIPs. 
Cliff was interviewed at length by detectives investigating the murder of Jill on several occasions.
Why was he such an important ' witness' ? 
Jill's fiance, Alan Farthing, came face-to-face with Jill's killer but conveniently forgot to tell the police. 
Alan has since risen through the ranks of the medical profession and is now the doctor responsible for the birth of Kate and William's new baby. Was his promotion linked to Jill's murder? 
Jill's colleague on Crimewatch, Nick Ross, has recently said he'd watch child-porn given half the chance.
Nick is married to Sarah Caplan the cousin of Esther Rantzen, who is also implicated in the Savile scandal.
Caplan and Rantzen founded Childline which appears to be a 'front' organisation used to filter out callers who may have been the victims of VIP child-abuse.
Nick Ross founded the 'front' Crimestopper's helpline.
This helpline conveniently stopped working following an appeal for witnesses to Jill's murder.
There were many procedural '
mistakes
' made by the Met Police during their investigations.
Officers conveniently forgot to question Jill's neighbours and also botched the e-fit photo of the suspect by making his hair brown when it was actually blond.
Were these mistakes made deliberately to ensure the real killer would never be caught? 
In a most sinister development Hamish Campbell, who was in charge of the investigation, was then put in charge of Operation Yewtree. 
Are these mere coincidences or is there much more to the murder of Jill Dando than meets the eye?
Are the Met Police, the Judiciary, the BBC and the Government implicated in one of the biggest cover-ups this country has ever seen? 
It's no wonder the Establishment won't give Barry George the justice and compensation he deserves.
If they did, their sordid child-abusing secrets would finally be exposed.
Britain really is a filthy nation.
Curtesy of Daemon Hunter
http://www.huffingtonpost.co.uk/2013/07/09/barry-george-jill-dando-murder-compensation-appeal_n_3566579.html?utm_hp_ref=tw
http://google-law.blogspot.co.uk/2013/07/jill-dando-murdered-by-state-to-keep.html?spref=tw



Posts

: 2152


Reputation

: 35


Join date

: 2009-12-01


Location

: Emirates Stadium



My God! - that is really scary stuff.

____________________
This message is confidential and the information must not be used, disclosed, or copied to any other person who is not entitled to receive it. If you have received this message in error please notify the sender and then delete it.



Posts

: 434


Reputation

: 1


Join date

: 2013-04-04


Location

: Back of Beyond



I'd like to know what proof there is to back this up.
Particularly the bit that says that Alan Farthing "came face to face with the killer but did not tell the police".

Guest

Guest





Yes I noticed that, not heard that before, does anyone know what that refers to?



Posts

: 2152


Reputation

: 35


Join date

: 2009-12-01


Location

: Emirates Stadium



No Fate Worse Than De'Ath wrote:I'd like to know what proof there is to back this up.

Particularly the bit that says that Alan Farthing "came face to face with the killer but did not tell the police".
Quite right, NFWTD, this article is more than a tad short of real hard evidence, especially as you say in what is said about Alan Farthing.
The rival theory that it was serial criminal Kenneth Noye who organised, from prison, the killing of JIll Dando out of revenge for being identified as a result of a 'CrimeWatch' special probably has more going for it in terms of hard fact.
However, following on from the above thesis in the Huffington Post, it might be worth recalling that, at the time of Dando's killing...
Clarence Mitchell was employed by the BBC in a senior reporting capacity
, about which Margolis wrote in the I
ndependent
in 2009, in an article titled
'The Angel of Death':
QUOTE:
"Mitchell was closely involved with the Fred and Rosemary West case, where a murderous couple had killed young girls and buried the bodies under their patio in Gloucester. He was one of the first reporters to arrive at Gowan Avenue, Fulham in south west London, when the immensely popular BBC TV presenter Jill Dando was shot dead in a murder many feel has never been satisfactorily explained".
UNQUOTE

____________________

                            "Maddie's Jammies. Where is Maddie?" - Amelie, May 2007 -  "Maddie's Jammies. Where is Maddie?"

Researcher/Moderator




Posts

: 14106


Reputation

: 2240


Join date

: 2009-11-25


Age

: 69


Location

: Harlow, Essex



Clarence has certainly had his share of dealing with infamous cases.

I don't think that he's ever likely to top the McCanns when it comes to infamy and notoriety on a mega scale!

Guest

Guest





Tomorrow (24th Feb) front page........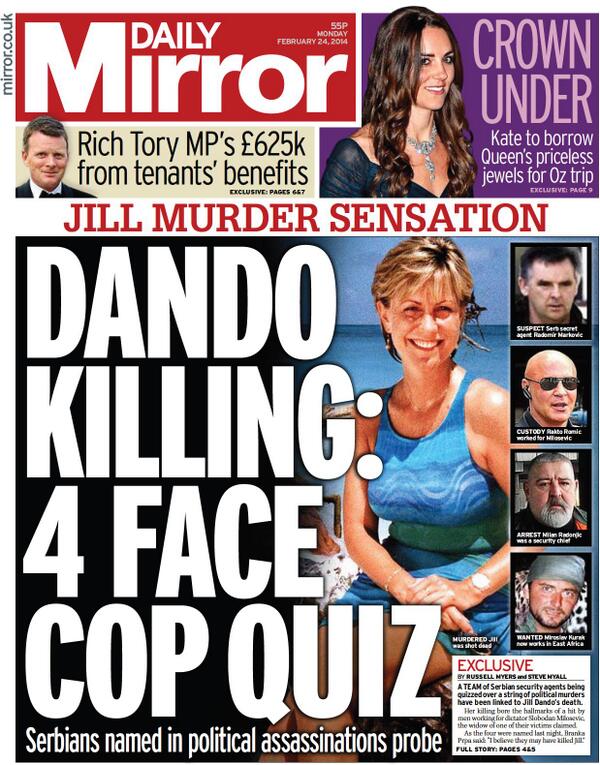 Guest

Guest





I refer to my post at the top of page 2 of this thread.

The Kenneth Noye theory has a great deal to recommend it.

I do not buy the 'four Serbians' story.

A peristent rumour is that Jill Dando had stumbled on a child sexual abuse ring and was about to expose it. There has never been any credible evidence of this rumour. However, it does appear to be the case that Cliff Richard was questioned more than once about the killing of Jill Dando, and nobody can work out quite why, except that the two of them were (or had been) good friends, and Cliff had seen a lot of Jill Dando in the previous year.

The man who botched the Jill Dando investigation and wrongly arrested and charged Barry Bulsara was one of those put in charge of Operation Grange.

____________________

                            "Maddie's Jammies. Where is Maddie?" - Amelie, May 2007 -  "Maddie's Jammies. Where is Maddie?"

Researcher/Moderator




Posts

: 14106


Reputation

: 2240


Join date

: 2009-11-25


Age

: 69


Location

: Harlow, Essex



It's only taken MWT 12 months 'poring over 52000 documents' (22000 more than Grange?), and I bet he didn't have a full time team of 38 helping him, together with a Holmes computer system and whatever else the Met use.
Silly question. What files are these and who gave him access to them?
Police let Jill Dando down and now they MUST launch a new hunt for her killer
22:30, 27 March 2015
            By
Mark Williams-Thomas
The secrets behind the investigation into the murder of one of Britain's best-loved presenters, Jill Dando, can now be revealed by The Mirror 
The Mirror is launching a major series revealing the secrets behind the investigation into the murder of one of Britain's best-loved TV presenters,
Jill Dando
.
The 38-year-old was shot dead on her doorstep on April 26, 1999.
Barry George was convicted of her murder and jailed before being cleared in 2008. Her real killer remains at large.
I have spent the last 12 months poring over 52,000 documents and evidence files from the Dando case.
Now, with the help of the Mirror team, we can disclose the full, startling, unseen evidence about the cold-blooded assassination of the BBC's golden girl.
And we will explain exactly why police should begin a fresh investigation into her murder. 
Starting in the Sunday Mirror and continuing from Monday in next week's Daily Mirror we will reveal:
Never-before disclosed threats to Jill and celebrities she knew. A high-profile TV presenter will tell how she was threatened too and is haunted by the thought that police may have missed a chance to find the killer. We will also reveal the name of a third presenter – a household name – who was targeted by a death threat.
The shocking truth behind the flawed police inquiry and the list of potential suspects drawn up by police before Barry George was brought before the courts. We will also introduce the motives that police first thought could have been behind the murder and explain exactly why they thought Jill was killed – before they focused on George.
Why George was wrongly convicted of her murder and how inquiries on other suspects ground to a halt when the police became convinced George was the killer. Our investigation will also reveal one extraordinary tactic used to try to prove George was the killer which was never revealed in court. George also speaks exclusively to the Daily Mirror and tells us what he really thinks about the detectives who wrongly put him behind bars for eight years.
Crucial evidence that was never followed up by police and new crime scene images used by detectives to analyse the murder.
Over the next few days The Mirror will bring you these and other revelations from the police files we have painstakingly analysed. 
What we've uncovered about one of Scotland Yard's biggest murder inquiries is truly shocking and I hope it will reignite demands for the Metropolitan Police to launch a new inquiry and bring Jill's killer to justice.
The investigation has never officially been closed but there is little or no police time devoted to it now.
The facts which we will put in the public domain for the first time pose serious questions about why
the Met
concentrated their efforts on bringing a case against George and why other leads were pushed to one side. 
I first met
George
just a year after his release from prison and he is without doubt a complex man.
The interviews with him are a real insight I believe into someone who was showing clear signs of behavioural issues, and I can tell you having spent time with him and his sister over the last 12 months Barry's issues are as clear now as they were then.
If police had looked more thoroughly at him I am convinced they would have ruled him out rather than made him their prime suspect as they did.
Finally, following all the revelations, I will give my theory on why Jill was murdered, who might have done it and why the largest criminal investigation since the hunt for the Yorkshire Ripper hasn't been solved.
The case was named Operation Oxborough and I've examined documents from it which require careful scrutiny of every sentence and paragraph.
I have reviewed many cases before and I have a very clear process.
It's important to remain forensic and detailed in my analysis and objective in my thought process. 
High profile investigations – especially ones that attract a lot of media attention – will always generate additional material.
The public are fascinated by crimes, especially ones that are unsolved.
Many people sit at home being armchair detectives, trying to crack the case.
Pressures also fall upon the police to catch and successfully
convict the killer
.
So after all the careful analysis I set about with my producer Lesley Gardiner to start to pull the strands together to make a documentary and build up this investigation with the Mirror.
Focusing on key evidence I found in the files, I found leads that had not been followed up, suspects not having been seen, reports withheld and not disclosed to the defence before trial, and controversial methods used to try and secure evidence against George.
In the same way that I and my producer pieced together information and evidence to finally expose Jimmy Savile, I have done the same here.
Whatever view you hold, what cannot be disputed is that the man who shot Jill remains at large, and for the sake of her family and loved ones I sincerely hope the police will now launch a new investigation and finally catch her killer. 
http://www.mirror.co.uk/news/uk-news/police-let-jill-dando-down-5415482



Posts

: 2184


Reputation

: 674


Join date

: 2013-12-03






Posts

: 7957


Reputation

: 1182


Join date

: 2011-09-03



I've always found it fascinating "who knows who?", or "who might have crossed paths with who?" Last year I drew up a few of the following 'visuals' relating to the McCanns, always making sure I only ever based them upon verifiable facts such as having shared employers/jobs at the same time, being 'involved' in the same 'events', living in the same locations at the same time, etc.  They all got so complex, and far more than could be explained simply by the theory of "Six Degrees of Separation" (http://en.wikipedia.org/wiki/Six_degrees_of_separation).  Maybe it's just that people mix in surprisingly small circles?  Anyway, although the three BBC people in the following (two of whom have some form of connection with Jill Dando) might all know each other well enough to swap Xmas cards, I was wondering if anyone has a factual connection to join the bottom right hand box(es) to the McCann case?  (...Or any other case?)
" />
(n.b. I'm not, of course, suggesting any wrongdoing by anyone mentioned... I just find Human connections fascinating!).

____________________
Justice...  Fought for by the masses. Purchased by the wealthy. Traded by the powerful.



Posts

: 240


Reputation

: 14


Join date

: 2015-01-02



Page 2 of 2 •

1, 2
---
Permissions in this forum:
You
cannot
reply to topics in this forum